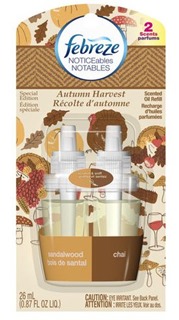 This is a sponsored post for SheSpeaks/Febreze
Aaah do you smell that? The wonderful scent of an Autumn Harvest, Vanilla Latte, Toasted Almond, Sugared Cranberry, Spiced Pear. It's the smell of fall! and of the Febreze Home Harvest Collection, which is available at your local Walmart for a limited time only.
All these scents remind me of the impending holiday season! Especially Halloween and Thanksgiving which are two of my favorite times of year. I put one of the Autumn Harvest NOTICEables in my kitchen and every time we step in the house I'm reminded of trick-or-treating, baking pies, a warm cup of coffee in the morning, falling leaves. I love it! It really gets me in the mood for fall baking & decorating.
Speaking of baking, Febreze sent along the most adorable little barn, filled with Febreze scents and an awesome little card box full of ideas for Autumn activities as well as recipes.
Since pears are in abundance at this time of year and we love them, we tried their delicious roasted pear recipe, as seen below. You have to try it out, it's so good!