We're a big yogurt family around here, or as my 2 year old calls it, brobay. We have a few favorites and Yoplait is on that list. My son loves Yoplait kids and if you let him would eat an entire 6 pack in a day… and me? well I'll eat just about any kind of Yoplait I see. I'm not sure there's a flavor I don't like. I can however tell you I'm still holding out for Yoplait to bring pamplemousse (otherwise known as grapefruit in English) flavored yogurt to the states. I first had it in the south of France many years ago.. and it was good enough I never forgot it. Yes, I never thought I would hold such fond memories of yogurt, but I do.
So when I was asked to review the new Yoplait Splitz I knew it would probably be a big hit. For me it's the fact that there are no artificial flavors, sweeteners or high fructose corn syrup, and the biggie, it's only around 90 calories.
Since it's summertime Yoplait suggests, for an even "cooler" experience, just can pop a Yoplait Splitz in the freezer and in a few hours you can enjoy a cool, creamy cup of authentic frozen yogurt. It comes available in three delicious flavor combinations including Strawberry Sundae, Strawberry Banana Split, and Rainbow Sherbet.  I don't know about you but frozen yogurt and rainbow sherbet are two of my all time favorite summertime treats so combining the two.. yummm!
Do you love yogurt as much as we do? You can enter to win a prize pack that contains a coupon for free Yoplait Splitz below. Pack up a couple frozen Splitz in your insulated picnic bag and head out to the park with your blanket before the end of summer arrives!  and don't forget, this would be a great treat to freeze overnight and include in your child's lunchbox once school starts. I bet they'd thank you for it.
________________________________________________________________
Download a printable 0.75 cent off coupon for new Yoplait Splitz (while they last)
http://www.myblogspark.com/uc/main/7b3a/
_________________________________________________________________
Find Yoplait Online and Stay Up To Date On All The Latest Deals:
__________________________________________________________________
Giveaway (Now Closed)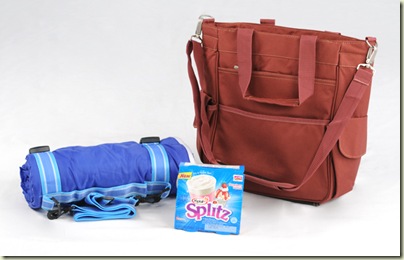 Prize: One lucky person will receive a coupon for a free sample of new Yoplait Splitz* as well as a prize pack that includes an insulated carry tote and a roll up fleece picnic blanket.
Please Read: *This coupon offer for a free pack of Yoplait Splitz is not valid in some states, including California, Idaho, Louisiana, Minnesota, New Jersey, Nevada, North Dakota and Tennessee
To Enter:  Please complete the required task. If the required task is not completed then none of your entries will count.  After that you have several other ways of getting extra entries.  Make sure that for each one you do you leave a separate comment. Each comment counts as one entry. Please leave your correct email addy.
Required
* Just answer this question: Yoplait Splitz come in 3 awesome flavors. What kind would your kids (or even you) like to try?  Find All The Flavors By Clicking Here
__________________________________________________________________
Earn Extra Entries
2 Extra Entries –
* Follow me publicly on Google friend connect (look to the right in my sidebar)
* Follow me on Facebook – Just click "like" (look to the right – we're just getting it set up)
* Follow Yoplait on Facebook and let them know I sent you.
5 Extra Entries –
*Blog about this giveaway, with a link back to my page
*Subscribe to my site by Email or RSS then check your mail to confirm it (See top left corner of blog)
(leave 5 separate comments to count as your extra entries)
1 Extra Entry Per Day –
* Follow me on Twitter @detroitmommy and then Press the Green Retweet button at the top of this post. Leave me a comment with a link to your tweet.  You can come back each day and retweet for 1 extra entry per day. Just make sure to leave a comment each day you do it!
(Don't know how to show me you RT'd? Just place your mouse directly under your tweet where it says "1 minute ago from web" and click to get the URL of your status update. Copy and Paste.)
Good Luck!
___________________________________________________________________
Giveaway is open to residents of the U.S., 18 yrs of age or older. Any posts not including the requested information will be deleted. This giveaway ends: Sunday, August 29, 2010 12am EST. Winner will be contacted immediately and announced Monday, August 30, 2010. In the event the winner does not respond to email within 48 hours I will choose another random winner. I will be using random.org to do this.
Disclaimer: Yoplait provided me with the free product, information, and gift pack through MyBlogSpark. As always, all opinions are my own and are influenced only by my own experience with the product. No monetary exchange took place.
WINNER: Lucky #151
Nadine L.
Congrats!
Thank you to everyone who tweeted, subscribed and of course entered!