I like to think of myself as a meatball and spaghetti sauce connoisseur. In fact I've been trying to perfect my Swedish & Italian meatballs for years. My husband and I have also tried just about every spaghetti or Italian sauce ever made, constantly on the search for one we can call our own once and for all.
Why Is It So Hard To Find A Great Meatball?
When it comes to Swedish meatballs and sauce, they can't be bought. Believe me, I'm married to a Norwegian and he knows Swedish meatballs very well. As far as Italian meatballs and sauce we've tried plenty of frozen meatballs and really none of them are very authentic tasting.. and sauce…I shouldn't even get started on that, but I will.  We've bought $10 a jar spaghetti sauce at a local store that sells products not regularly found elsewhere. I hate to even admit that because it sounds ridiculous and it's not something I ever would have done before I was married. Nowadays if I can work it into the budget I will.. otherwise we stick to the cheap sauce my son likes. It does have plenty of vegetables & it tastes good.. but something inside of me always longs for a more grown up taste, a more authentic, not made on a production line with a recipe put together by some executive.  A sauce suitable for special occasions.
Simple Ingredients = beautiful color, aroma, and taste.
Mama Mancini To The Rescue
That's where Mama Mancini Meatballs in Sunday Sauce comes in.  Oooh my gosh. Let me just tell you. They don't carry it where I live yet but I had the opportunity to try this just last week. I was in heaven! The meatballs were so delicious and simple! Not made with a bunch of fillers and ingredients I couldn't understand.. and the sauce… the sauce is by far the best sauce I have ever tasted.  It was simple as well, Italian plum tomatoes, olive oil, garlic, salt & pepper, bay leaf. SIMPLE.  And it's beautiful looking! I know that sounds so silly but really it is. It's bright red. So fresh looking. I just can't describe to you how delicious these meatballs and sauce were, you're going to have to take my word for it.
Simple Ingredients
Because everything contained such simple ingredients I let Aidan (who's had allergic reactions to food) try spaghetti and meatballs for the first time.. and I told Vincent, my 3 yr old, go ahead, eat it however you want, as long as you eat it! (Just so you know we're not always barbarians when it comes to dinner time lol.) and he did.. the boy who lives on yogurt ate like there was no tomorrow.
Vincent -Taste Tester no. 1 aka 'The boy who lives on yogurt' says Mama Mancini's is "yum yum yum delicioso". I think he's been watching too much Dora.
Aidan – Taste Tester no. 2 who's known to have weird allergies is a little skeptical at first. Here he is inspecting his meatball from all angles before diving in and going to town.
It's a consensus The First-Time-Mommy  taste testers say Mama Mancini's is a winner.
Portion Size
Each box contains 6 meatballs. At first I thought this would be too little for my family, but unlike regular sauces I felt that the Sunday sauce, which is sweet and delicious didn't leave me craving more. I was good with 2 meatballs and sauce. The serving size is 1 meatball and sauce, which is roughly 130 calories. I use low carb pasta because usually I'm heavy on the sauce but as I said, I didn't need much sauce with this.. so overall it was a big delicious meal but still light on the calories compared to most pasta meals.
Where To Buy
You may be able to find Mama Mancini's at your local market. They're still branching out. Check out the store locator for a store near you. http://www.mamamancinis.com/stores/
If you can't find Mama Mancini's locally (like me) you'll have to order them online. It's a little steep but it's worth it. 
More About Mama Mancini's
You can read a cute little article about Daniel Mancini (founder of Mama Mancini's) in the New York Times and of course you can learn more by visiting the Mama Mancini website.

Mama Mancini Meatballs in Sunday Sauce 'Saucy Baby' Facebook Photo Contest
Mama Mancini are holding a contest on their Facebook page right now. If you're lucky enough to have tried Mama Mancini's meatballs in Sunday sauce or if it's available near you (run out and get some right now!) take a pic of your 'saucy baby' and upload it to the Mama Mancini Facebook page.
After you've uploaded your photo make sure to have all your family and friends "like" the Mama Mancini page and then "like" your babies photo!
The photo with the most votes will win a family meatball dinner (feeds 12-16 people) twice a year.
(Winner must live in US 48 states)
Please Vote For Aidan
I've entered Aidan's picture into the 'saucy baby' photo contest and I'd love it if you take a moment to vote for him. Only if you're not entering yourself of course!! In that case feel free to ask me for my vote. (You can vote for as many pics as you like). 
You can find his picture on the Mama Mancini Facebook page right now.  It's the first picture on the wall. He's biting into a big meatball
Remember "like" the page first then click on the photo and "like" the photo.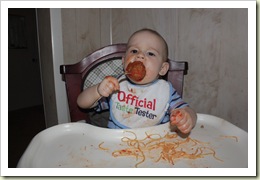 Thank you so much! Seeing as we can't find these meatballs near us we'd love to win this! My boys absolutely loved these meatballs and sauce and I really loved the fact they had so little ingredients. It felt a lot better feeding this to my kids than your regular store bought meatballs and sauce.
Thank you!! and remember.. if you see Mama Mancini's in the store pick some up! You're going to love it.
Connect With Mama Mancini's Online
Disclosure: I received the above to facilitate this review. I had no idea that we would all love it so much we'd be entering the contest.  No monetary exchange took place. The opinions here are my own. Your experience may vary.