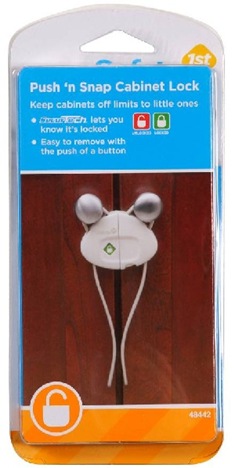 Dorel Juvenile Group (DJG) an importer of Safety 1st products, who are well known for offering a variety of popular baby-proofing items have voluntarily recalled their Push 'N Snap Cabinet Locks as of March 22, 2012. (as seen on the left)
Young Children Able to Disengage Cabinet Locks Allowing Access to Cabinet Contents, Posing Risk of Injury Due to Dangerous or Unsafe Items.
With around 900,000 of these locks on the market they have received reports that 200 of the locks did not adequately secure the cabinet, including reports of damaged locks. The firm is aware of 140 children between the ages of 9 months and 5 years who were able to disengage the locks and gain access to the cabinet's contents. In three of the reported incidents, the children who gained access swallowed or handled dishwashing detergent, window cleaner or oven cleaner, and were treated, observed and released from emergency treatment centers.
Model Numbers Recalled
This recall includes Safety 1st Push 'n Snap Cabinet Locks manufactured from January 2004 through February 2012 with model numbers 48391 and 48442. The model numbers are printed on the back of the product and on packaging. You can view the original CPSC release to see exactly how to locate and identify the recalled model numbers: http://www.cpsc.gov/cpscpub/prerel/prhtml12/12136.html
Remove Locks, Call For Replacements
Consumers should immediately remove the recalled locks from cabinets and contact DJG  toll-free at (866) 762-3212 between 8 a.m. and 5 p.m. ET Monday through Friday or visit the firm's website at www.djgusa.com for a free replacement Push 'N Snap lock.  
Please make sure if you remove your locks that you store dangerous items out of your child's reach immediately as we all know how fast accidents can happen.
Report Unsafe Products!
If you have a problem with a product please remember to report it. Your reports, even if you think the matter is a simple one are what encourage companies to make voluntary recalls like this one. Your report could save someone's life.  Report any unsafe product at: http://www.saferproducts.gov/