"This Mother's Day, tell Mama grazie with the new Mamma Mia Gift Box from Nudo the company best known for their Adopt-An-Olive Tree program.  The beautifully-designed gift set, filled with a combination of savory, sweet, and soothing Nudo products, is the perfect way to show Mom you care.

 

Any mother would be thrilled to receive these special items, which are all handmade in Le Marche, Italy.  They support the local Italian economy, small-scale production, and use eco-friendly packaging.  Mom will know exactly where her olive oil came from, and she'll practically be on a first-name basis with Michele and Ivan who handcrafted the chocolates, as well as Luigi and Lucia who made the soap.  Show the love with a truly handmade gift that she'll love almost as much as those macaroni necklaces you gave her as a kid."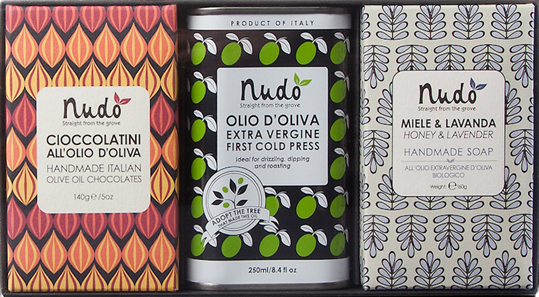 Nudo's Mamma Mia Gift Box ($38.00) includes:
One 250ml tin of Nudo's first cold press extra virgin olive oil
One box of 12 handmade Italian olive oil chocolates, with ganache fillings in three delightful flavors – mandarin, lemon, and chili oil
One bar of delicately-scented Honey & Lavender soap, handmade with organic extra-virgin olive oil to moisturize and soothe
---
Adopt An Olive Tree
If you want something even more special check out the Adopt-An-Olive-Tree program. I've been reading all about it and it sounds absolutely fantastic! I'd never heard of it until yesterday but it's so neat. You can choose a grove, all of which have different flavors associated with them.  You can see who owns the grove as well as even visit your tree if you're making a trip to Italy or they can update you on how your tree is doing.  Each tree produces about 2 liters of oil a year. You'll get all of the following for only $109 + shipping:
Personalized adoption certificate and booklet about your tree
Spring package (all the extra virgin olive oil from your tree)
Autumn package (three flavored extra virgin olive oils)
Imagine what an awesome gift that would be! Especially for picky people. According to the site you get your personalized adoption certificate within about 5 days of placing your order. (I'm keeping this program in mind for someone I know this Christmas!!)
---
Prize: 1 reader will win a Mama Mia Gift Box (as seen above)
Winner has 24 hours to respond to email due to Mother's Day arriving soon!! So please put detroit.mommy (at) gmail (dot) com on your safe list!!
Ends Sunday May 6th MIDNIGHT EST.
(Although they will try they cannot guarantee you will receive your gift box by Mother's Day – it all depends on how fast the winner responds)
---
I am using Rafflecopter to run this giveaway. If you have ANY questions or problems leave a comment in the blog section and I will email you back (only I can see your email).
**** Please make sure you check the email you use for Facebook if you sign into rafflecopter with Facebook! I've had to select several different winners after people failed to respond****
---
2 step process for entering to win!!
Leave a comment directly on the blog telling us what special person you want to win this for to celebrate Mother's Day.
( If you're a mom and you want to win it for yourself let us know too! No shame in that! We all work hard & deserve to treat ourselves!.)
& then fill out the Rafflecopter form!
Please wait for the form to load!
Good Luck!