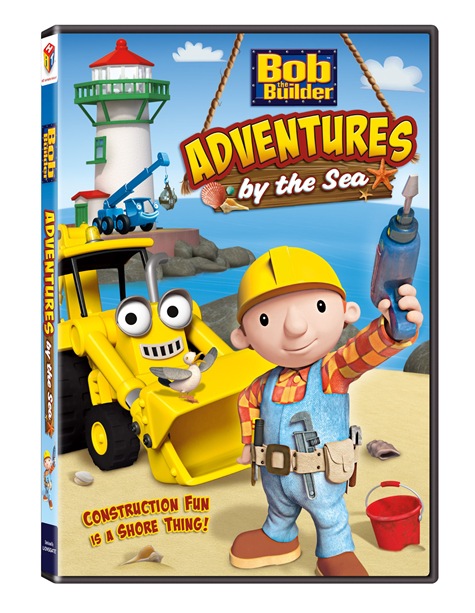 It was kind of ironic that we just received this DVD yesterday because I actually wanted to review & give it away for my readers. My son's are not big fans. That was, until this week. Out of the blue my 4 year old has really started doing a lot of pretend play. On Monday much to my surprise he was a construction worker that was stopping by to fix our kitchen door. To be honest I didn't even know he knew the word construction! When I told him Bob was a construction worker he got all excited and wanted to start watching. So he's been watching Bob all week and last night before bed he made me promise we could watch this DVD this morning.  He & his brother totally got into it. Now my 4 year old is carrying tools around the house (Maybe I'll get my handy man after all? My husband hates fixing things!).
I love when my kids watch programs like this because my 4 year old is really into super heroes right now & of course Bob is much more laid back & much easier for my 19 month old to understand. It's something they can watch together without getting too rowdy, and of course it teaches valuable lessons, especially how to work together. How can you beat that?
---
Bob the Builder™ and his machine team "sea" lots of new ways to work together to get jobs done in and around Fixham Harbor in these five exciting stories. Scoop must make a creative seaside rescue to get the lighthouse lens shining again! Scratch realizes that admitting mistakes is the best way to be cool; the team comes to the rescue when Muck's sandcastle compromises their big job. Scrambler shows that the key to bravery is admitting your fears. Bob and the Can-Do Crew get the job done and find success by the sea with sand, water, sun and friends!
This DVD features the following episodes:
Scoop's Sea Rescue
Pineapple Scratch
Muck's Beach Tower
Here Comes Muck
Scrambler Gets Clean
Bob and his Can-Do Crew are making waves and having fun in five new, sea-themed adventures in construction in Bob the Builder™: Adventures by the Sea, sailing onto DVD, Digital Download and On Demand May 22, 2012 from Lionsgate and HIT Entertainment. From facing fears, correcting mistakes, doing good work and always getting the job done, Bob's the man and when you're on his team, life's a beach!
---
DVD/VOD BONUS FEATURES
"Digger with a Heart of Gold" Music Video
"Mixin' It Up" Music Video
PROGRAM INFORMATION
Lionsgate and HIT Entertainment
Release Date: 05/2212
Rating: Not Rated
Genre: Children/Family
Age Target: Ages 2-5
Closed Captioned: English 
DVD/VOD Feature Running Time: 60 minutes
Suggested Retail Price: $9.98
CONNECT ONLINE
Website: www.bobthebuilder.com
Facebook: http://www.facebook.com/bobthebuilder
---
Where To Purchase:
You can find Bob The Builder: Adventures by the Sea at most retailers starting May 22, 2012 for the suggested retail price of $9.98.  My own personal suggestion is Amazon.com where you can purchase it for $9.98 (with free supersaver shipping).
---

Prize: 1 reader will win a Bob the Builder: Adventures by the Sea DVD
Ends Wednesday 5/23/12 Midnight EST – U.S. only
---
I am using Rafflecopter to run this giveaway. If you have ANY questions or problems leave a comment in the blog section and I will email you back (only I can see your email).
**** Please make sure you check the email you use for Facebook if you sign into rafflecopter with Facebook! I've had to select several different winners after people failed to respond****
---
2 step process for entering to win!!
Leave a comment directly on the blog telling us who the Bob The Builder fan is (or who you hope will be) & then fill out the Rafflecopter form!
Please wait for the form to load!
Good Luck!
Disclosure: I received the above product in order to facilitate this review. My experience and opinions are my own. Yours may vary. This post contains an affiliate link. Anything collected from affiliate links are put back into running this site. Thank you for understanding.