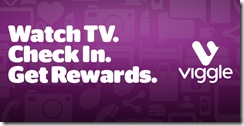 I'm always on the lookout for quick ways to earn gift cards or cash  (Every little bit helps). I know a lot of you are as well so I wanted to make sure I shared this.
Viggle is an awesome little app for iOS and Android devices that is super easy to use. I recently learned about it through Klout (another great way I get free stuff all the time by using twitter and my personal FB account).  I wasn't able to use it right away because it wasn't compatible with blackberry. So when I received my Samsung Galaxy S III I decided to check it out.. and I'm glad I did! Here's the bulk of it:
Watch TV
You simply watch your favorite TV show or movies on TV like you usually do & then start up the Viggle App on your device & it will "listen" to your tv to see what you're watching.  I have to admit I was pretty amazed when I first used it.
Check-In
Once you've started up Viggle & it's discovered what you're watching you simply press "check-in" and you're done. That's it! You can share your check-in info on Twitter & Facebook, as well as follow the latest discussions. You can look up info on wikipedia & get discounts towards merchandise.
Get Rewards
For every TV program or TV movie you check in to, you get points. Points vary. Sometimes it's 5 points, sometimes it's 200 or more. I've discovered that some of the more popular shows or reality TV have more points associated with them.  You will also occasionally have the opportunity to earn extra points by playing games like trivia & watching quick video clips.
Redeem your Viggle points for rewards from companies like Best Buy, Sephora, Fandango, Starbucks, Hulu Plus, Spotify and dozens more, or convert your points into charitable donations.
Yes It's That Simple
So you want to get started? Head on over to the Viggle Page and sign up so you can create a user ID.  Check your email in order to verify, then download the app on your device & get going. 
One thing of note is that sometimes it can take more than a day to get points credited to your account but so far I haven't personally had any issues with the app. Some on the FB page did mention that they weren't able to use the app w/ their android device so you may or may not need an updated device.
Good luck. Have fun.
Disclosure: The above post contains a link to my personal Viggle account which may or may not help me gain points, however, I am not an affiliate.