Remember my post about Viggle? The app you can use on your iOS or Android device to earn points just for checking into tv shows? Well they've been offering extra points by playing trivia while you watch the Olympics.  Since the Olympics are ending this Sunday you'll want to hurry up and get started. There's 20,000 more points to be earned (if you get correct answers) before the weekend is up!
I've been loading up my Viggle app, checking in to the Olympics & playing along with the trivia. Most of my answers are guesses but I've been correct with a few and racked up some extra points. And no I don't sit in front of the tv all day but I do check-in to the shows and start up the trivia whenever I have an extra moment free. Like while I'm feeding the baby. You'll see I even check in during the seriously late hours when I'm up with baby for an extended time.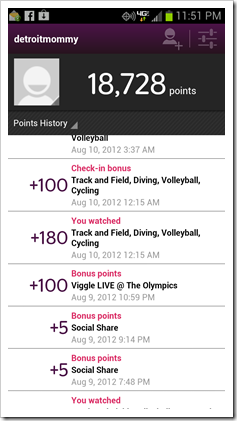 I started out with 5000 points (If I remember correctly) that I received from Klout and within less than a month I have almost 19k points and that's with very minimal use! That's 2 $5 Starbucks cards (mmm frappuccino!), almost a month of spotify premium, a month of huluplus, or 1 movie ticket to any theatre any time (lots of other stuff to choose from).  Of course I'm trying to work up to the free cruise with 4 million points lol.
How have you been doing with Viggle? If you haven't started yet, get going! Sign up on the Viggle site or read my last post to learn more about how Viggle works.
Disclosure: If you sign up under me during the olympics I will receive 1k extra points. You can sign up your own friends as well. All pts earned help me offset the time spent sharing free offers like this with you. Thank you!