I recently had a chance to check out all free clear laundry detergent for the first time. Many would wonder why I would do this since I just told you not long ago I was devoted to a competitor's brand when it came to my babies clothing & I regularly blog for another detergent company that I use to care for my own clothes. The fact is that after I learned that all free clear is the #1 detergent brand recommended by Dermatologists and Allergists for sensitive skin and the #1 free detergent brand recommended by Pediatricians I wanted to put it to the test. 
As some of you know from previous postings I am actually sensitive to a lot of perfumes & have sensitive skin. Both of my sons do as well and when both of them were still a baby they both had bouts of eczema & some type of skin irritations, as well as my oldest having seasonal & indoor/outdoor allergies. Because of this I don't change brands very often. There are some popular brands that I have to avoid all-together, although they work well they leave me itching like there's no tomorrow. I know that there are a lot of moms out there that don't want to have to go through each & every brand, and some that simply can't afford to, in order to see if they work well or not, and some that absolutely have to have dye/perfume free detergents. As well as moms who simply don't like the smell of other detergents.
As it turns out all free clear is uniquely formulated with SkinSmart™ Surfactant Technology, a proprietary blend of active surfactants that tackle kids dirt and stains while being gentle on your family's skin.  They also say it removes 99% of these top seasonal and everyday allergens* with every wash:
tree and grass pollen
ragweed pollen
dog and cat dander
dust mite matter.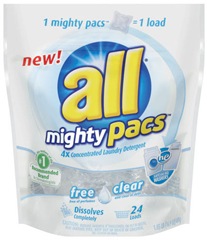 While I wasn't able to fully test out the theory that it removes all of the above allergens I do know that it did an absolutely fabulous job getting my husbands dirty work clothes, clean. There was no scent at all but they still smelled clean & amazingly his stains were gone. I was very impressed. There's no doubt it should be able to remove stains on your children's clothing. Ours didn't have any major stains the day I tried it out (but plenty of little stains – you know how kids are). 
all free clear mighty pacs
What left me equally impressed was the fact that I was using the new all mighty pacs. I love these things! My husband wastes so much detergent it's not even funny. I send him away with a bottle & it comes back half full.  When he washed his work clothes this time he used 2 all mighty pacs (for heavily soiled loads) and used 1 pac for regular sized loads (like the kids clothes) and they came out perfectly clean and as I said, absolutely no scent, so if you are sensitive this would be perfect for you and baby.
Besides saving you money the all mighty pacs can also save space. We currently go to a laundry mat to wash our clothes & we have to lug the bottles back & forth. They're heavy & as I said my husband uses too much detergent so even when I use coupons we don't end up saving money because of his over-use. With the all mighty pacs you can grab 5 or 6 of them, throw them in the basket and go. No over-use, which can actually ruin your clothes by breaking them down over time.  The mighty pacs are 4x concentrated and you can definitely tell. You simply throw them in under your clothes & the little pac, which is like a round ball of detergent with a plastic skin around it, disintegrates.
More about all® free clear
As a recognized leader and reliable laundry partner with consumers for more than 50 years, the all® brand provides an incredible clean at an incredible value #1 free choice among consumers based on market share of dye and fragrance free detergents. Learn even more about all free clear on their website: http://www.all-laundry.com/freeclear/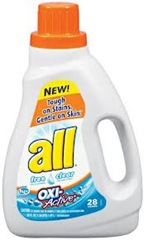 *New all® free clear OXI-Active®
all have also just come out with a new detergent, free clear OXI-Active.
Tackles your family's toughest dirt & stains with stainlifters™ and the added power of natural cleaning boosters helping to give you incredibly clean clothes.

Dermatologist Tested.

Clinically tested to be mild on skin.
Want to try out all free clear, or any of the all detergents for yourself? Enter to win 3 free coupons in the giveaway below courtesy of all free clear.
---

Prize: 1 reader will win 3 coupons for any all laundry detergent product.
ENDS: 12/10/2012 11:59PM  EST (Open to U.S 18+ Only)
I am using Rafflecopter (It's a form, you must wait for it to load below) to run this giveaway. Winner's are selected randomly. All entries will be checked manually for legitimacy.  Please make sure you add detroit.mommy AT gmail (dot) com to your safelist.
---
HOW TO ENTER:
2 step process for entering to win!!
Leave a comment directly on the blog in the comment section telling us if you've ever used all free clear before & then fill out the Rafflecopter form!
Good luck a Rafflecopter giveaway
Disclosure: This is a sponsored post. I received the above product in order to facilitate this review. My experiences are my own. Yours may vary. Prize fulfillment handled directly by PR.