As most of you know I am part of the Midwest Savvy Moms with Verizon Wireless and I have been reviewing the Samsung Galaxy 3 since around July. I've shared a few things with you about the phone on this blog and on the First-Time-Mommy Facebook page, as well as Twitter & of course I'm always using it to update Instagram as well. (Come follow me if you like).
Yesterday I received a brand new LG Intuition. It's a wild mixture of a phone and a tablet. So in the coming weeks I'll be letting you know what I think of it.
Right now though I have something special for you! Verizon has kindly offered my readers a chance to win a new phone of their own. The brand new Nokia Lumia 822, which is powered by the new Windows Phone OS and has a ton of great features, including:
Kids' Corner Grants your little ones access only to the apps, games, videos, and music you choose for them, so you can relax and let them play. They can open Kid's Corner on their own, but your Start screen, apps, and info are protected by a password you set.
Nokia Drive+ – Voice Guided, Turn-by-Turn Navigation.
Nokia Maps allows you to see a broad area or pinpoint your location.
Nokia City Lens uses augmented reality to show you top sights, with review and directions.
Nokia Music gives you access to over millions of tracks with subscription-free streaming.
EXCLUSIVE Nokia preloads (limited time):
– ESPN: access live scores, video content, news and ESPN Mobile.

– Univision app combines their mobile experience into a single hub.

– The Weather Channel for Windows Phone.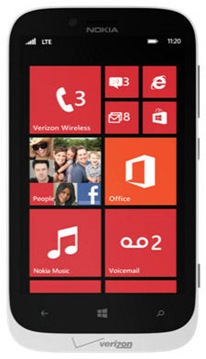 And, of course…Verizon 4G LTE, America's Fastest 4G Network. Which in my experience these last few months is one of the best networks I've ever used. After over 4 years of dropped calls with my previous provider I have yet to experience that with Verizon. The speed has been excellent & their customer service exemplary.
So what could be better than winning the new Nokia Lumia? Well how about a $100 Verizon gift card thrown in by Verizon as well? You can use it toward a Verizon bill or Lumia accessory.
If you'd like to learn more you can check out all the specs on the Verizon site as well as see more pictures and view a video. 
Now that you've seen what the Nokia Lumia has to offer why not enter the giveaway for a chance to win one for yourself or someone you love!
---

Prize: 1 reader will win a Nokia Lumia 822 & a $100 Verizon gift card (which can be used towards a bill or accessory)
ENDS: 11/30/2012 11:59PM  EST (Open to U.S 18+ Only. – Sorry)
ATTENTION: Multiple Verizon bloggers will be holding these giveaways. Regardless of how many different blogs you enter on please only attempt to claim one prize. Thank you.
I am using Rafflecopter (It's a form, you must wait for it to load below) to run this giveaway. Winner's are selected randomly. All entries will be checked manually for legitimacy.  Please make sure you add detroit.mommy AT gmail (dot) com to your safelist.
---
HOW TO ENTER:
2 step process for entering to win!!
Leave a comment directly on the blog in the comment section telling us What Lumia feature you're most excited about! & then fill out the Rafflecopter form!
---
Disclosure: I am participating in the Verizon Wireless Midwest Savvy Moms program and have been provided with a wireless device and six months of service in exchange for my honest opinions about the product.