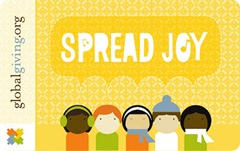 Are you looking for an extremely special gift to give someone this holiday season? A stocking stuffer that means so much more than your average gift?  I'd love you to consider giving GlobalGiving gift cards, as it's a special gift that gives back. Let me tell you why.
GlobalGiving, a virtual marketplace for philanthropy, allows anyone with an internet connection to support more than 1,000 pre-screened charities in the U.S. and around the world. These are groups providing real-world solutions to help educate children, feed the hungry, build houses and infrastructure, protect our environment, empower women (and men), rescue animals, and support active military and veterans – just to name a few.
The best part? You can access and support this extensive network of impactful charities with a simple gift card that your friends and family will love this holiday season. This means that, for as little as $10, you can make things easy on yourself and purchase a gift card that everyone on your gift list will enjoy – from your kids to Uncle Paul to the mailman – and give them the complete freedom to choose a cause they wish to support. Plus, it's the gift that keeps on giving long after the holidays with regular updates from those on the ground on how your donation is making a difference. 
My Experiences Choosing A Charity
I was graciously given the chance to donate to a charity on globalgiving.org.  As you may have guessed, being the mother of 3, running a page for Moms, Women and children's charities tend to touch my heart the most. It was incredibly hard trying to decide which charity I felt was worthy. Of course I wanted to choose all of them. I literally cried as I scrolled through the pages of different charities. I desperately want to be able to help everyone. Alas, I cannot, so I went in search of a charity that called to me.
IMA World Health – Safe Motherhood Kits
After many hours of searching I finally found a charity I felt was a great match for me. IMA World Health.  They give Safe Motherhood Kits among many other things. Safe Motherhood kits provide clean and sterile birthing supplies to expectant mothers in developing countries – areas with high infant and maternal mortality rates. Since my life revolves around babies and motherhood I couldn't have found something more appropriate. I also specifically chose this charity because it was listed on Forbes as one of the top 10 most efficient US charities. I think that is quite an accomplishment.
What is in a Safe Motherhood Kit?
According to the site: Each Safe Motherhood Kit contains essential clean and sterile supplies including gloves, umbilical tie, scalpel, gauze pads, plastic sheeting, bar of soap, washcloth and baby supplies (a hat, tunic and blanket).  1 gift card of $25 purchases 1 kit.
Even though I could only help 1 mother this holiday season, I know in my heart she will appreciate it.
Give A Memorable Gift This Season
Please use the following link to read more about GlobalGiving. They have printable e-cards that you can print out right now & stuff in your families stockings before Christmas morning approaches. Gift cards can be purchased using a credit/debit card or PayPal and are tax-deductible. If you can afford to, please consider giving a gift that will give back to someone in need.  Happy Holidays!
Disclosure: I was able to give to a charity of choice through the generosity of Globalgiving. The opinions and experiences expressed here are mine.