"Game Day is one of the best days of the year to get together with friends and enjoy some delicious food and fun. This year, let Progresso™ Recipe Starters™ be the perfect teammate and help you score big at your party. With plenty of recipe ideas for different Game Day snacks, Progresso™ Recipe Starters™ will make sure you have a crowd-pleasing performance."

 
My family recently tried the Creamy Roasted Garlic recipe starter. I was a little worried at first because I don't use many canned foods these days & I'm concerned about sodium content. However I was surprised to see that the sodium levels weren't too bad. I made a chicken pot pie with a ready-made crust (they had a recipe on the can) & threw in all the veggies I had around the house. Oh my gosh…. delicious. I was really happy with the end result & it was so easy. I think this is something I am going to add to our rotation & I will make some ahead of time & freeze, then it's just a matter of taking it out & putting it in the oven. So simple.  
       
 
Check out the new line of Progresso™ Recipe Starters™ and use some of their favorite recipe ideas below for your Game Day party! When you're done make sure to scroll down and enter to win a "Game Day" prize pack from Progresso.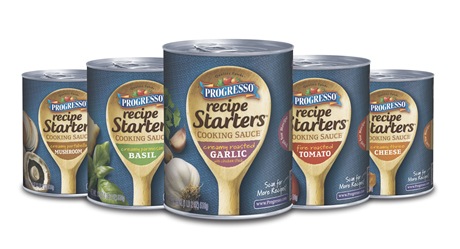 Creamy Portabella Mushroom: Creamy and highly indulgent, this smooth sauce is rich with sautéed Portabella mushrooms, giving you any easy way to start delicious dishes like  Cheesy-Mushroom Joes and Mushroom-Swiss Burgers.

Game Day Idea: Bacon Cheese Stuffed Mushrooms


Recipe Link: http://bit.ly/Uuwr4R

Creamy Parmesan Basil: This creamy, full-bodied and indulgent sauce that was inspired by alfredo and creamy pesto sauces can be used to make dishes such as Pizza Primavera and Slow Cooker Lasagna Alfredo.

Game Day Idea: Chicken and Ham Slab Sandwiches


Recipe Link: http://bit.ly/VLN5vV

Creamy Three Cheese: Rich and creamy with a blend of yellow and white cheeses, and a savory background of chicken stock, onion, garlic and cracked pepper, this is a great way to satisfy cheese lovers with Easy Weeknight Bacon Mac & Cheese, Baked Turkey Hoagie and Cheddar-Parmesan Puffs with Dipping Sauces.  


Game Day Idea: Chorizo con Queso


Recipe Link: http://bit.ly/Tz17o2

Fire Roasted Tomato:  A medium-thick tomato sauce, accompanied by flavors of roasted, caramelized tomatoes, oregano and bell peppers, which can be used as a great way to begin creating Buffalo Chicken-Potato Bake, Saucy Meatball Hoagies and Zesty Turkey Tacos.


Game Day Idea: Pulled Chicken Sandwiches


Recipe Link: http://bit.ly/UKB26r

Creamy Roasted Garlic: With caramelized, roasted chicken broth, garlic and a touch of cream, this stock is perfect for dishes such as Cheesy Turkey Sandwiches, Chicken Enchiladas and Green Chiles Chicken Quesadillas. 


Game Day Idea: Easy White Chicken Chili


Recipe Link: http://bit.ly/VEEoVc
---
Grab A Coupon!
Make sure to print out a coupon before you head to the store to prepare for this weekend's big game.  Get $. 65 cents off 1 can of Progresso Recipe Starters. http://bit.ly/U3JoYK
Connect Online
Progresso Website http://goo.gl/8B6FA
Progresso on Facebook http://goo.gl/qmD6M
---

Prize:
10 Piece Cheese & Appetizer Set
One Can of Creamy Roasted Garlic Progresso™ Recipe Starters™
This Giveaway Ends: 2/13/13 12 Midnight EST
---
How to Enter: 2 Step Process
1. Please leave a comment directly on the blog answering this question:

Which recipe starters flavor or recipe do you think you'd like to try the most?
2. Fill out the rafflecopter form.
The form will load directly below this text. You must do these two steps in order to be entered. No one but me can see your email address.  Any questions please leave them in a comment or on Facebook & I will get back to you.
---
a Rafflecopter giveaway
---
Disclosure: Progresso provided me with the free product, information and gift pack through MyBlogSpark. My experience & opinions are my own. Yours may vary. Prize fulfillment directly handled by