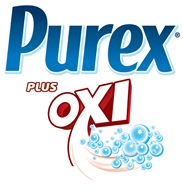 I've been using Purex laundry detergent now for several years. I made the switch over when I was first invited to be a Purex Insider. Once I discovered that Purex worked better than most of the other detergents I had been using & cost half the price, it was a no-brainer. I was absolutely in love with their 3-in-1 sheets but they've been discontinued. Boo. So I've been trying out the various Purex detergents & deciding which one I like best. To be honest, there hasn't been a time I haven't been impressed.
The newest, Purex plus Oxi is the most powerful Purex detergent available. The three stain-fighting enzyme in Purex plus Oxi each work against different types of stains for the most Purex stain-fighting power you can get. In fact, according to Purex it works against over 101 different stains!
Purex plus Oxi, like all liquid Purex products, has been specially formulated to work in both high efficiency washers & traditional washing machines.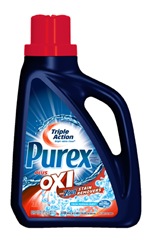 A Powerful Combination of Detergent and Stain Fighters
A hypoallergenic formula with a light, fresh scent
Perfect for everyday laundry or heavily soiled loads
Visit purex.com for additional product information
Want to try out Purex plus Oxi yourself? Scroll down to enter to win 1 of 3 coupons for a full size bottle.
---

Prize: 3 readers will win 1 coupon for a free full size bottle of Purex plus Oxi laundry detergent (up to $6.00 value – expires 12/31/13).  This giveaway ends 2/17/13 12 midnight EST
---
How to Enter: 2 Step Process
1. Please leave a comment directly on the blog answering this question:
What is your "regular" brand of laundry detergent?
2. Fill out the rafflecopter form.
The form will load directly below this text. You must do these two steps in order to be entered. No one but me can see your email address.  Any questions please leave them in a comment or on Facebook & I will get back to you.
---
---
DON'T FORGET TO ENTER THE WELCOME TO THE WORLD SWEEPSTAKES
One lucky grand prize winner will receive $1,000 and 250 2nd place winners will receive a coupon for a free bottle of the new Purex Crystals for Baby!
---
Disclosure: I received the above product to facilitate this review. The views & opinions expressed here are my own. Yours may vary.