I've seen a ton of reviews for these humidifiers in the past year or two. Moms really seem to love them. They come in all sorts of cute animal designs.  One of the most common questions on the First-Time-Mommy Facebook page is how to relieve a babies stuffy nose when they're sick. The most common answer is: a humidifier. Chances are at some point in time you'll need one of these guys.
Crane are giving away a Freddy The Frog humidifier every Friday the month of March & a custom designed humidifier to 1 grand prize winner on the FB page.  Head on over there for a chance to win.
U.S. entrants only!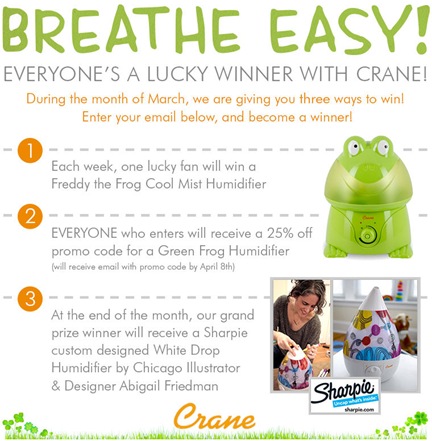 ---

Can't wait to see if you win? Check out all the cute Crane Humidifier designs on Amazon.com where they retail for $39.98. These would make a cute baby shower gift to ask for or receive!
---
Disclosure: some posts may contain an affiliate link. All monetary gains are put back into the running of this site as well as the facebook page. Thank you for understanding.