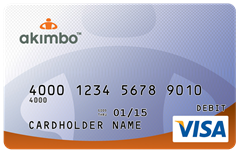 I'd like to introduce you to the Visa Akimbo Card. The Akimbo prepaid card is different than most Visa cards in that once you're a member you can create networks of up to five sub-cards, each with its own PIN, letting the main card holder easily and instantly transfer funds.
They're perfect for families, especially with children who may get an allowance, earn money, or that you might give money to but don't feel comfortable with them holding on to cash. This limits the amount of money children have at their disposal while providing convenience and safeguards.
These cards are also perfect for those that would like to make purchases online but don't want to use their regular cards or paypal which are connected to their bank. Keep a limited amount on your Akimbo card & if anything happens you have far less to worry about. If you're traveling, especially overseas & don't want to take unnecessary risks. Bring your prepaid Akimbo card along.
Each purchase is accompanied by real-time notifications that includes the current balance.
The Card That's Social
Unlike other cards Akimbo enables sharing via Facebook, email, and text (SMS).
Furthering the notion of social banking, Akimbo's iPhone app let's you add photos, notes, and ratings to purchase transactions. These can be posted to Facebook, or soon shared privately via email. Photos and notes can also be attached to money transfers and requests.
If you'd like to send money to someone outside your circle (of cards) like a Facebook friend, all you need is their name, email or phone number. The recipient must enroll for an Akimbo Card to collect the money, but once the account is created they are sent a pre-loaded card.
As you see there are many convenient ways you can use the Akimbo card.
Getting Money on Your Visa Akimbo Card
Wondering how you get money ON to the card?? Well it's super easy. If you don't have a bank account & can't transfer that way you can visit any of the thousands of Visa Ready Link locations in the U.S. and load them with cash. http://usa.visa.com/locators/readylink-locations.jsp You'll find Visa ready link locations at places like Walmart, CVS, gas stations, 7-11, party stores & more. They're everywhere. You can also load your card with your paycheck by direct deposit, tax refund, student loan or other payment as well. There are a lot of options.
Akimbo Wants to Give First-Time-Mommy Readers $5 Free
Akimbo wants to give first-time-mommy readers $5 free just for signing up & activating their cards. That's $5 for absolutely free. All you need to do is sign up and use the following promo code: MOMMY Once you receive your card in the mail (it may take up to a couple weeks) you must activate the card online in order to receive the promo credit. You will not see the credit in your account until you have received your card in the mail & have activated it.
The Visa Akimbo Card is currently in beta with 10,000 users. I'm a member myself! I signed up several weeks ago, used the promo code, and waited until I received my card in the mail. I then activated it to make sure that the promo card worked & was ready to go. So far I'm loving the Akimbo card.
There is no monthly fee and it's free to sign up.
Just remember use promo code: MOMMY
---
More About Akimbo
Akimbo is a new way to access and manage your money – enabling greater control over everyday spending and free and instant money sharing. You can load money from a bank account, via direct deposit, and with cash at various retail locations. The Akimbo Card can be used everywhere Visa debit cards are accepted, at ATMs, and to send money via email, Facebook, and SMS.
Once enrolled, users can link their current bank account to load the card or to send money to others. Sharing money with friends is completely free and the Akimbo Card charges no monthly fee, which is rare in the prepaid industry. There is also no charge to sign up or to create sub-cards.

Users can sign up for the Akimbo Card at https://akimbocard.com or download the Akimbo app for iPhone in the iTunes App Store.
The Akimbo Card is issued by The Bancorp Bank pursuant to a license from Visa U.S.A. Inc. The Bancorp Bank, Member FDIC. For more information, please visit
Promo code: MOMMY
---
Connect Online
http://www.facebook.com/akimbocard
@AkimboCard on Twitter
---
Disclosure: This is not a sponsored post. I received the same $5 credit by signing up for an Akimbo card. This promo code for First-Time-Mommy readers is being provided courtesy of Akimbo. . My experience & opinion is my own. Yours may vary. I am not responsible for any issues you may have with your Akimbo card. 1 card, 1 promo code per reader please. This is limited to the first 200 people that apply. Thank you.