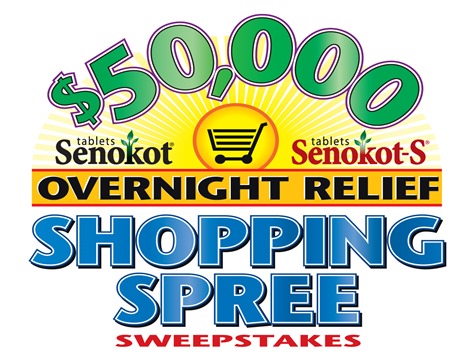 Senokot are back again this year working in collaboration with First-Time-Mommy to get the word out about the Senokot Overnight Relief Shopping Spree Sweepstakes. By the time it's over they will have given away $50,000 in prizes. They've also graciously once again agreed to give one of my readers a chance to win right here on the blog. This year it's your choice of a Kindle Touch 3G, $150 Hyatt Hotel gift card or an iPod Nano!
Before we get into the details I want to reiterate what I said last year in regards to constipation.
Constipation is No Laughing Matter
Whether you like it or not constipation is a very important topic when it comes to expectant and new mothers. Treating your body right & keeping constipation at bay can mean the difference between getting or not getting hemorrhoids. It's something that you want to prevent if you can. Trust me. I've had 3 babies. I had them with my first during a vaginal delivery & I had them with my last after a C-section. Both times, equally as painful. Recovery was much harder because of it. Most women don't like to admit these things happen but I'm doing so because I don't want you to have to go through the same thing. It's definitely a subject you want to research and prevent, so make sure you take it seriously.
So, now that we've broached the topic of constipation here are a few words from Senokot:
Senokot® and Senokot-S® Tablets Prove Gentle Overnight Relief
"While Senokot® Tablets provide overnight relief to those who occasionally suffer from constipation, which may be associated with diet, lifestyle changes, or travel, Senokot-S® Tablets can be an option for those who suffer from occasional constipation which may be associated with certain medications.
"Our goal is to make the topic of occasional constipation more mainstream so that people are more open to discussing it with their doctors or pharmacists", explains Charlene Bailey, Director, Product Management for Purdue Products L.P. According to a recent survey conducted by Russell Research for Purdue Products L.P. in November 2012, of 1,023 women ages 18 and older, 53% of those polled agree that occasional constipation is an embarrassing topic to talk about with friends and family, while almost half also find the topic embarrassing to discuss with physicians and other health care professionals.

The survey revealed many misconceptions about occasional constipation. Forty-one percent of women polled think that occasional constipation is not a condition they need to worry about at their age. Although older adults are more likely to report problems with constipation than younger adults, poor diet, lack of physical activity, certain medications and dehydration can be the cause of the condition at any age.1 In addition, only one in three women knew it could be the result of surgery.2"

1American Gastroenterological Association. (2010). Understanding Constipation. Retrieved December 5, 2012, from http://www.gastro.org/patient-center/digestive-conditions/constipation

2 Data on File. Purdue Products. 2012
---

The Senokot Overnight Relief Sweepstakes is going on right now & will run through May 31st, 2013!
Enter the Senokot®/Senokot-S® Overnight Relief Sweepstakes daily by visiting:
Follow them online for a reminder to enter daily!
Facebook:
https://www.facebook.com/senokotsweeps
Twitter:
https://twitter.com/SenokotUSA
---
More About the Senokot®/Senokot-S® Overnight Relief Sweepstakes
The sweepstakes begins March 3, 2013, and runs through May 31, 2013. Consumers can enter online via a special promotional website (SenokotOvernightRelief.com) where they will be able to choose from a selection of three prizes, or offline by mailing their contact information to Senokot®and Senokot-S® Tablets Overnight Relief, P.O. Box 724, Southport, CT 06890. The sweepstakes will run for 13 weeks in the U.S. and Puerto Rico, with over $50,000 in prizes given by the end of the promotion period. Winners will be selected randomly on a daily basis. Prizes include Hyatt Hotel gift cards, Phillips 22" flat-screen TVs, iPod Nanos, Kindle Touches, and more.
---

Prize: Senokot is kindly offering 1 of my readers their choice of: Kindle Touch 3G, $150 Hyatt Hotel gift card or an iPod Nano
Please make sure you enter the Senokot sweepstakes daily because there are TONS of other prizes to be won! This giveaway Ends 5/31/13 11:59 pm EST
How to Enter:
2 Step process for entering.
#1 Scroll down to the comment section directly on this blog and leave a comment telling us which prize you would choose if you won.
#2 Fill out the Rafflecopter form (it's a form & will pop up after a minute under this text).
Any questions just leave a comment or ask on Facebook.
Good Luck!
Disclosure: This is a #sponsored post. This is not a review of said product. Opinions & experience are my own. Yours may vary. Always consult your Dr. before taking any medications, especially while pregnant or nursing.