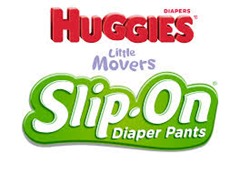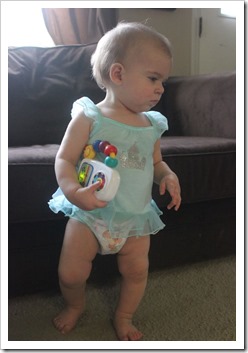 I've been so busy lately I haven't had much opportunity to write about Silje. Well, my sweet little girl will be 1 years old next month! Yes, it's hard to believe time has went by so fast. She's been reaching so many milestones lately! At the end of 9 months she started walking. At 10 months she practiced a lot & just tried to stay upward while in motion, and now at 11 months she's got it down & she's working on her speed.. and boy is she fast.
She's also a real wiggleworm when it comes time to change her diaper. So when we had the opportunity for another milestone courtesy of Huggies of course we said yes. What milestone is that? Well, her first fitting with Huggies Slip-On Diapers. It was so cute because she wants so bad to do everything her brothers do that she is already trying to learn how to get dressed, put on shoes, brush her hair. All that stuff. So when I brought out the Slip-Ons & told her to hold out her leg for me it took a minute to catch on but she finally figured it out. It was so much easier than dealing with her legs kicking me in the face while she laughs at me.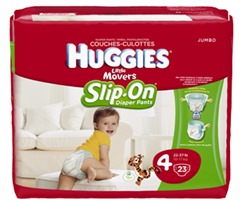 Taking the Huggies Slip-Ons off was just as easy. They have super stretchy sides which are easy to open & the grip tabs allow you to fold the diaper up & close them with the tab like you would normally do.
Huggies Slip-Ons are definitely going to be my go-to diaper for when we're at the park, or, out for a long walk, or even like today when we were out and had to try to change a diaper without a changing table! So much easier to just pull off & pull on. Plus I'm hoping to get her potty trained a lot earlier than my boys & hoping just the action of pulling on the diapers like underwear will help her to learn faster.
I can't wait to see what milestone she passes next, though I have to admit I'm pretty sad my last baby is growing up so fast.
For coupons and to learn more about your baby's first fitting, visit the Huggies Fitting Room
This is a sponsored conversation written by me on behalf of Huggies. The opinions and text are all mine.