Baby: Elloria
Babies Sex: Female
Due Date: 4-25-11
Birth Date: 4-19-11
# of Weeks Pregnant: 39
Birth: Induced/C-Section
Baby Stats: 6lbs 19 oz, 21 Inches
Mom: Tonya H.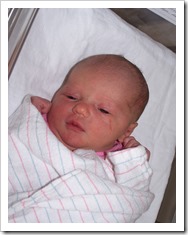 During my second prenatal appointment I was sent to a hematologist due to a blood clot two years prior. It was from a broken ankle and birth control pills but my Dr didn't want to take any chances. I was told by my hematologist that I would need to be on blood thinners from my second trimester until six weeks after the birth. I had to have injections two times a day in my belly for 7.5 months. My husband is a saint, as he gave them all to me. We found out at our 36 week appointment that they had to stop the blood thinners 36 hours before birth, and were given a scheduled induction date of 4-18.
We actually went to 1.5 hours away for a baseball game the day before our induction as our last couple activity. Everyone was sure we were going to go into labor at the ballpark! We packed up the car with everything we needed….just in case and drove down to the game. Let me tell you sitting on the top of the stands 9 months pregnant and going UP and DOWN to pee…..was a nightmare. It was so great to be alone with my DH and watch our two teams battle it out though and my team won! It was actually the last Sunday game they won for 18 weeks. It was a bad streak but it was cool to be able to track their last win hee hee.
We bought a pack and play Saturday before the game and after putting it together realized we didn't like it because it didn't have a newborn napper….I knew lil e was going to sleep in it for a while and I wanted the napper for her to start in. DH was taking it apart and one of the legs was stuck…he pulled really hard and whacked himself in the forehead with the leg, causing a gushing open wound. I have a bad habit of laughing during stress..I was worried about my husband and made sure he was ok but I couldn't stop the giggles….(I know I'm horrible but I simply can not help it). I made him get off the floor, helped him to the living room to sit down and stop the bleeding. I thought I did a good job of hiding the giggles but later he told me he could hear me and it actually helped calm him down. He probably should have gotten stitches, but he's a guy so he just left it. It was kind of ironic that he gets this wound on his forehead two days before he will be photographed more than he ever has been before. Not to mention how many times he had to explain the wound to family and friends! He still has a scar to this day but says its ok it was worth it for his little girl 🙂
We arrived at 8am and they started pitocin right away. Ok, so to be honest we arrived at 8:20, I HAD to stop at 7-11 and buy an ice tea before going to the hospital. I was addicted to them during my pregnancy. The Dr actually yelled at us and said they were about to give my room to someone else. She was serious too….she should have told us to be punctual…we thought hey were going to be there awhile there is no need to hurry. The room they put us in was actually the same room we toured during the hospital tour we went on at 5 months pregnant. We thought that was pretty cool, since we already knew it in and out.
It was a SLOW progression. The nice thing was I never really felt any contractions. We tried everything to get lil e moving, walking the halls, a bath in the jetted tub….etc. By 5 PM we were only 2 centimeters. They stopped the pitocin at around 8PM so I could sleep and started it up again at 8AM. Still little progression I was still at 2 centimeters at 1 PM so the midwife decided to "try" to break my water. She was like a bull in a china shop hurting me and failing to break my water. About 1.5 hours later my OBGYN came in and broke my water in 15 seconds. The contractions increased but still weren't very painful (I know how lucky I am, whenever I tell my birth story, other mom's get angry at me 🙂
I progressed to about 3.5 centimeters at 6PM. I had insisted from the very beginning that I refused to have my baby on 4/20 and I was starting to get worried. DJ"s dad and mom came to visit and to hopefully get the birth rolling….did not work. They left around 8PM and the midwife said my Dr would be in to check me around 9, but there was no progression. Dr came in, looked at me and said well I guess you're going in for a C-Section. Ellie and I were not in distress but she didn't want to chance any issues. (And I was secretly overjoyed because I was having my baby on the 19th, after all and it was her Auntie's birthday)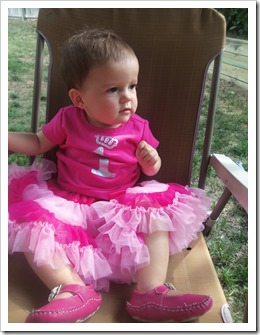 We had an hour to get ready and that hour flew by. DH called his Dad and they had literally just stepped out of the car in the garage, they turned around and headed back to the hospital. I kind of panicked, since this was my first major surgery and I would be alone during prep before and after birth, but I wanted Papa with Elloria as soon as she was born. We walked out into the hallway to walk to the operating room and met DH's dad and mom halfway to the operating room. We were so glad they got there just in time cause they were there with DH while I was prepped for surgery.
My Dr was great and the spinal was not as bad as I imagined. Soon I was waiting for DH to come in and they were asking me what music I wanted. I can never decide so they asked DH as they brought him in. He said classical and his dad interjected with The Beatles. The Beatles won and I am so glad because whenever I hear them I get a flash of the anticipation of meeting our little girl 🙂
It was so nerve racking waiting to see lil e being behind a big green sheet. DH just kept me talking the whole time. They said at one point, I see hair and we were so excited. When they pulled her out and showed us her sweet face we were so happy! They failed to use gender specific terms for the first couple minutes and I was waiting to hear SHE…even thought I knew I was having a girl from the moment we planned to get pregnant I always thought what if. They they told DH, you can go with her now and I knew our Elloria had arrived. The anesthesiologist kept me busy while they cleaned and weighed her, until DH brought her over so I could meet her. Our little family was complete and we were all well.
---
A big thank-you to Tonya for sharing her birth story with us!
If you would like to share yours, please email your story and 3-4 pictures to detroit.mommy (at) gmail (dot) com with the subject line: BIRTH STORY or Message me directly on Facebook with the subject line: BIRTH STORY. Please include all the stats that you see above (weight, birth date, name) with your story.
Read More Birth Stories at the Following Link: