Buying
Just a quick rundown for those that don't know what ThredUp is. It's an American online used clothing store for women, boys, and girls. You can buy used clothing on the site for fairly low cost. You can buy cheaper brands like Carter's and Osh Kosh and higher end clothing by designer brands. I personally didn't even browse the higher end stuff, it's not in my budget. Sizes start at 12 months.
Selling
You can also sell your own clothing by ordering a bag to be sent to your house. You pick out your best clothes that show little to no usage, launder them, and them stuff them in the bag & ship them off. You don't get paid very much, sometimes as little as 60 cents, but every little bit helps, right?
I'll post my experience on selling later, but for now this is my experience on buying and what I received. Mostly in pictures so you can see for yourself.
---
What I picked out & ordered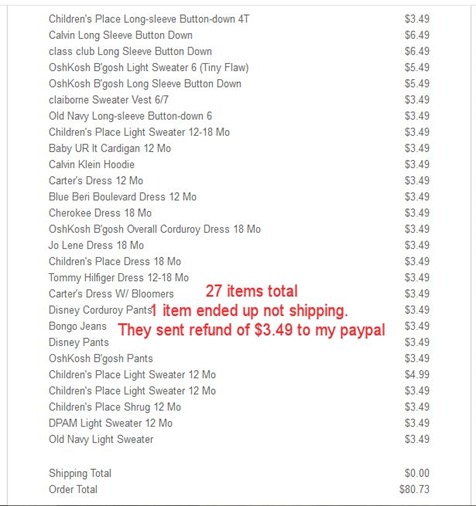 I used a $15 discount code I received in my email & had 1 referral credit for $10 so I saved $25 immediately. Plus NO SHIPPING FEE.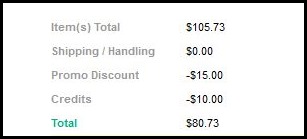 This is what I supposedly saved based on original prices of the clothing. 83%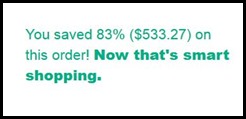 8 days from the time I placed my order my box arrived. It looked like this. Pretty cute & in perfect shape. Delivered by regular mail.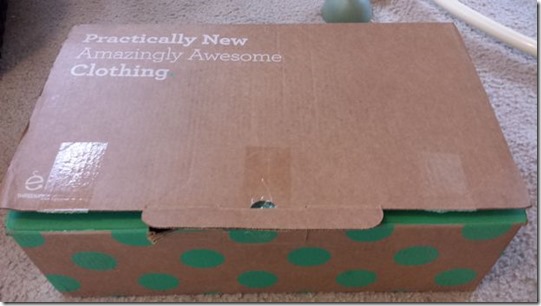 Upon opening the box there is a nicely printed out shipping list & everything is wrapped in tissue paper.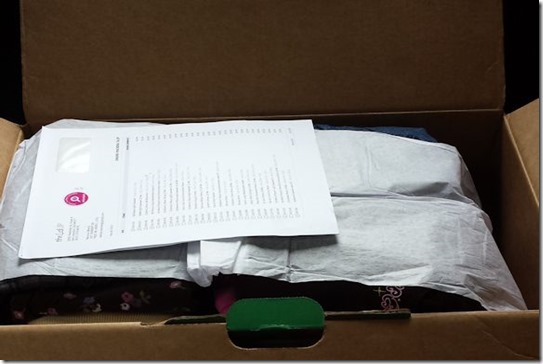 This is everything from the box. 26 pieces of clothing. Upon first inspection, all in near perfect condition. No frays, no dirty cuffs, no missing buttons or dirt on the bottom of the pants. You can click the pic to try to get a better view.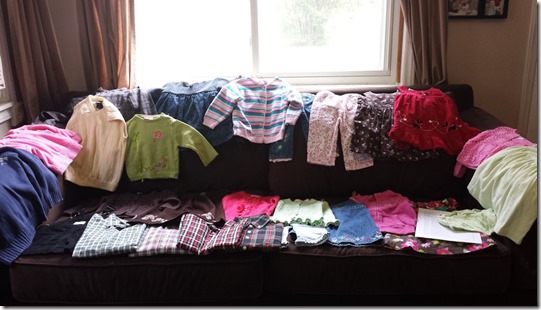 Everything looked as though it had been ironed & folded lovingly. Not a lot of wrinkles. However I wasn't fond of the smell. They did not smell dirty, but not newly laundered either. They all smelled the same even though the pieces came from separate families. Maybe since they sat together for 8 days in the box.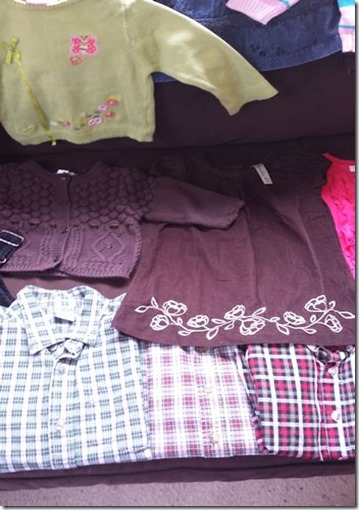 I did find 1 flaw on the size 4T shirt that I bought. You can see it front & center. The material was a little roughed up. The rest of the shirt was impeccable though. This shirt was $3.49 so for the price I'm ok with it. Toddlers are hard on clothes.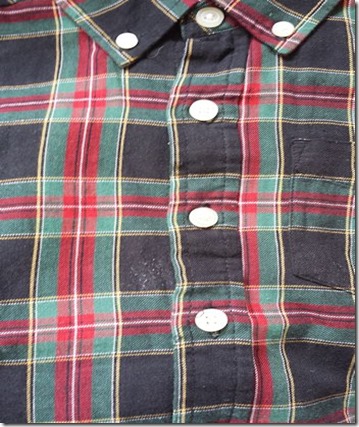 Better Than Buying New IMO
All in all if you go by the prices I show up top (not taking into account 1 shirt didn't ship & I got a refund of $3.49). I paid an average of $2.99 per article of clothing. $2.99!!!

There is a Tommy Hilfiger dress, Calvin Klein pink sweatshirt, Calvin Klein plaid shirt for my son, Bongo jeans for the baby.. and a couple of sweaters that were really top quality and in mint condition. Nothing arrived with tags still on it but I was still really impressed.
I have to tell you that I also feel much better knowing that I'm re-using clothing instead of purchasing everything brand new, when in this day & age we know that most of the things that can be purchased so cheaply are also made with the blood, sweat, and tears of other unfortunate people in foreign countries. It's so hard to find American-made products sometimes, so I feel a little bit better about purchasing some of our stuff this way, even if some of the items weren't made in America.
Final Verdict
I definitely think it's worth it to purchase your children's clothes from ThredUp from ages 12 months to maybe 4 or 5 years. I cannot speak for anything over size 6 as I didn't buy anything in those sizes. There wasn't a big selection for my son in size 6. There were a lot of the same types of clothes. Tons of flannels. I was able to find a few really nice sweaters and sweater vests for him though. Everyone has different taste so maybe you'd have better luck.
I'm definitely going to keep purchasing Silje's clothes this way for a few years. There was just so much variety, and for so little and they are REALLY EASY to sort through on the site. I also liked that I was able to browse through tons of different brands at once. I wasn't sitting on one website with a limited selection trying desperately to find something else I liked.
The only other thing was that shipping took a little long. 8 days is a long time in my opinion but then again shipping was free & the box arrived in perfect condition.
Definitely check out ThredUp for yourself. I think you'll be pleasantly surprised. Hopefully you find something you like!
Feel free to use my Referral link and get $10 off your first purchase. $20 towards your first purchase
Let me know if you purchase anything and how it goes!
Disclosure: This post contains a referral link so I can share a $10/20 code with you.. This is not a sponsored post, all opinions expressed here are my own. I try to share only things I know my readers may find useful or enjoy.