Baby: Aiden Alan
Babies sex: Male
Date of Birth: January 13, 2013 5:57pm
# of weeks pregnant: 33 weeks
Birth: Vaginal delivery
Babies Stats: 5lb 7.5 oz 17 1/4 inches
Mommy: Pam
Daddy: Josh
After being told that having a child would be incredibly difficult, we decided that we would actively start trying. After a year and a half and surgery to removed cysts that were growing on my uterus, we finally got pregnant. This would be the the 1st grandchild for his parents and 3rd for mine.
December 2nd 2012 (28 weeks)
This is when I had my first preterm labor experience. We just finished eating dinner at a friend's house and were now all lounging in the living room talking. I started feeling what I thought were stretching pains. So I switched position, drank cold water, went to the bathroom and nothing helped. The pains got worse and worse. We decided to go to the hospital since it was only 5 min away. We soon discovered that I was in active labor and 2 cm dilated. I was rushed to Nashville (45 mins away) because the local hospital did not have a NICU. After two days I was released with the order of strict bed rest, high risk status and weekly doctor visits.

January 7, 2013
At a routine visit I presented concerns about increase liquid discharge. It was quickly dismissed with the comment "well you are probably just peeing yourself". That day my husband was to leave for a month long training exercise. My husband informed my doctor that if there was even a chance that I would deliver my son before he returned, then they would allow him to stay and go with the next group in a few months. She assured us that my son would not come before then.
January 12, 2013
Over the next few days I could not shake the uneasy feeling that she was wrong but who was I to question the doctor who does this for a living. But when Saturday hit, I notice less movement (close to none) and something was not right. I asked my neighbor to take me to the hospital. We arrived to find that my water had been leaking since my appointment. Because there was a high risk of infection, I had no choice but to have my son soon.
As I sat in tears, my friend called my husband, parents and in-laws and told them what was happening. My mother who was across the country scrambled to try to get the next flight out. My in-laws, located only a few hours away, jumped in the car and were on there way. My husband was stuck in the swamps of Louisiana, desperately trying to get his command to get him home.
I was then transported to the closest hospital and assigned to the doctor that helped us get pregnant. This gave me a huge sense of relief, someone familiar and someone that I trust. We talked and decided that we would let my body naturally progress but agreed that he would do what he felt was needed for my son and I.
January 13, 2013
Over the next 24hrs, I had several visitors and plenty of time to watch TV and walk. When we hit the 24 he mark we realized that I had not progressed passed 5cm and my doctor decided to aggressively start pitocin and break the rest of my water. He looked me in the eye and said "if you want an epidural, now is the time to ask for it while we have the anesthesiologist on the floor". I decided that I would to try to tough it out and that if needed I would ask. Within about 30 min I was curled in a ball, unable to breath because of the pain. My husband, who was still stuck) tried comforting me over the phone and my in-laws held my hands and rubbed my back encouraging my breathing. I cried for an epidural and soon found I would have to wait 45 min because an emergency came in and the only available anesthesiologist was tending to that.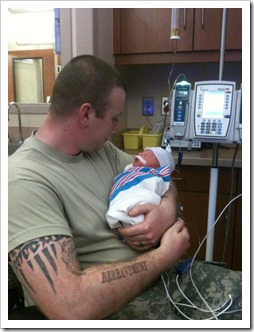 An hour later, my epidural finally kicked in. I was checked and was finally 9cm. Within 2 min I was completely overwhelmed with the amount of people and equipment that was in the room. A nurse explained to me that I may not be able to hold him, because he was a preemie and we don't know get what his status would be.
They got me ready and soon it was time to start pushing. My husband, who still wasn't there, was on the phone with us the whole time. After 45 min of pushing, the doctor old me the my son's head was stuck and that he would have to vacuum assist. On the first try my son progressed and then regressed back up. The doctor told me if after the 3rd try my son didn't move then we would have to do an emergency c-section. I don't think I had ever prayed so hard in my life but in that moment. Thankfully the second try was successful and within 3 pushes at 5:57pm, after 29 hours of labor, my son was born.
I was able to very briefly hold him on my chest before he was pulled away to be checked. After establishing that his oxygen was at 98% and he was fine, I was able to hold him. My first words were "my god you look just like your daddy". After a few hours I was moved to a recovery room for some much needed sleep and Aiden was moved to the NICU.
January 14, 2014
Josh was able to meet Aiden for the first time. We also discovered that my son had pulled his own feeding tube out…lol
January 23, 2013
After 10 days in the NICU, and exhausting 45 min drives back and forth, Aiden was able to come home and meet his four-legged brother and sister.
Today, he is 8.5 months old and 25 lbs. Aiden is very healthy and on track in development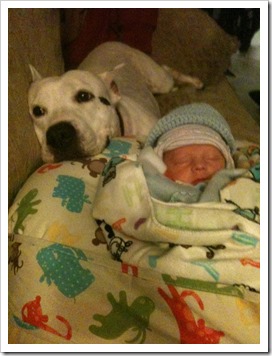 ---
A big thank-you to Pam & Josh for sharing their son's birth story with us!
If you would like to share yours, please email your story and 3-4 pictures to detroit.mommy (at) gmail (dot) com with the subject line: BIRTH STORY or Message me directly on Facebook with the subject line: BIRTH STORY. Please include all the stats that you see above (weight, birth date, name) with your story.
Read More Birth Stories at the Following Link:
http://first-time-mommy.com/blog/category/birth-stories/
.
.
.