Baby: Juliette Rose
Babies sex: Female
Due date: August 20, 2013
Birth date: August 4, 2013
# of weeks pregnant: 38 weeks
Birth: Natural/Vaginal
Babies stats : 6lbs 11 oz 19 1/2 inches
Leaving hospital: 6 lbs 5oz.
Mom: Julie
August 2
Love being pregnant! this is my second baby, my first baby is 23 months old! I am a stay at home mommy and spent this pregnancy playing with my son. We sang, read stories , painted, went in our pool and talked and sang to his sibling in uterus as well. He liked massaging my belly and giving baby kisses on my belly. My mom took gorgeous maternity photos at our home in July and I did a belly cast of my pregnant belly late night of August 2 by myself inspired by book I read called, Birthing from Within while my husband and son were sleeping together on our bed.
I had some vomiting during this day because I smelled meat cooking and this pregnancy I had lower appetite than first pregnancy , aversion to meat and had vomiting this time but felt great, was very happy and lots of energy and loved being pregnant!!! after cleaning up kitchen from making belly cast, I had a little cough attack, I lit some candles and rubbed my belly talking to my belly, I felt small movements , I felt very relaxed and peaceful. ate something small, then went upstairs in master bedroom shower , gave kiss to my husband and son sleeping on our bed, and took a shower to clean the belly cast residue off my body, wrote in my pregnancy journal, and went to zzz around 2 am and cuddled next to my son and husband.

August 3.
At 7:00 am, on Saturday, my husband said he was going to go to Home Depot and gym and he would bring our son and me breakfast when he came back. Our baby boy was still sleeping in bed with me. I said okay and went to bathroom and noticed light pink color on toilet tissue. I told my husband and I then called my midwife, She said not to worry. its normal and I am okay. call if I get any labor surges. While I was on phone with my midwife, my membranes released and clear trickles of water went down my leg. I had my membranes release or the term water break with my son as well. I said on phone "wow I think my water just broke now!" she said "well then come on in to the hospital after eating and we will check it out." I told her I wanted to labor at home as much as possible and use my home jacuzzi with warm water to manage any pain.
I knew I wanted no medication at all. We live few minutes from hospital. I did not have much appetite for breakfast and took some bites of egg and cheese sandwich my husband made me and ate with our son. We made a warm bottle of milk for our toddler, told him he was going to be big brother and baby was going to meet him. I said "want baby to come out of mamas belly?" he said "uh huh." I held him ,made a bag of toys, snacks, puzzles, books to take with us to hospital for our son. My husband , our son and me went to hospital. My hospital bag and a bag for baby was packed but we left it home because I wanted to labor at home. My water kept trickling down my leg. I was wearing a dress and when I walked into hospital maternity door, the security guard gave me a towel because I started leaking more than at home. Its like your involuntarily urinating. My midwife did a qtip swab and said at first it was a false alarm because the swab should turn color if its amniotic fluid and its not changing color. She said she would do another ferning test if it ferns on microscope, its amniotic fluid,she said I had tons of ferning and yes my water broke. I had no pain, no labor surges aka contractions. I stayed about half hour then told them I wanted to labor at home. since everything was great , they said okay and to come back when my surges were close together. They said I was laughing and in a great mood and they could tell I had no pain yet and was far from labor. They did not check for dilation nor effacement.
When i got home, I did not feel like resting! I had sooo much energy. My husband went grocery shopping, stocked up on food, got gas, and he brought so much food home. I played with my son, cleaned, made copies of my birth plan, brought baby book for babies footprints, contact list for my husband to call to announce birth, baked batches and batches of milkmakers lactation cookies to pack and packed bags of mothers milk tea and lactaid milk in hospital bag. I breastfed my son twenty months and was going to breastfeed again. I didn't know that second time breastfeeding, you produce a lot more milk than first time around. I also made sure our camera and camcorder was charged. I did laundry. I definitely was "nesting". I wanted to do everything!
I told my four sisters, mom and dad that my water broke and we would be meeting our new baby two weeks earlier than we thought. we did not tell my in laws who live in Europe nor anyone else yet at this time. we would wait until baby was born! My son arrived two days after due date.they were so excited. my mom was coming from Rhode island to Connecticut and would be watching our son at our home. i had never , never been away from my son. I stayed home with him, held him all the time,and was with him 24-7 so I was sad to leave him even though I knew he was in good hands and he had a lot of fun with nana and aunties!!
No contractions, no pain . afternoon passed. My son and me made a picture with crayons. I packed this drawing to decorate my labor room with along with a religious picture of Our Lady of Fatima. night came, still no pain , no contractions, my husband said to rest but I was so energetic and I could not rest. I couldn't believe I would be meeting my baby soon and my toddler was my teeny baby. Would he look bigger to me next to newborn? (he did but he's forever my baby ). night came , I was still home , no pain. i tried to rest. thru the night, I kept seeing time pass on clock but still nothing……..
August 4
4: 15 am, I woke up from sleeping and felt a minor labor surge and i was like , wow i feel something. My husband and son were sleeping in bed, and i went downstairs and decided to jot down 4:15, I started getting painless contractions ten minutes apart. my mom was still in Rhode island, I texted her at 4 :30 am telling her i finally was getting contractions. she said she would leave her home at around 7 am and she was so excited she couldn't sleep.
I went back upstairs to bed and tried to rest. I stared at my son and husband peacefully sleeping, my husband noticed I was awake and i told him, yes! I started some contractions. he said , that is good. At 7:30 am, my midwife called and said it has been twenty four hours since your water broke and that I need to go to hospital now. she said to eat and that I would not be able to eat in labor and only drink. I made breakfast for everyone and warm bottle of milk. I had a small appetite. took a shower,wore a pretty maternity nursing dress. our son, my husband and me left for hospital, this time with our bags.
My son sat with me on hospital bed and was having fun pushing buttons and liked seeing bed go up and down. He drank apple juice with me and we read brown bear book together. My sister came to hospital and my husband and her were taking our son home until my mom came from Rhode Island, I gave my son a hug and kiss and told him baby was coming now and it was going to be his babies birthday soon. I showed him pictures, we colored together and taped it to the wall, he pointed to his drawing. tears came from me after he left because it was first time we were apart.
I hung up positive affirmations and our lady of Fatima picture too on wall. I took out copies of my birth plans . I walked with my husband. I had to pause and lean against my husband or hospital walls during a contraction while walking. I was 1 to 2 cm dilated. They wanted to give me Pitocin and induce me . I said no I want everything all natural. They said i could still be all natural birth and they would give me the very lowest dose of Pitocin. I told them no epidural at all and no medicine.
After an hour or two I felt relieved during contractions being on a hands and knees position, my husband played soothing, meditation music on my Ipad which calmed me a lot. I had brought lavender essential oil. my nose was a bit stuffy and I had a hard time smelling the lavender fragrance.I looked out hospital windows and saw it was a sunny day. I read my positive affirmations out loud. I had only been checked one time, my midwife re checked me and I was 3 to 4.cm dilated, she said i had long way to go.
An hour after, my contractions were painful. hands and knees position on hospital bed helped, and so did sitting on toilet. I kept drinking and peeing, I started crying during contraction and said "I cant do it naturally i need medicine", my midwife said "let me check you and then we can talk about what you want". I started crying during contraction and rocked my body against my husband or midwife. I felt very cold, my midwife gave me a blanket, then a minute later , I got soo hot that I removed my hospital gown off and pulled my long hair in a headband and ponytail. my husband placed cool compresses on my forehead. My midwife massaged me and it felt very good and helped me. I said "it hurts" but my husband reminded me I would meet our baby soon and I smiled. those words made it worth it. I really wanted to meet my baby! I said "I feel like I am going to die , I'm in a lot , a lot of pain . I want to quit, I cant handle this pain and am I really going to get a reward of a baby soon?" I asked my unborn baby to please help . My husband and midwife said , yes baby is helping you and working hard too. you can and will do this. i started moaning during contractions and i said "help me , I'm in excruciating pain". My midwife said "let me recheck you" and I was 8 to 9 within a hour, she said "you are in active labor now. you are in a lot of pain because you progressed so fast. you can and you will do it. its too late for medicine, it will just go to baby" I didn't want any chemicals on my baby. I reminded myself that I am strong and positive and to trust my body and baby know what to do. I wanted a natural birth and couldn't believe I progressed so much in an hour."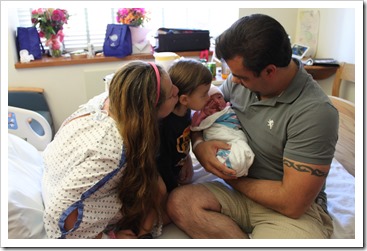 I said "I'm sooo hot." I was totally naked on hospital bed at this point. We had lights dimmed and soft meditation music on. They told me to push. I said to my unborn baby "please help me and help me God." I screamed in pain and gave out a really loud roar like sound and gave one long push. One push brought my beautiful baby girl into this world at 2:05 pm. She had a full head of black hair. She was placed on my chest and I cried so much. My husband took pictures. I loved her so much! She was so perfect and beautiful, she did not cry, we made eye contact and i knew she knew I was her mommy and she was safe. I rubbed her vernix body and held her close. We delayed cord clamping and my husband cut her cord and gave me a kiss. we did it! we took her placenta to plant in our yard as tree of life. I easily breastfed her for one hour after birth, she was very hungry after all our hard work birthing. I thanked her for helping me, said happy birthday and kissed her and told her I love her so much. Her eyes seemed to say I know mommy and I love you too. I massaged and rubbed her vernix on her body. No crying she made.
She never went into nursery, we stayed together and I held her and breastfed her all the time. I changed all her diapers at hospital and loved having 24 -7 rooming in as per my request. I had no vaginal tears, no episiotomy and had so much energy right after birth , I was glowing and could have run a marathon!! my body did not feel like i had a baby . I loved being free from hospital interventions, no ivs , nothing and just holding my beautiful girl! I forgot all the pain immediately when we met each other. I did not even take an aspirin. I had peaceful, beautiful natural birth I wanted.
After bonding with my daughter on my own for about one hour and a half, my son was first to meet his sister and then my sisters, mom and dad. they brought flowers, food,and so many presents for baby Juliette and big brother!
She is my beautiful princess.at six weeks now, she never cries . I hold her all the time, we love cuddling with each other and we are in love!!!! I trust my motherly nurturing and instincts with her ! She is very pampered and loved so much! I would do anything for her and want her to always be happy and know she is loved! I have so much love for both of my babies and I am so honored God chose me as their mother and my husband as their father to share my life with them! Welcome to world Juliette Rose!!! you are very, very loved!!!!!!
I stare at them in awe and I am so lucky to be their mommy! big brother is my helper and he is also my baby too still!! I put myself thru their eyes and treat them gentle and with lots of nurturing. I am lucky to stay home with our prince and princess! This precious time goes by too fast! Happy august 4 birthday and note: on the sky was a big rainbow the day sweet baby Juliette was born! I'm a very, happy, blessed mommy! the world became a better place on august 4!
---
A big thank-you to Julie for sharing her birth story with us!
If you would like to share yours, please email your story and 3-4 pictures to detroit.mommy (at) gmail (dot) com with the subject line: BIRTH STORY or Message me directly on Facebook with the subject line: BIRTH STORY. Please include all the stats that you see above (weight, birth date, name) with your story.
Read More Birth Stories at the Following Link: