Babies Name: Clayton
Babies Sex: Male
Due Date: 5/12/2012
Babies Birth Date: 1/29/2012
# of weeks pregnant: 25 weeks
Type of Birth: C-section
Babies Stats: 1 pound 5 ounces 11 inches long
Parents: Faith & Cody
Special Circumstances: Pre-Eclampsia
"September 14, 2011 was what I thought to be the most scariest day of my life. It was 9 days after my 20th birthday and a month after I got my first house. My boyfriend, who is now my fiancé, and I were just starting our lives out when I knew something was off. I just received a job promotion and was accepted into a university for Nursing. That day I found I was in fact expecting my first bundle of joy. I was scared naturally since I was young and knew I had to fight much harder to not become a statistic and finish school.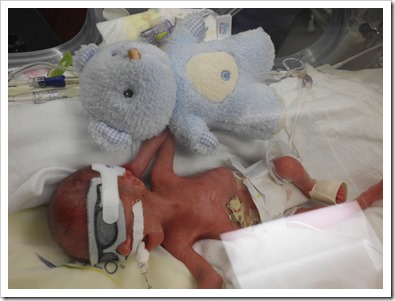 Everything was normal in my pregnancy. I had the dreadful morning sickness morning, noon, and night. I didn't eat well and of course couldn't sleep. I started feeling horrible pain in my chest just as I entered my second trimester. The first thing I thought was I was having a heart attack. I rushed to the ER to just be sent home. I found out a week later I was having Gall Bladder Attacks. I did as the doctor told and changed what little of a diet I had. I started losing weight at every OB appointment. When I finally couldn't take the attacks anymore I asked what I could do to fix the problem. I was up day and night with tightness of the chest. My doctor realized I was an emergency case and thought it was a good idea to remove it while being pregnant. I was terrified! I didn't feel comfortable with a doctor in my belly right next to where my son was growing! After research I seen that it was fairly common and a simple surgery, so I booked a surgeon for the date of January 23, 2012.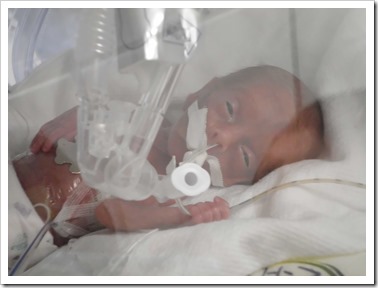 The following Thursday my fiancé and I rushed to the hospital due to pain in my shoulders and stomach. I was worried that something had happened during my surgery and needed some peace of mind. I couldn't quit vomiting the whole way to the ER which is roughly 40 minutes from our home. I focused on staying awake because I felt like I was going to pass out.
When I finally got the hospital I was admitted immediately. I wasn't sure what was going because everything happened so fast. I was hooked up to an IV with a mag drip, which if you have ever had it is the worst feeling in this world. They hooked me up to a blood pressure machine and took my blood pressure. My blood pressure read 211/111. The nurses face fell. She called the NICU staff in and the Doctor on call to figure out a plan for me. I was in a phase and my eyes could not focus on anything besides my fiancés face. We were terrified. I was given a catheter to check my urine output. It was Zero. I got blood drawn to check my levels and it was confirmed I was in liver and Kidney failure due to the dreaded Pre Eclampsia. I was heart broken. I didn't know whether my little baby boy would survive or if I would even survive for that fact. I prayed harder than I have ever prayed in my life that night.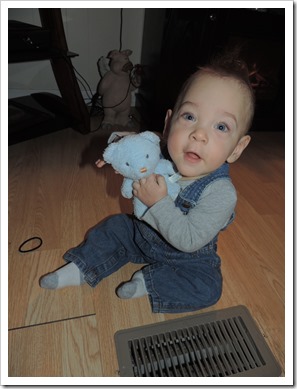 Three days later my son was born at 25 weeks gestation at a tiny 1 pound 5 ounces. I was put to sleep during my c section and no one was allowed in the room with me. I was in a room with all strangers and no one to comfort me. No one held my hand and worst of all I had no one tell me everything was going to be okay. I woke up to an empty belly and an empty recovery room. My fiancé and mother walked in to check on me and I just looked at their faces hoping for good news. I seen a picture of my son and knew he was the most beautiful being in this world.
The first night was the roughest. I couldn't see, hold or smell my baby. I had to recover myself. I was so extremely jealous of all my family getting to see him and tell him how much they loved him. I wanted him to tell him I loved him so bad and to tell him sorry I couldn't hold him in my belly any longer. The next day I got to see him for a short 15 minutes while everyone hovered over me making sure I was okay. He fought hard his first week of life. He battled a collapsed lung, a heart murmur, and multiple blood transfusions.
The following days were slow and long as I longed to have him home with me. After 128 days in the NICU he was all mine to take home. It was a bittersweet day as we fell in love with the nurses and doctors there.
Even though my birth plan DID NOT go as planned Clayton is now a very active 20 month old who is always moving and exploring new things. Nothing will hold him back!
Thank you for reading our story. I hope you enjoy it <3″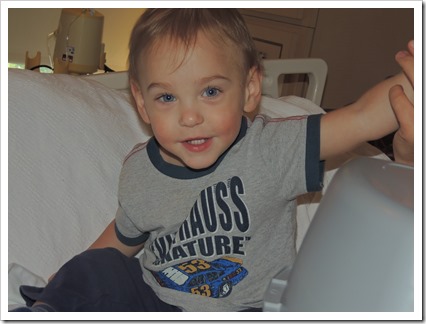 A big Thank-you to Faith for sharing her story with us!
If you would like to share your birth story you will have a chance at winning a monthly gift card. You can find the instructions & form here:
Read More Birth Stories at the Following Link:
http://first-time-mommy.com/blog/category/birth-stories/
.
.
.