Babies Name: Shanaata
Babies Sex: Female
Due Date: 5/23/2013
Babies Birth Date: 5/24/2013
# of weeks pregnant: 40
Type of Birth: Emergency c-sec
Babies Stats: 8lbs 3oz & 21 inches
Parents: Rosy and Harpreet
Country:
Canada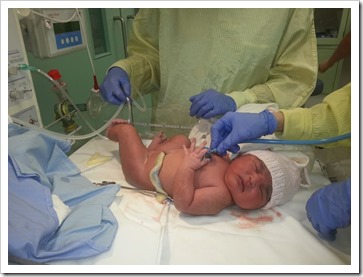 We went to the hospital on 22nd of May for a routine check up. Dr checked me & my heart rate had been very high from 23 weeks of pregnancy. Dr advised us we should go for induction because this is not good for baby. I was so nervous at that time because we were not ready for anything but we decided to go for it. Around 3:00 pm they induced me. I was hospitalized till 7 pm then they sent me back home. and they told me when the contractions start or anything happens come to the hospital.
All night I didn't sleep…..morning 6 am my contractions started …we head to the hospital…they introduced me to the Dr on duty. She checked me & I was dilated only 2 cm. Then around 7 am my water bag broke, but still we are waiting for the labor…nothing happens. They checked me every 2 to 3 hours but cervix not dilated much…..then they gave me an epidural….after that oxytocin.. but dose of epidural was little high so I was numb all the way up to my chest.
At this time the Doctors were worried & they all came and were standing near me…. Then they just stop the epidural and oxytocin because I was getting the contractions for 15 minutes in a row, which is not good for baby.
After this my Doctor came to me and they decided for the emergency c sec …..I was not ready for that. I was crying if anything happen to me then who will take care of my baby… but I couldn't do anything about it.
We decided on the c section. They took me to surgery room at 7:00am on 24 may. And at 7:32 am my beautiful baby girl came in this world……healthy 8 pounds, 3 oz. & 21 inches long …. With lots of hair…today she us almost 5 months. I'm so happy to have a baby girl.
---
A big Thank-you to Rosy for sharing her story with us!
If you would like to share your birth story you will have a chance at winning a monthly gift card. You can find the instructions & form here:
Read More Birth Stories at the Following Link:
http://first-time-mommy.com/blog/category/birth-stories/
---