Babies Name: Makenah
Babies Sex: Female
Due Date: 1/2/2013
Babies Birth Date: 1/7/2013
# of weeks pregnant: 41
Type of Birth: Vaginal
Babies Stats: 7 lbs. 15 oz/ 20 1/2 in.
Parents: Kelli & Michael
It all began on the morning of January 7, 2013. I was being induced. I enter the hospital and began to prepare for my little one. As I wait for the pitocin to start working, I lay there and spend time with my mother and make phone calls to let all of my friends and family know that today was the BIG day.
Around 8-8:30 am my OB came in to break my water. My labor started to progress more quickly then. The pain from contractions were very uncomfortable, so I decided to get the epidural. Needless to say, I ended up having two! I didn't feel much after that. I managed to keep a smile on my face most of the time.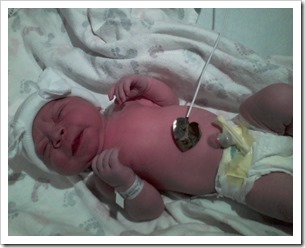 Around 5:45 pm the nurses asked me to start pushing to get the baby's head down even further.
At 6:14 pm my husband and I welcomed our beautiful, perfect little girl into this world!! She has changed our lives forever, and there is nothing i would change. we love you baby girl, forever and always!
Makenah all grown up
---
A big Thank-you to Kelli for sharing her story with us!
If you would like to share your birth story you will have a chance at winning a monthly gift card. You can find the instructions & form here:
Read More Birth Stories at the Following Link:
http://first-time-mommy.com/blog/category/birth-stories/
---