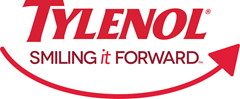 I have received information and products from McNeil Consumer Healthcare Division of McNEIL-PPC, Inc., the makers of TYLENOL®. The opinions stated are my own. This is a sponsored post for SheSpeaks.
Today I'm SMILING IT FORWARD™  because there's nothing in this world that makes me happier than seeing the smile of a happy, healthy child.
Shortly before Preschool came to an end last spring my son Vincent caught a horrible virus that landed him in the hospital for almost a week. I can honestly say it was one of the scariest times of my life. It came on so suddenly I didn't even know it was happening. He had a little cough that had lingered for at least a month and I thought it was due to the weather, indoor allergies, or the fact that we had been sick over 13 times the entire school year! Then one day he had blood in his urine. He was taken to the Dr's within the next two days & diagnosed with a UTI, other than that he seemed to be just fine.  He was on antibiotics for about a day before things took a turn for the worse. One moment he was jumping around on the couch & the next he was making strange noises in his throat. I thought he was joking & I kept telling him to knock it off but he didn't' stop.  Then I noticed his breathing.. his little chest was caving in. I kept asking him if his throat hurt or if he felt sick but he said "no."  I watched him closely that night & barely got a wink of sleep. I cried all night long. I was apprehensive about asking anyone to come to our house in the middle of the night to care for the children so we waited it out.  We rushed to the Dr's the next morning for our appointment where I was told to take him to the hospital and have him admitted immediately. Grandma came to take care of the little kids & Vincent and I went up to the hospital.
No one could figure out what was happening. His heart rate was sky high & he couldn't breathe properly. His oxygen levels were extremely low. Things escalated very quickly.  After many hours of waiting he was given a room at the children's hospital & that's where he stayed for almost a week. After many days of testing there were no answers.. His lungs had a tiny bit of "crackling" so based on that alone they gave him an official diagnosis of pneumonia.
Apparently pneumonia can present differently in children than adults. It doesn't take much for a child's body to start reacting. All the tests for bacteria & various viruses came back negative. His white blood cell count was high which showed an infection somewhere, but no one knew where. They blamed it on a virus of unknown origin. This virus was a tough one because it took days before he started showing signs of improvement.  I had sat up all night long watching him breathe & watching his heart rate climb. I was so terrified. The Doctor's told me that his heart couldn't keep going like this for too many days, it was being overtaxed. I was never so scared in all my life.  Thankfully after a few days of breathing treatments, fluids & antibiotics he was getting better enough to actually eat & keep something down.

While we were at the hospital waiting for Vincent to recover I met a family with a cute little 2 year old girl who was incredibly sick. Her family didn't have any health insurance. I remember being so scared for them. The thought of not being able to get care for your child when they're sick must be absolutely devastating. They were very worried how they would pay, and the next day they took her home. I'll never forget thinking.. "what makes my child more special that he deserves treatment and someone else's doesn't".  All children are miracles and that all deserve the same quality of care. All people in general deserve the same quality of care.

After a few more days Vincent was able to start walking around, but they wouldn't let him out of his room without a mask since they were still unsure of what he had.  Eventually he couldn't sit still any longer & started getting rambunctious. They released my son early, but unfortunately within the next 2 weeks his pneumonia was back. Thankfully we were able to treat it at home with a new course of antibiotics & we kept his fever down with Tylenol.

Shortly after all of this, I contracted the same virus & ended up with pneumonia myself.  It took me over 2 months to recover. Almost until the middle of summer.  I didn't think I ever would. It definitely made me realize all my son had been through.  My little kids were spared somehow, thankfully.
After all of this happened to us, I tell you, I have never been so happy to see my kids smile, a happy, healthy smile. I don't take many things for granted these days because you just never know when things might change. I'm grateful that my family is healthy again. I still remember all of those on the First-Time-Mommy Facebook page that sent us good wishes & thoughts & kept us in mind, as well as some of the nurses, and even front desk staff that talked me through all of it. Even the people I passed in the hallways who just gave me a knowing smile, helped me a great deal. Sometimes a smile can help more than you think.  Now whenever I can, I try to "Smile it Forward".
SMILING IT FORWARD™
You can help smile it forward as well. TYLENOL® is inviting moms across the country to join together in SMILING IT FORWARD™.  From now until mid-January you can help by sharing a picture of a smile at SMILING IT FORWARD™.  For every smile uploaded TYLENOL® will donate $1 to Children's Health Fund, up to $100,000.*  How easy is that? A smile for a donation to a very worthy cause.
Here's the picture I shared. It's all of my children together, happy, healthy, and smiling:
Which picture will you share?
More About SMILING IT FORWARD™
Between September 17, 2013 and January 31, 2014, McNeil Consumer Healthcare Division of McNEIL-PPC, Inc., the makers of TYLENOL®, is inviting anyone 18 and older to share a photo that makes them smile on SmilingItForward.com. Each photo approved & shared will trigger a $1.00 donation from TYLENOL® to Children's Health Fund, with a minimum donation of $75,000 and a maximum donation of $100,000. Review Terms and Conditions for complete program details. For information about Children's Health Fund, visit www.childrenshealthfund.org
---
I have received information and products from McNeil Consumer Healthcare Division of McNEIL-PPC, Inc., the makers of TYLENOL®. The opinions stated are my own. This is a sponsored post for SheSpeaks.