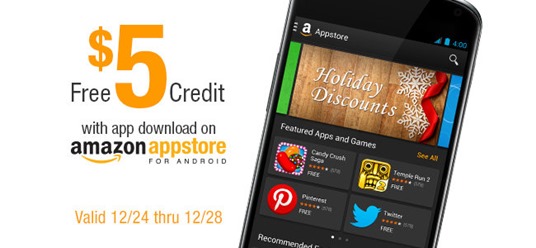 Amazon is giving away $5 in credit just for downloading or updating Amazon AppStore
All you need to grab this $5 credit is to download Amazon Appstore on your android device and then download any app, even a free one. If you already have Amazon Appstore you just need to update it. Purchases from a Kindle Fire do not qualify.
Follow the Instructions directly on Amazon by clicking here.
(I had to go to Settings, More…., Security, & then click Unknown sources on my Galaxy S4) then I scanned the QR code, installed the App, downloaded a Puzzle game for free).
When I was all done I went back & restored the security setting the way it was so I wouldn't have to worry about anything else being downloaded if a button was accidently pushed.
Within 1 minute I received the following in my email:
Yay for free stuff!