This is a Sponsored post written by me on behalf of VTech Communications. All opinions are 100% mine.
"VTech is introducing a new line in their Safe & Sound® baby monitor series, the VM333 . The VM333 has many features that will allow parents to closely monitor their babies and infants without having to enter their bedroom repeatedly. The VM333 provides a camera with full range of motion and a built in high video resolution and sound quality for up to 1,000 feet away, providing flexibility and reliability as mom or dad moves about the home. Parents can lay their babies down to sleep with a peace of mind because the VM333 has a 2.8 inch video screen and 2x's zooming capability so parents can observe any movements, big or small! Parents can also take advantage of the intercom system which will allow you to give comforting words to your child without entering the room."
I have to admit that I'm not very good when it comes to putting things together, well actually to be honest, I just don't like doing it. I was incredibly glad to see that the VM333 has very few parts & the quick set-up instuctions were simple & to the point.
I opened up the box to find the following:
2 plugs – 1 for the camera & 1 for the monitor
I was able to plug in the camera & the monitor (the monitor contains a battery but needs to be charged) & immediately check it out. In fact, if I didn't intend to install it on the wall everything would be all set. Talk about EASY!
Right away I was impressed with the quality of the picture & the sound. The picture is full color & was very clear & when it came to the sound there was no white noise & absolutely no interference of any kind.
I also noticed right away that it had a temperature sensor so that you can tell at all times what temperature it is in your babies room. I love that feature because I know as a new mom a big concern for me was keeping the room 68F so baby wouldn't get overheated. If you don't have a programmable thermostat in your house sometimes it can be hard to tell the temp, especially in the middle of the night.
The next feature that really grabbed me is that I was able to move the camera all around & scan the room just by using the hand held monitor. I really wish I had this when I was a brand new mom and every little thing worried me. I must have got up 100 times a night to check on my baby, eventually giving in and just sleeping in the same room.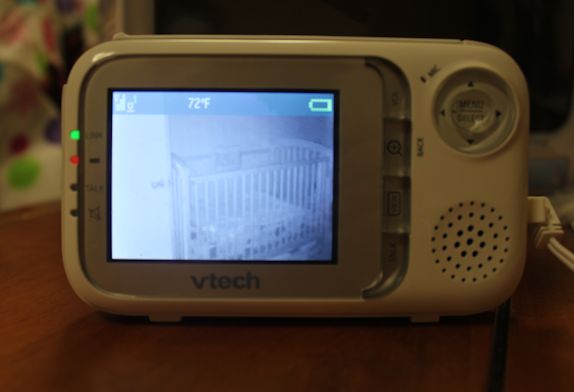 It's awesome that this video monitor comes with infrared LED. Even with all the lights off I was able to see everyone in the room very clearly, add a little light from another room & the picture is even clearer. So this means way less trips to babies room for every little sound or movement. I don't know about you but I am famous for stepping on a creak in the floor or stubbing my toe with a loud toy just as I'm trying to sneak out of the bedroom. Going into the room 100 times a night makes the odds pretty great this is eventually going to happen!
My overall impression of the Vtech VM333: If I would have had the option to have this equipment as a new mom I would have seized the opportunity immediately. I've seen other monitors in action over the years and I don't feel they compare. I think the VM333 is well worth the investment & peace of mind. You can use it well into the toddler & big kid years to keep an eye on your kids. In fact I intend to install mine in a spot where I am able to scan both bedrooms & see what the baby & my 5yr old & 3 yr old are up to when they're supposed to be in their beds! I told them that mommies know all & they even have an extra set of eyes… well thanks to the VM333 now I do lol. And don't forget the VM333 has a built in microphone & speaker so there is two-way communication between the two units. That means you can hear every little noise & talk to baby through the monitor if need be.

Want to Learn More?
Check out the Video to See All The VTech VM333 Can Do:
Where to Purchase
You can purchase the Vtech VM333 at many large retailers as well as Amazon.com
Connect Online with VTech