What is Checkout 51 & How Does It Work?
Checkout 51 is another free coupon-like app AND website that rewards you with cash back for redeeming select offers at participating retailers. The offers are stored right in the app or listed on the website. You save money just like when you use regular coupons but there is no clipping or cutting. Every Thursday morning, Checkout 51 updates with a new list of offers. All you have to do is pick the ones you like, purchase them at any store, and upload a photo of your receipt through the app or website. (Items must be purchased and receipt must be uploaded within the valid date range.) Your receipt will usually be approved within 48 hours.
When your account reaches $20, they send you a regular paper check. Best of all this works for Americans & Canadians.
Guess what? They also accept packing slips from orders you've made online!
Limited Number of Offers Each Week
Checkout 51 has had offers for things like milk, bread & cereal as well as bagels, crackers, lunch meat, carrots! The thing about Checkout 51 is there are not 100+ offers so the app & site are very straight-forward and simple. There's also no scanning of bar-codes so you don't have to worry about that step like on other offer apps or websites.
No Tasks in Order to Redeem Offers
That's right. So far Checkout 51 does not ask you to do "tasks" in order to redeem offers. You don't have to share your activity online to open up offers, or take polls, or anything else. Simply click your offer & redeem.
---
Redeem Offers At Any Store
That's right, you can redeem these offers at your regular stores, you're not limited. So long as they carry the product you can redeem the offer & submit the receipt or packing slip & get paid.
Collect Bonuses
Just like some of the other offer apps you are able to get bonus money as well in order to make a little extra. Yesterday I received an extra $2 for uploading my very first receipt. The only catch? My receipt had to have at least $20 worth of purchases on it. Not from the offers on the app or website, just $20 in general purchases (along with the offers you chose).
Scan or Upload Long Receipts Without a Problem
Have a super long receipt? Yesterday I bought 79 items (I am feeding 3 kids after all) & I had no problem. I simply took pictures of my receipt with my phone, in sections. The app makes it really easy. For those not using the app or smartphone then you can scan your receipt & submit it online instead!
Use Checkout 51 with Other Apps & Paper/Digital Coupons to Maximize Savings
That's right, believe it or not, at least for the time being you are able to submit the same receipt to multiple apps (or websites) along with using paper and digital coupons on the product as well. I verified this with Checkout 51 yesterday and was told: "Members are permitted to use Checkout 51 cash back offers with any other coupon or discount unless otherwise stated in the offer details page (tap/click the offer and read there)."
---
My Own Personal Experience With Checkout 51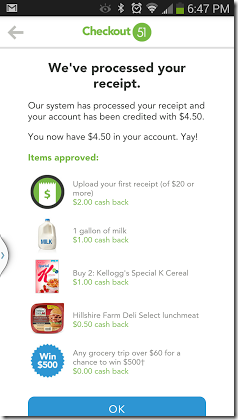 Yesterday I went grocery shopping at my local Kroger & purchased the things you see on the left. All of these were offers I decided to take advantage of on Checkout 51. When I came home I first scanned my receipt to the other Offer App I told you about earlier & then I scanned my receipt to Checkout 51. Receipts usually process in about 48 hours. Mine was done in 24. I received $4.50!! That's on top of the $4 I received from the other app I was using. This total of $8.50 doesn't include the fact that I ALSO used a paper coupon for the 2 boxes of Special K AND it was on sale to begin with.
Right now I really love Checkout 51. Their employee's are incredibly friendly & helpful which make me love it even more. The whole process of using the app or website couldn't possibly be simpler. I can't honestly see why anyone would pass up the savings you can get from using Checkout 51. I have 3 small children & anything I can save that doesn't take a lot of hassle (because really, who has time with 3 kids?) is just awesome.
I hope you guys will like Checkout 51 as much as I do.
---
Disclosure: All opinions found here are my own. This is not a sponsored post. This post may contain an affiliate link. I only personally refer things I myself find useful & feel that my readers will find useful. All monies made from links on this site go back into the running of this site as well as the facebook page. Thank you so much for understanding.