What Is The Ibotta App
Ibotta is a free coupon-like app that rewards you with cash back for redeeming select offers at participating retailers, restaurants & even movie theaters. The offers are stored right in the app. You save money just like when you use regular coupons and can send your earnings directly to your bank account via PayPal or choose gift cards from Starbucks, Redbox, iTunes and more. Ibotta prefers to call these "offers" because unlike coupons there is no clipping, or printing out.
Lately Ibotta has had offers for things like milk & bread. Any type. Meaning you can buy that generic loaf of bread & still get cash back! How often do you come across coupons or offers for gallons of milk? Not very often. That's what makes this app rock. Not to mention deals at Toys R Us & Babies R Us.
---
How Does the Ibotta App Work?
Set up your Ibotta Account by registering & then download the app on your phone & open it up.
You will see a list like the one in the first picture.
* Select a category. Ie: Grocery, Restaurant
* Find a Store you like to shop at, like Target, Walmart, or Kroger.
* Pick a product "offer"
* Do various tasks to unlock your savings. The tasks are super simple & only take a moment like: learn more about the product, share on facebook, take a poll.
* Shop
---
How to Get Rewarded
*Take a Photo of Your Receipt
After you've shopped you will take a picture of your receipt with your phone directly inside the app. Don't fret if you have long receipts, you can take several photos of the receipt (in pieces) and then submit it. The app helps you!
*A few select stores don't require this step and you can simply connect your store rewards card or phone number to the app.
Scan Your Barcode
After that you might be asked to scan the barcode on the product you purchased with your phone (So make sure not to destroy the packaging yet!).
Wait to Get Paid
You're done! Within 24 hours or so your account with be credited. I've had mine credited in as little as 10 minutes.
Cash Out
Redeem your cash for gift cards or have it sent to your paypal.
---
Helpful Tips on Using Ibotta
Go for the Bonuses!
Ibotta has several cash bonuses available & add new ones regularly. Like redeeming 1 offer a week for 4 weeks in a row get's you an extra $1. Redeeming a certain number (like 2 or 3) offers in your first couple of weeks will net you an extra $2.50. Redeem even more for $5. Sometimes just purchasing a gallon of milk along with 2 other offers will get you an extra .50 like it did for me today. Take advantage of any bonuses you can!
As soon as you see an offer you might use make sure to complete the available actions right away. It's always a good idea to secure your offer as soon as possible to assure that it stays available to you.
Scan your receipt immediately upon returning home as well as scanning the bar codes of any products you just purchased so there's less chance of either being damaged.
If you have any trouble make sure to contact customer service. They have support 7 days a week & seem to respond well on their Facebook page as well.
---
My Own Personal Reactions to the App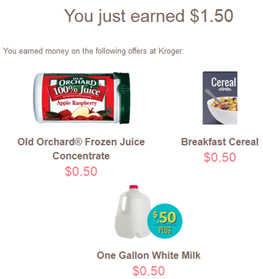 I am really loving Ibotta so far and I am sooooo grateful once again to the ladies on the First-Time-Mommy Facebook page that referred me to it! The app has been super simple to use. I found it way easier than having to sit here cutting coupons by hand. I love also how I get updates on the app & email updates immediately after I've completed a bonus or saved.
I combined this app, another coupon app & paper coupons yesterday at Kroger and was super happy about the outcome. I was able to save $4 from Ibotta alone. $1.50 in the offers you see on the left + a $2.50 bonus ("Hello, Friend") for redeeming 2 offers along with my milk.
I have 3 kids 5 & under. I have to save everything I can. That's why I'm sharing this app with all of you! I know most of you have children just like me & EVERY PENNY COUNTS.
I hope you will enjoy this app as much as I do!
Happy Saving!
Disclosure: All opinions found here are my own. This is not a sponsored post. This post contains a referral link but I only personally refer things I myself find useful & feel that my readers will find useful. All monies made from links on this site go back into the running of this site as well as the facebook page. Thank you so much for understanding. Image credits: Ibotta