I have to admit, I'm one of those people that don't usually let my kids have all the crazy snack & processed foods I ate as a kid. I do give in but I keep it minimal. I was a little leery to make snow ice cream with them but then I remembered back to my own childhood & all the times I sucked on icicles, or ate snow & I had to give in to this. You should have seen their faces when I scooped up snow & brought it in the house. They went wild. Do I need to remind you to make sure the snow is clean? lol.
By the way, this ice cream doesn't taste like traditional ice cream but it's pretty darn tasty as long as you use all the ingredients listed. It's a little more like ICE cream since it doesn't have as much fat. What is important though is that the kids will remember how much fun it was!
Enjoy.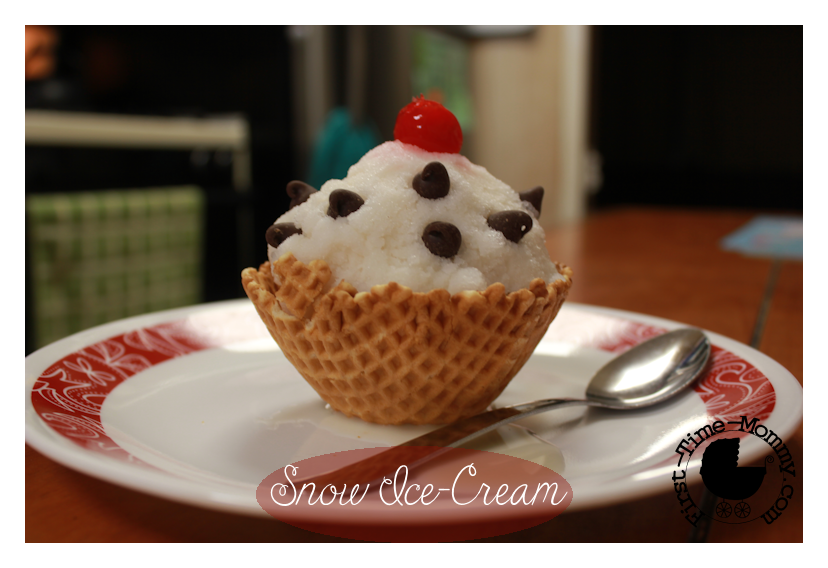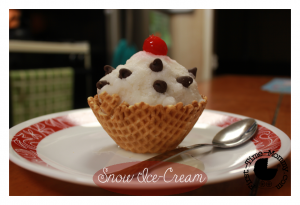 Snow Ice-Cream
2014-01-07 19:40:40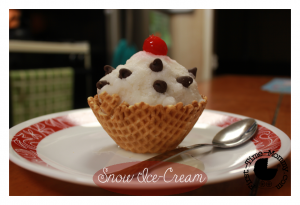 Serves 4
It's Ice-Cream what more can you say?
Ingredients
6 cups fresh snow
1 1/4 cups milk or any type of cream
1/4 cup sugar
1 tsp Vanilla
Instructions
Combine all ingredients. Stir until fully mixed.
Serve with your favorite ingredients: chocolate sauce, cherries, chocolate chips. Make it your own & have fun.
Adapted from Nature
Adapted from Nature
First-Time-Mommy.com http://first-time-mommy.com/blog/