Babies Name: Maxwell
Babies Sex: Male
Due Date: 7/21/2013
Babies Birth Date: 7/23/2013
# of weeks pregnant: 40
Type of Birth: C-Section
Babies Stats: 10 lbs 3oz 21 1/2 inches
Parents: Mandy
"After trying to get pregnant for over a year, my husband and I were ecstatic when we found out we were expecting. I was in such shock that I was actually pregnant that it took 6 positive at home tests to convince me that we were pregnant! Our families were so excited!
The first couple of months went past quickly. I was very blessed to not have a whole lot if sickness. Other than being really tired, I felt great. On Feb. 26 2013, we got to see our little one for the first time. I couldn't take my eyes off if the screen. We were so excited to find out our little one was going to be a little boy. My husband was relieved that the baby was a boy. He didn't want to have to get a shot gun license. Our due date was confirmed with the ultrasound. Everything was on schedule and moving right along.
The months went by quickly until the last month. The baby decided then to sit on my sciatic nerve. No matter what I did, I could not get him to move. When I went for my check up at 36 weeks, my doctor told me I was starting to thin a little but it wasn't enough to put a number to. At 37 and 38 weeks there was no change. The baby was still sitting up really high too. I was so uncomfortable. The baby still sat on my sciatic nerve and I couldn't take it anymore. At week 39, I was told still no change. At this point I think I may have started to tear up because if how uncomfortable I was. I think my doctor felt sorry for me because he wrote orders for me to have another ultrasound.

When I went for the ultrasound, the ultrasound tech took some if the measurements a couple if times. I began to worry that there was something wrong. When the ultrasound tech was done, she left to go check the measurements. After 30 minutes she came back and said she had put a call into my doctor. The baby was measuring over 10lbs. I wasn't surprised. I knew the baby was going to be big. I was to uncomfortable for him to be a small baby. When my doctor called the next day, he asked me how I felt about having a c-section. I told him at this point I didn't care. I was so uncomfortable that as long as the baby got here safely I didn't mind. My doctor told me he was concerned with the size that problems would arise if I were to try and deliver naturally. The c-section got scheduled for 2 days after my due date. I was so excited but very nervous at the same time. The baby was going to be here whether we were ready or not.
The day before my c-section I had my last doctors appointment. My doctor told me that he was glad we scheduled the c-section because I still wasn't dilated. He told me that even if they would have tried to induce my labor that it wouldn't have done anything because if how big the baby was.
The next morning my husband and I arrived at the hospital an hour earlier than we were suppose to. We were to nervous to sleep the night before. The nurse hooked me up to the monitor to check the babies heartbeat. The little bed they had me sitting on was so uncomfortable that I was fidgeting so much that once they finally got a good read on the babies heartbeat they took the monitor off because it would beep every time I moved which was every few minutes. I was so nervous! I was terrified of the spinal block. My original birth plan was to have an all natural childbirth. That birth plan went out the window but I trusted my doctor. He knew what was best to get the baby here safely. When the Anesthesiologist came in to talk to us about what was going to take place I was still really nervous. I was ever so grateful when I was able to get up and walk back to the room where I was going to have the baby. I was tired of sitting!
When I got back to the room, I had to say goodbye to my husband while they got me ready. I was really scared! My blood pressure went up because if how nervous I was. The anesthesiologist was so nice. She talked me through everything that was going on. The nurse who was with me was awesome! I was so grateful for both of them at that moment. After the spinal block was put in and they had me lay down, I did start to feel a little nauseated. The nurse helped me remain calm till my husband was able to come back with me. The C-Section wasn't anything like I thought it would be. I really didn't feel anything until my docs told me I would feel pressure as they got the baby out. Boy was there pressure but it wasn't bad at all. Plus I knew it was almost over.
The minute I heard my baby cry I started to cry. That cry was the most amazing sound to me in the world. I only got to see the baby for a minute. I was trapped on the table to get stitched up. I just kept laying there thinking if they don't hurry up and let me hold my baby I may go crazy. I was really glad my husband was with our son. That did help ease my anxiety. When the baby was born, my doctors took bets on how big he was. Maxwell was born at 9:23am on 7/23 and was 10lbs 3oz. When they finally got me to recovery and got to hold my son, I was so excited. Next to my wedding day, this was the best day of my life. The love I felt for the little guy in my arms is indescribable. I was filled with so much love and excitement. I was in recovery forever it felt like. I had to get my first dose of pain meds too. The combo of the the spinal meds and the pain med they gave me made my face itch. It was really weird. My nurse said it was normal.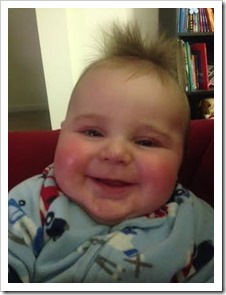 After we got back to our room, we had a few family members there waiting for us. It was nice to have them but it was also nice when they left and it was just me, my husband, and our son.

When I look back on things involving all if the experiences I went through there are a few things that stick out in my mind. Don't be afraid if your birth plan doesn't go exactly as you want. Your doctor or midwife knows what's best and will be there with you every step of the way. The day the baby is born, no matter how much you want the baby to be with you at all times, it is ok to send the baby to the nursery so you can rest comfortably. If you have to have a c-section, stay on top of your pain meds while in the hospital and when you get home. The meds are given to you to help be comfortable. If your plan is to breastfeed and you are unable to for any reason, you are not failing your baby. I tried everything I could do to be able to breastfeed but I wasn't producing anywhere near what my son needed. After many sleepless nights and very sore and cracked nipples and many tears, I had to stop and switch to formula. I'm no less of a mom and I didn't fail my son. I had to learn that.
Being a mom is one if the greatest joys I have been able to experience and I'm very grateful to have been blessed with my son."
---
A big Thank-you to Mandy for sharing her story with us!
If you would like to share your birth story you will have a chance at winning a monthly gift card. You can find the instructions & form here:
Read More Birth Stories at the Following Link:
http://first-time-mommy.com/blog/category/birth-stories/
---