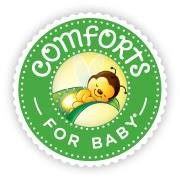 Comforts for Baby are giving away a year's supply of diapers. The contest just started Feb 14th. This is a Facebook voting contest and you can only enter with a desktop or laptop!
Personally I've learned the hard way over the years that voting contests are almost impossible to win. There are A LOT of cheaters & people who enter voting contests for a living who use secret Facebook "voting groups" & exchange votes with people around the world. People make a living at this by selling all their winnings online. So don't be surprised if you suddenly see someone get 1000 votes overnight.
Contest Details
Begins: February 14, 2014 at 12:00 a.m. Eastern Standard Time
Ends: March 15, 2014 at 12:00 a.m. EST
Prizes: 1 grand prize and 50 secondary prize winners will be selected at the end of the Promotion Period.
Grand Prize: There will be one grand prize winner. The winner with the most votes on their image during the official draw on March 15, 2014 at 12:00 a.m. EST, will win a free one year supply of diapers and/or training pants. Approximate Value: $ 475.00
Secondary Prize: There will be 50 secondary prize winners for a free diaper bag. The 50 secondary prize winners will be selected randomly throughout the contest. Approximate Value: $10.00