Target is having their biggest baby sale of the year & they have all sorts of deals going on. There are a lot of free shipping deals so make sure you read the fine print. The Stroller deals are pretty awesome. These are just a few that you might be interested in.
---
Shopping In-Store? Grab this Printable Coupon!
If you'll be shopping in store make sure you print out the following coupon for $20 off $100 or more.
---
Shopping Online? Don't forget to shop through Ebates & Get a Free $10 Gift Card (for new users)
If you're shopping online (some of these deals are only online) make sure if you haven't already you sign up for Ebates.com & then type in "Target" in the search field. Once you've done that you can come back here & click any of the links to the products directly or navigate the Target site however you wish. You will get cash back up to 2.5%.
Use Ebates every time you shop online & every few months you can have it sent to you by check or through paypal. You can read my experience with them HERE if you like.
If you've never used Ebates before you will be asked to choose between a variety of gift cards upon signing up & if you spend $25 or more during your first purchase you will get a $10 gift card shipped to you. (It only took 2 weeks to receive mine).
---
Sassy Go-Go Bugs Stroller Toys
The Sassy Go-Go Bugs soft stroller toys include a red ladybug, a yellow bee and a purple butterfly to make ride-time in the stroller all the more fun. Their bright, contrasting colors, rattles and chime stimulate your kid's senses. These stroller baby toys have Velcro straps for easy attachment to the stroller or carrier. $10.39 online.
Sassy Go-Go Bugs Stroller Toys
---
Balboa Baby Stroller Liner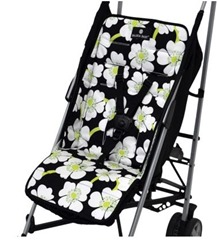 A stroller liner? Pure genius. Strollers are often handed down or re-sold after you're through with them, so a stroller liner makes a lot of sense, especially if you buy a pricier stroller. These stroller liners from Balboa are super cute & come in 2 different styles. This one on the right is Lime Poppy. It's made of cotton, machine washable & fits most strollers. It's on sale for $22.49. It's only available online
---
Lulyboo Comfy Ride Reversible Stroller Pad
These stroller pads by Lulyboo are awesome as well. They even fold up so you can put them away easily. They come in a variety of trim colors. They're a cotton/polyester blend & are machine washable. They seem to be a bit more on the slim side. Available only online & on sale for only $19.34
Ebates.com
Lulyboo Comfort Ride Reversible Stroller Pad
---
Chicco Echo™ Stroller
This lightweight Chicco Echo folds Up for Easy Transport, Has an Adjustable Harness, Reclining Seat, Storage Basket, Handle for Carrying When Folded, Front Swivel Wheels, Comfort-grip Handle, Buckle Closure, Canopy, Ergonomic Handle & is for children 6 months & up (15lbs & up). It holds all the way up to 40lbs! & comes in a vast array of eye-popping colors.
$79.99 after 20% off at checkout or as low as $69.99 if you're new to Ebates. Not sold in stores.
---
Graco® FastAction Fold Classic Connect Travel System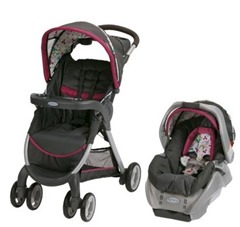 If you're looking for a complete travel system Graco is a great way to go. All 3 of my kids used the same Graco baby carrier. It held up well for an entire 5 years. Graco are old pro's when it comes to knowing what parents want & need. They're one of those companies that you can usually depend on to provide quality products.
Opting for a complete travel system will allow you to get out there right away with baby. You won't need to wait until baby fits into the stroller. Walking is a great way to help combat the baby blues & to get rid of the extra baby weight right from the start.
Folds for Storage, Compact Fold, Built-in Organizer Tray for Parent, Infant Head Support, Extra Large Baskets, Canopy, One-Hand Folding, Adjustable Harness, Reclining Seat, Front Swivel Wheels. LATCH Equipped Car Seat, Additional Foot Brake, 5-Point Harness. Stroller holds up to 50lbs! $150-$160.99 (Cheapest you can find right now)
Graco® FastAction Fold Classic Connect Travel System
---
Looking for a Double Stroller? Baby Jogger City Mini Double
A couple years ago when I was expecting my 3rd child I made the biggest baby purchase I ever made. That was one of these Baby Jogger City Mini strollers. I've gotten more use out of it than anything baby related I have ever bought.
It folds soooo easily that I was able to fold it up, put it in my trunk & grab it out again with no problem, even after giving birth to an 11lb giant. I took it to the preschool every single day & contained both my little kids in it while dropping off big brother. My then 2 year old sat on one side & the baby sat on the other. My baby is almost 2 now & her and her brother STILL fit with plenty of room. In fact it holds up to 100lbs & that is why I bought it. My older son who is turning 6 can still fit in this thing without any trouble. He's in the 99th percentile for height & he's 48lbs. It's that roomy. I've been using it almost daily for 2 years now & it's the best purchase I ever made. (I know it's very pricey but well worth it). It even fits through a single doorway without any problems! One of the biggest selling points for me.
It's not currently on sale but it is new to Target & it runs $449. Much cheaper than what I paid 2 years ago.
---
Check out all the baby deals going on at Target right now! Don't forget to click through Ebates.com first if you shop online & get a free $10 gift card if you're new.
---
.
.
.