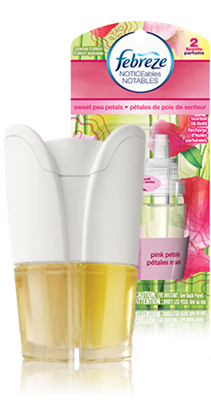 This is a sponsored review courtesy of SheSpeaks/Febreze
It's finally spring! Here near Detroit we had the snowiest winter on record since the 1800's. Over 90 inches of snow this season & most of that in a 2 month time frame. We just beat the record a few short days ago but I don't care because I had a taste of Spring earlier in the month with 70F degree weather & I know it won't be long now before I can open the windows every day, let the breeze blow in, listen to the birds chirp, and enjoy smell of all the flowers that are blooming.
A few weeks ago Shespeaks & Febreze sent me a box with a few of the new limited edition #FebrezeSpring scents in it. The first thing I did was swap out my old Set & Refresh with the new Limited Edition Rain scent, and for my kitchen, the Limited Edition Sweet Pea Petals scent. It lifted my mood immediately. I received a little booklet with the scratch n' sniff stickers of every scent & I can't wait to try the Nectar, which can only be described as a golden luscious fruity type of smell. You have to check it out for yourself.
The Limited Edition Febreze Spring Scents Consist of:
Nectar
Rain
Sweet Pea Petals
Wildflower
The new Limited Edition Spring Collection can be purchased at Walmart
---
Connect with Febreze Online
Facebook: https://www.facebook.com/febreze
Twitter: https://twitter.com/febreze_fresh
---

My favorite Springtime scent of all time is lilac. When I was a child I spent a lot of time with my Grandparents. Every spring their entire yard was filled with various colors of purple due to all the lilac bushes blooming. The scent was always heavenly. Nowadays we have one lilac bush left and it's older than I am. Every spring when it blooms and the scent wafts through the air I am reminded of my childhood with my family. Planting our vegetable garden, playing on my swing set, and watching my grandfather at work out in his barn. Such great memories.
Do you want to win a $15 Walmart gift card so you can experience the new Limited Edition Spring Collection from Febreze? You need to be a Facebook Fan first & foremost & then all you have to do is tell me 2 things.
1. Tell me what MY favorite spring time scent of all time is. (hint: read above)
2. Tell me what YOUR favorite springtime scent of all time is (and if you want to tell me why go ahead! I love reading your comments).
Want an Extra Entry or 2??
1. "Like" the Facebook Post
2. "Share" the Facebook Post
Leave your comments on this Facebook post RIGHT HERE. Not on the blog! Tuesday morning 4/29 I'll pick a winner, announce them & send the card out.
Good Luck!
Disclosure: This is a sponsored post on behalf of Shespeaks & Febreze.