Disclaimer: I am a Hyland's Homeopathy Ambassador and receive various products and gift cards from Hyland's and promotional partners at no cost to me. All views and opinions expressed on this blog post and corresponding social network mentions are my own and are not to be interpreted as medical advice.
I am proud to say that I have been an ambassador for Hyland's for the past 2 years & Hyland's has been a part of my life for the past 6 years. It was then that I first discovered them through word of mouth from other mom's. My oldest son was one of the worst teethers I've ever known & Hyland's Teething Tablet's came highly recommended. They ended up helping him more than anything else we tried. And I tried just about everything. Since then I've been recommending them to every mother I meet that comes along with a teething child.
I haven't just relied on the teething tablet's though. I have a lot of favorites when it comes to Hyland's products, like their Baby Diaper Ointment with Calendula, their tiny cold tablets, and especially their Nerve Tonic. I had the same thoughts you probably have. Nerve Tonic? Wasn't this stuff around like 100 years ago? Well, maybe you didn't know but Hyland's themselves have been around for over 100 years. Yep, people have been trusting Hyland's since 1903!

As the mother of 3 little kids 6 & under there have been quite a few times my nerves were frazzled and Hyland's Nerve Tonic calmed me down. I suffer from anxiety at times and wanted to find a natural way to help. I was really happy to discover a product from a brand I already know and trust.
Hyland's Nerve Tonic & many of their other products are available at Target! In fact, I'm happy to announce that Target is including
Hyland's
products in their
Made to Matter initiative
.
Made to Matter
is all about brands that make things better for you, your family & your home. There are tons of more natural products we as moms rely on every day. Check it out below, but before you do make sure to scroll down and grab a $1 off Hyland's coupon! They don't come around often.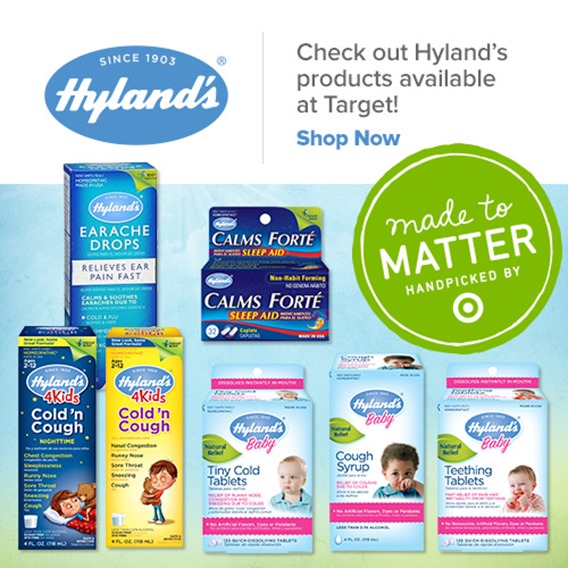 ---
Grab a Coupon!
If you love Hyland's as much as I do make sure to grab this coupon and stop by your local target store! Which Hyland's product will you purchase with your coupon?
---
---