Disclosure: I was provided the below product in order to facilitate this review. The views and opinions expressed here are my own. Yours may vary.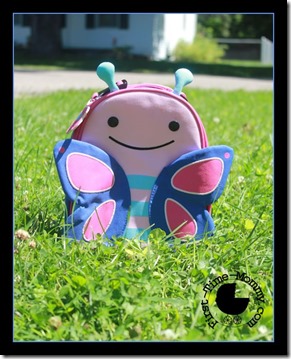 Have you ever checked out your local store's selection of lunch bags? They're all pretty much the same and if you don't grab one before everyone else during back-to-school sales, sometimes you're out of luck. When my son went to Kindergarten for the first time last year half the kids had the same backpack & lunch bag which also made things confusing. The thing is they don't last that long either. I had to replace my son's lunch bag twice before the year was up. The ones with the stamped on designs of their favorite super heroes or video game characters will start to peel apart if left out in the cold (I found out the hard way).
Zoo Lunchies are super cute and unique lunch bags for kids! They're not your regular insulated lunch bag with the same ol' design. They're fabric with real stitching, the multiple colors on the bags are not stamped on and designs are sewn right in. They come in a large variety of animals. Your kids are bound to find a character they love.
They have an insulated, wipe-clean interior that keeps food & drinks cold & an inside mesh pocket that can hold money, ice packs or utensils. The inside is also easy to clean. Simply wipe out with soap & water.
Zoo Lunchies:
Suitable for children 3+ due to small parts.
BPA-free, Phthalate-free
Zoo Lunchies coordinate with the entire line of Zoo Packs (adorable animal backpacks!)
Have matching zipper pulls (Ie: the butterfly has a cute little flower zipper pull)
Write-on name tags inside the bags
My 3 year old son and 2 year old daughter absolutely adore their new zoo lunchies. Now, as stated these bags are for children 3+. Silje only gets her bag when mommy is around to help her open it & put it away again. Even though she doesn't get to go to school this year like her brothers it was really exciting for her & I to get a new lunch bag just like they did. She was so excited she gladly posed with our new Butterfly Zoo Lunchie. Aren't they both cute?
Aidan, my 3 year old was just as excited to get his new hedgehog Zoo Lunchie! He will be starting pre-k this year for the very first time and even though he won't be taking lunch with him he's still going to get a little lunch packed in his bag every day like his big brother Vincent. Both the Butterfly & the Hedgehog are new designs.
Aidan was pretty excited to receive his new Hedgehog Zoo Lunchie
About Zoo Lunchies
Zoo Lunchies come in 18 different animal styles and are available for purchase directly on the Skip Hop website for $14.00. You can learn more about them, view the insides of the bags, read all the details and check out their corresponding zoo pack backpacks all on the Skip Hop site.
Connect Online with Skip Hop
---
Want to Win Your Very Own Zoo Lunchie?

Do you know a child that would love a Zoo Lunchie? Well great! Because Skip Hop is going to send 2 First-time-mommy readers their very own Zoo Lunchies. Your choice of either the butterfly or the Hedgehog, but before you enter make sure to head on over to the Skip Hop Website and check out all the other adorable things they have to offer!
---
Prize: 2 winners will receive 1 Zoo Lunchie. Hedgehog or Butterfly.
Rules: 18+, US ONLY, You must leave a blog comment AND fill out the rafflecopter form. (Your email is not visible to anyone but me). Giveaway ends September 1, 11:59pm EST. Winner will be chosen sometime shortly after that. We will email you & announce your first name, last initial on FB & twitter. Winner has 48 hours to respond to winning email once they receive it. (If you sign into the form with Facebook please remember that you will need to check the email associate with FB as that is where I will be emailing you. Instructions below.
Instructions:
2 Steps!
Tell me in a comment directly on this blog:
1. Which Zoo Lunchie you'd like to win & for who
2. Fill out the rafflecopter form that will load up below this text. (This is how I keep track of entries & make sure there is no cheating – don't forget to do the extra entries!).
a Rafflecopter giveaway
GOOD LUCK!
---
Disclosure: I was provided the above product in order to facilitate this review. The views and opinions expressed here are my own. Yours may vary.