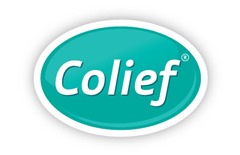 This is a product-provided, sponsored conversation that contains affiliate links. I received one bottle of Colief Infant Drops for my own personal use. All opinions, text and experiences are my own. Yours may vary.
When I was a new mom for the very first time I prepared myself incredibly well, or so I thought. I had watched every birthing show and read every pregnancy & baby book recommended. The day I came home with my new baby the first thing I did was cry. I still remember it vividly to this day. I cried because I felt overwhelmed and scared, and incredibly nervous. Not to mention I was already suffering from lack of sleep due to a hard birth.
Once baby & I had bonded a little in the first few weeks I thought everything was going to go smoothly but then my son seemed to start crying a lot at around the same time every day and the more he cried the more anxious I would get. He'd arch his back up. It seemed as though he had terrible gas pains. I removed milk from my diet & that helped a little but I was confused and on the advice of others I started supplementing with formula which only made matters worse. I always had a sneaking suspicion it had something to do with the milk/formula but everyone seemed to tell me otherwise.
The fact of the matter is I never really found out why he was crying for sure. Everyone had an opinion. "Oh he's hungry, feed him more" or "He's in pain? give him medicine" or "It's completely normal". It wasn't until he was around 4-5 months that things calmed down & his gut seemed to finally start maturing. His gas subsided a bit, as well as his crying. It was many years later after reading the experiences of hundreds of other moms on the first-time-mommy facebook page that I realize my son more than likely had colic.
What is Colic?
According to a study summary in American Family Physician, up to 28% of all infants experience colic, which is defined as repeated episodes of excessive and inconsolable crying in an infant that is in otherwise perfect health. Colic usually begins about two weeks after birth and subsides by three or four months of age. While the baby is experiencing colic, it can disrupt the entire family.
Generally, parents can identify colic using the "rule of threes:"
Unexplained crying in an infant for at least three hours per day,
Three days per week,
For at least three weeks (or more)
While the actual cause of colic is not known, it is believed that some babies have difficulty digesting the lactose in breast milk or infant formula.
---
Colief Infant Drops
These days armed with more information I realize there are products on the market that could have possibly helped us, products like Colief Infant Drops. Here is a little more information directly from Colief.
"Colief Infant Drops is a product for healthy babies who cry excessively and are extremely fussy – about a third of babies experience these symptoms. While the actual cause of colic is not known, it is believed that some babies have difficulty digesting the lactose in breast milk or infant formula, and for these babies, Colief Infant Drops is ideal to reduce the crying. Colief contains the enzyme lactase, which eases digestion, thereby reducing the lengthy bouts of fussiness and crying that are associated with colic. It's clinically-studied to help ease digestion. Colief Infant Drops is the only product that is added to both breast milk and formula – the drops are actually added to the milk, not given directly to the baby – so moms can continue to feed their child as they wish. And it can be given at every feeding until about three or four months, when most babies outgrow colic."
---
Looking back on it all now I wish I had listened to some of the tips I received along the way, like, how it's ok to let chores go for a while when you're recuperating from the biggest change of your entire life, or that it's ok to say no to house guests, and most especially that not every baby is the same. Some babies cry a lot and there isn't always an immediate answer as to why. There is no one solution for every baby.
Happy memories with my children
Going through my photos today and recalling all the happy times I've had with my children I also remember how difficult it was in those beginning months, I thought maybe I would share a couple tips with you based on my own experiences. I found over the years the following 5 tips have helped me the most after the birth of my children. I hope they can help you too. I know they might be things you hear a lot, but they can't be said enough!
Top 5 New Baby Tips
Sleep when the baby sleeps. The house, the dishes, and everything else can wait. You will never get this time back. The more sleep you have the easier things are to handle. It's very rare for babies to sleep through the night from the beginning. A lot of people will tell you theirs did, well if yours doesn't, it's ok, it's normal. You have to work around babies schedule, not vice versa. You have to learn to adjust & the easiest way to do that is to sleep when your baby is sleeping! You'll be less grumpy, and you'll be more equipped for the night time feedings.
Ask for help when you need it. A lot of people want to help you, you might shrug them off, don't. Now is not the time to do it all on your own. I know it's gratifying, but you'll need all the help you can get.
Find time to shower every day and get outside, it helps fend off the baby blues and invigorates you. Make sure you get outside every day, get a little sunshine & Vitamin D while you take the baby for a walk. You'll bounce back a lot faster emotionally & physically.
Don't have visitors over for an extended period of time unless you're absolutely sure they are their to help you. Meaning they will be making dinner, cleaning up, doing all the heavy lifting.
Take more pictures than you ever thought possible!! A lot of times, especially in the beginning we're in a haze. Get that camera out & keep it out. You can never have enough photos. When that fog lifts you'll have lots of photos to jog your memory of little milestones you thought you forgot.
---
Does Your Baby Have Colic?
Do you think your baby is suffering from colic? I urge you to talk to your pediatrician about it, and if baby is healthy to check out Colief Infant Drops. For more information about Colief Infant Drops and tips for new moms, visit: http://us.colief.com
The ABC's of Colic: Answers to Baby Colic and Digestion from Colief
Please watch the following video & share with your fellow moms.
http://www.youtube.com/watch?v=z2HZYPyQ6TI
---
Where to Purchase
Colief Infant Drops are available in Duane Reade, HEB, Walgreens, and online at http://us.colief.com for a suggested retail price of $14.99
---
Check out the Colief Pack 'n Go Giveaway
Want a chance to win a Petunia Pickle Bottom Diaper Bag, a $25 Walgreens gift card and get Colief savings? Well then you have to check out the Colief Pack 'n Go Giveaway. Here's a little more info:
Entry periods for the Colief Pack 'n Go Giveaway accepted till 12pm EST August 28th
One winner (five winners total) will be chosen and announced on Facebook at around 12:30 P.M. EST each week on Thursday, July 31st, August 7th, 14th, 21st and 28th to win a Petunia Pickle Bottom Diaper Bag to hold all your mommy necessities, a $25 Walgreens gift card to stock up on supplies for baby and $4.00 worth of Colief savings.
Learn more at www.facebook.com/coliefinfantdrops
This is a sponsored conversation written by me on behalf of Colief®. The opinions and text are all mine.