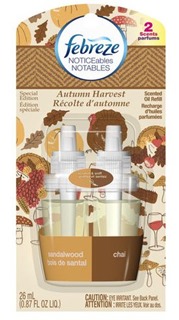 This is a sponsored post for SheSpeaks/Febreze
Aaah do you smell that? The wonderful scent of an Autumn Harvest, Vanilla Latte, Toasted Almond, Sugared Cranberry, Spiced Pear. It's the smell of fall! and of the Febreze Home Harvest Collection, which is available at your local Walmart for a limited time only.
All these scents remind me of the impending holiday season! Especially Halloween and Thanksgiving which are two of my favorite times of year. I put one of the Autumn Harvest NOTICEables in my kitchen and every time we step in the house I'm reminded of trick-or-treating, baking pies, a warm cup of coffee in the morning, falling leaves. I love it! It really gets me in the mood for fall baking & decorating.
Speaking of baking, Febreze sent along the most adorable little barn, filled with Febreze scents and an awesome little card box full of ideas for Autumn activities as well as recipes.
Since pears are in abundance at this time of year and we love them, we tried their delicious roasted pear recipe, as seen below. You have to try it out, it's so good!
---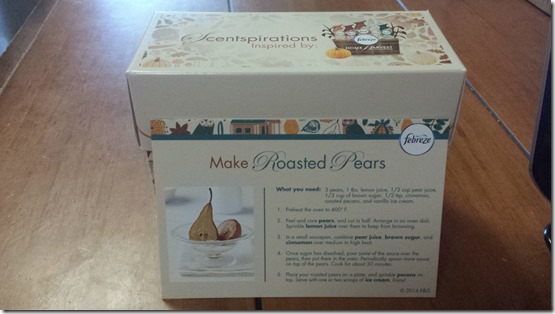 What you need: 3 pears, 1tbs. lemon juice, 1/3 cup pear juice (the little baby ones work great for this!), 1/3 cup of brown sugar, 1/2 tsp. cinnamon, roasted pecans (optional), and vanilla ice cream.
1. Preheat the oven to 400F
2. Peel and core pears, and cut in half. Arrange in an oven dish. Sprinkle lemon juice over them to keep them from browning.
3. In a small saucepan, combine pear juice, brown sugar, and cinnamon over medium to high heat.
4. Once sugar has dissolved, pour some of the sauce over the pears, then put them in the oven. Periodically spoon more sauce on top of the pears. Cook for about 30 minutes.
5. Place your roasted pears on a plate, and sprinkle pecans on top. Serve with one or two scoops of ice cream. Enjoy!
---
Twitter Party Monday September 22nd
Make sure to join in on the fun this Monday at the #FebrezeFall Twitter Party with @Febreze_Fresh. Come chat about your favorite fall family memories and the new Febreze Fall Hall Home Harvest Collection available at Walmart! Party starts at 2pm EST!
Participants must be following @SheSpeaksUp on Twitter to be eligible to win. Must RSVP and comment at the following link to be eligible for door prize.
---
Prize: $15 Walmart Gift Card
Want to win a $15 Walmart gift card so you can pick up your own Home harvest scents collection from Febreze? Answer one of the following questions. Post your answers on the Facebook post!
1. Which scent do you look most forward to trying? Autumn Harvest, Vanilla Latte, Toasted Almond, Sugared Cranberry, or Spiced Pear
2. What scent reminds you of fall?

3. What is your favorite fall food?
A winner will be chosen & announced here on this post, and on the Facebook page Sunday September 28th! You MUST look in your "other" folder on Facebook for a message from me! You'll have 48 hours to answer back with your shipping address. Thank you!
---
Connect with Febreze Online
Facebook: https://www.facebook.com/febreze
Twitter: https://twitter.com/febreze_fresh
---
Disclosure: I received some of the above products in order to facilitate this review. This is a sponsored review for Shespeaks/Febreze. All opinions and experiences are my own. Yours may vary.
---