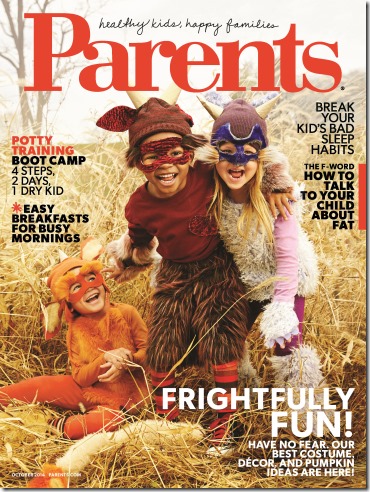 INSIDE THE OCTOBER 2014 ISSUE OF PARENTS
Frightfully Fun!
"Spooky Decorations for Your Front Door, Adorable No-Sew Costumes for Kids, Potty Training 101, The Best Make-Ahead Breakfasts, Is Couponing Right for You?, Talking Fat with Your Family…and more!
"Scary good things are happening inside Parents magazine this month. Join in their seasonal celebration with spooky décor, no-carve pumpkins and the cutest no-sew costume ideas for kids. Whip up make-ahead breakfasts your family is guaranteed to love – and then set aside some time to re-think your sleep routine, reorganize that toy closet, and talk to your family about the new "F word. "
Spooky Stoops (pg. 30) – This Halloween, delight trick-or-treaters with our frightfully fun ideas for your front door. Pick your pumpkins wisely to make one of our no-carve creations, from crazy caterpillars and bumble bees to a group of friendly ghosts. Use colored masking tape and hand-painted paper lanterns to deck out a festive doorframe. Then, add wicked wreaths and a few cutely crafted critters, or light up the night with a pair of "scaredy cat" luminaries. With our front door additions, your kids will be going nuts for more than just the candy bowl this season.
Where the Wild Things Are (pg. 38) – Furry and friendly, the only thing scary about these no-sew monster costumes is how many likes you'll get on Instagram. Start your costume with a solid base layer, then add crafted fur bellies, leg and ankle warmers, and paw covers to turn your little one into a cuddly monster. Top off the look with fun accessories to transform kids into fuzzy fiends, snow monsters, or even baby beasts. Our step-by-step instructions require little more than a pair of scissors, some fabric and a hot glue gun – meaning you'll have no reason to fear joining the monster mash.
7 Reasons Your Kid Needs Sleep (pg. 61) – With school vacations, the occasional holiday weekend, or just letting your little one say up to watch the World Series – a child's sleep routine can take a toll. But what could be so startling about a simple change of schedule? The repercussions of sleep deprivation are visible after only one fewer hour of sleep per night. Pediatric researchers' latest findings suggest that when kids don't get enough sleep, they may have a higher risk of becoming overweight, developing diabetes, and face more learning problems and attention issues. Here, we break down the crucial reasons your child needs sleep, and provide tips for building a better bedtime so that your kids grow up loving their zzz's.
Potty Train Painlessly (pg. 82) – When is it time to kiss your diaper bag goodbye? While we'd love for kids to go to the bathroom on their own ASAP, it turns out that toilet training is not a race. To make the process painless, we walk you through a weekend of potty-training boot camp, and outline a few hints to help you decide if the time is right for your child to get going…literally.
Morning Glory (Page 88) – Take a bite out of A.M. angst with these make-ahead breakfast recipes for you and your family. On the weekend or a quiet night, cook up a delicious egg pizza, healthy pumpkin muffins, a batch of yummy granola or even almond pancakes with a pear-maple compote. Easy for on-the-go or a time-strapped morning, you'll thank yourself as you bite into one of these breakfasts.
The New F Word (pg. 119) – Fat. It's a topic many moms have trouble discussing with their kids, but one that needs to be addressed in a world where body image and weight are more of a focus than ever before. Experts say that parents – not pediatricians, teachers, or coaches – need to show their own kids the way to growing up with good self-esteem, a healthy body, and the desire to be kind to other no matter their size. Here, we discuss three major things you should be doing to make sure you and your child are on the right path to forming a healthy view on fat.
Tame Those Toys! (pg. 133) – If stepping over stuffed animals and finding toys cars between the couch cushions is getting old, it might be time to tackle some toys. From the best ideas for storing Barbies to tips on how to get those un-played with pieces out of the house, we've got your ultimate guide to containing the chaos of your child's playthings and the products you need to do it.
Is Couponing Really Worth It? (pg. 140) – Sure, trolling for discounts can save your family money, but being a couponer is hard work that the average mom doesn't have time for. In a Parents poll, 64% of readers said they spend less than one hour per month collecting coupons, or don't do so at all. Still, the cost of food, diapers and toiletries can add up. So will couponing improve your quality of life? We've compiled a quiz to help you decide if you should clip it or skip it.
Where to Purchase
The October 2014 issue of Parents magazine is available September 9, 2014. You can find it at
Barnes and Noble online (where you can subscribe as well) or on shelf at your local Barnes and Noble.
---
All information & images provided in this post copyright Parents Magazine & Meredith Corporation.
---