This is a sponsored post for Firefly. All opinions expressed here are my own.
Celebrate Hello Kitty's 40th Anniversary Getting Healthy
Did you know that this year marks Hello Kitty's 40th Anniversary? We sure did because we have a huge Hello Kitty fan in our house, my daughter Silje. Since we're also big fans of good oral care Silje is celebrating Hello Kitty's Anniversary with the new Firefly Hello Kitty Ready Go Brush. I believe good oral health habits start early in life so first Silje brushes her own teeth & then mommy helps, and it's the same with my 4 and 6 year old sons. Each morning and evening our entire family brushes their teeth together. I am very partial to helping my kids learn by example. I rarely hear any complaints because we keep things fun. The kids get toothbrushes and sometimes toothpaste with their favorite characters. Silje is absolutely enamored with her Hello Kitty Ready Go Brush as you can see.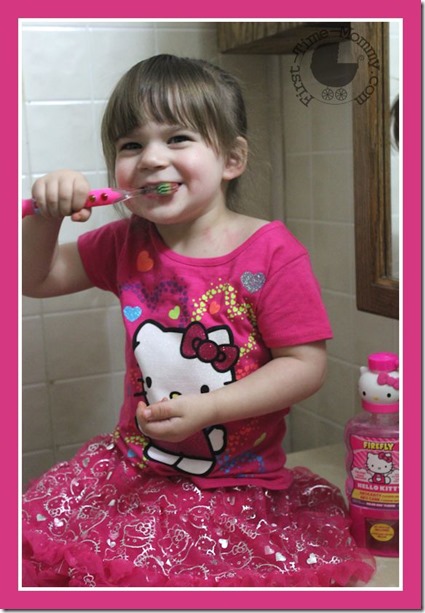 Hello Kitty Ready Go Brush
The Hello Kitty Ready Go Brush is a cute little toothbrush that has flashing traffic signal lights on the brush which encourages children to brush for the recommended 2 minutes. It goes from green, to yellow, to red. It features a sculpted handle with soft bristles and a suction cup bottom which I've found help children keep from losing their tooth brushes. They think it's a lot of fun to stick the suction cup bottom to the counter top. Batteries come with the brush & cannot be replaced. They last the life of the brush. (Firefly Ready Go Brush toothbrushes come in several different characters for boys and girls!)

Mom Tip: Since toothbrushes must be replaced so often I use them as gifts in stockings & Easter baskets. It's a great way to get kids excited about brushing.
Firefly Hello Kitty Anti Cavity Fluoride Rinse
If you have older Hello Kitty fans in your house Firefly also offers the most adorable Hello Kitty Anticavity Fluoride Rinse in new Melon Kiss flavor. The bottle is not only cute, it's functional. It has a fun push pump on the top and near the bottom a little cup that fits right inside the stand (stand is attached to the bottle). It's perfect for kids so they don't lose the cup!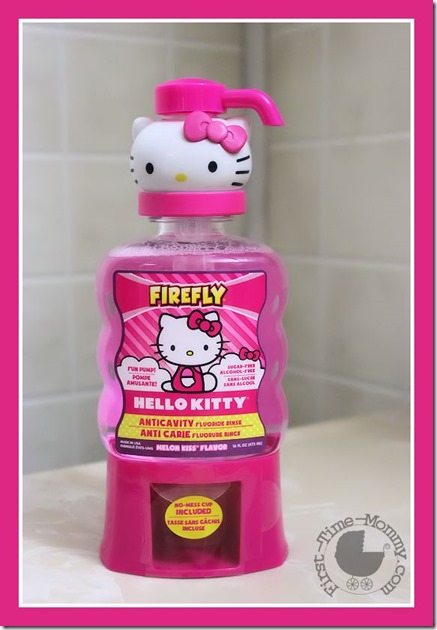 Where to Purchase
Look for Firefly Hello Kitty Ready Go Brush Toothbrushes and Firefly Hello Kitty Anticavity Fluoride Rinse at your local Walmart, Walgreens, CVS, Target, Toys r' Us and several other large retailers as well as Amazon.com & drugstore.com online. Check out http://fireflytoothbrush.com/ to check out all the fun oral care items they have.
---
Disclosure: This is a sponsored post on behalf of Firefly. I received the above products to facilitate this review. All opinions are my own. Your experience may vary.
---