This is a sponsored post for SheSpeaks/Febreze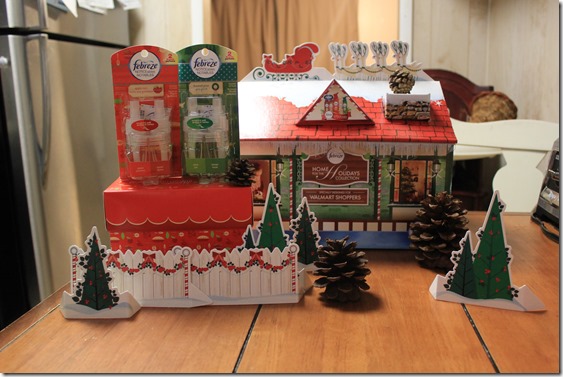 Well, it's finally here. It's officially the holiday season. Our friends to the north in Canada recently celebrated Thanksgiving and soon it will be our turn, and then, the most wonderful time of the year will be upon us! For our family it's Christmas.
Just recently we received the cutest little holiday house from Febreze, filled with wonderful scents
from the Febreze Home for the Holidays Collection, which is available at your local Walmart for a limited time only. How can one not get inspired to start holiday crafts when they walk in to their house to the beautiful aroma of Apple Tart, Sugared Cranberry, Toasted Almond, Frosted Pine, or Vanilla Latte? All scents that remind me of the holiday season for sure!
Our cute little holiday Febreze house was filled with a card box full of recipes & crafts for the holidays. The kids and I picked out a craft to share with you that we thought you would enjoy doing as well. It's simple, cheap, and you might even have all the materials at home already. We altered the instructions a bit based on what we had on hand to come up with our own little design. You are encouraged to do the same. Make it unique!
---

What You Need:
hot glue (I used super glue I had laying around but hot glue always works best with wood – for a totally kid friendly craft stick to white glue)
3 clothespins
paint (I used acrylic, but even water paints can work well with wood for the kids)
googly eyes
colored pom poms
1 pipe cleaner
cotton ball
---
Gather whatever you have on hand. You definitely need the clothespins, the googly eyes, the pom poms, and some type of glue. Everything else is optional.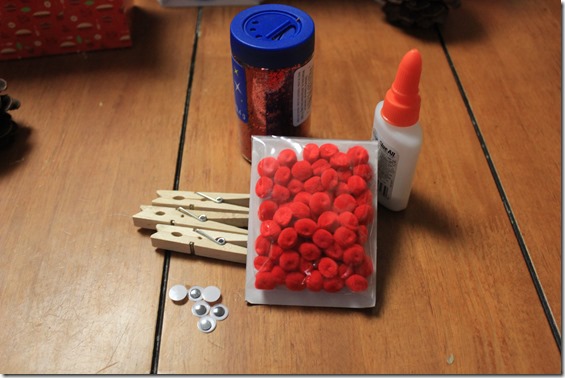 Glue the 3 clothespins together like this & let them dry (You might want to do this step first before you give it to the kids to finish)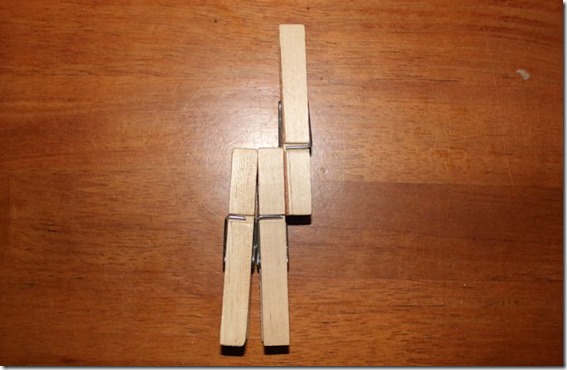 I colored mine brown with some leftover acrylic paint I had on hand. Water paints are great for kids as it soaks into the wood well and is kid friendly. I let it dry for about 1/2 hour.
After dry glue the eyes and nose onto the face. Take a small piece of cotton ball & glue it on the back for a tail. Cut your pipe cleaner to form antlers & glue them onto the front of the head. Let it all dry and you're done!

Here's our guy, we call him Rudolph and he's hanging out in his little pine cone forest in front of Santa's house.
Happy Crafting!
Don't forget to pick up your Febreze Home for the Holidays Collection scents from your local Walmart this season for a little scentspiration!
This is a sponsored post for SheSpeaks/Febreze
---
Connect with Febreze Online
---
Disclosure: I received Febreze products in order to facilitate this review. This is a sponsored review for Shespeaks/Febreze. All opinions and experiences are my own. Yours may vary.
---