This is a sponsored post for SheSpeaks/Duracell.
Have you ever been sitting under the Christmas tree unwrapping presents when you open up something amazing? You just know you're going to love it so much. You can't wait to try it out. You've got all the paper off, and you start tearing away at the package and you're just so excited you can barely contain yourself. Finally it's there in your hands & just as you get ready to turn it on you realize, there are no batteries. You start looking around to see if the batteries are inside the box or maybe even attached to it. Eventually you get so frustrated you remember to check the outside of the box, only to read "Batteries Not Included" Aaaaah nooo it can't be! You look around at everyone else all doe-eyed because they wouldn't possibly give you a gift without batteries, right?? right?? Someone has to have remembered the batteries. Wrong.
You've totally been there, haven't you? or maybe you've watched this happen to one of your kids, which is even worse to experience. How do you explain to the kids that Santa forgot the batteries? Nowadays, one of the first things I do during the holidays before I wrap a single gift, is to pick up the largest pack of Duracell AA batteries I can find (usually the 16 pack), then I go down the line & pick up various packs of all the other sizes and I stash them away in the closet, thus ensuring no one ends up in the scenario I described above.
Duracell has always been my number 1 go to brand because as a mom of 3 who has been dealing with toys for the past 6 years straight, you learn really quickly which batteries last & which don't!
Duracell has never let me down.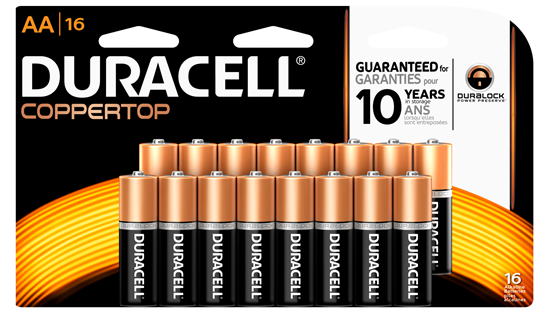 Why Duracell?
Duracell CopperTop All-Purpose alkaline batteries are not only dependable, they're also long-lasting. You can take comfort in a 10-year guarantee in storage with Duralock Power Preserve Technology. They're great for many of the devices you use on a daily basis in your home. And from storm season to medical needs to the holidays, Duracell is the #1 trusted battery brand of first responders, pharmacists and parents, so you know it's a battery you can trust. CopperTop batteries are available in AA, AAA, C, D and 9V.
Don't Be the One that Forgets the Batteries
When you're out shopping this holiday season make sure you don't forget the batteries! #PowerTheHolidays with Duracell. They have all the sizes you need and you can get them at your local Walmart. You can even order them online! So no excuses! And remember, 4 packs of Duracell batteries make great stocking stuffers for older family members!
---
Connect with Duracell & Walmart Online
Twitter: @Duracell, @Walmart
Facebook: https://www.facebook.com/duracell
---
Tell me, have you ever forgotten the batteries?
---
Disclosure: I received some of the above products in order to facilitate this post. This is a sponsored post for Shespeaks/Duracell. All opinions and experiences are my own. Yours may vary.
---