Disclosure: I received this product courtesy of Bzzagent & GoGo squeeZ in exchange for my honest opinion. The experiences & opinions stated here are my own. Yours may vary.
We have been big fans of GoGo squeeZ since it first made it's debut in 2008. In fact my oldest son was born that year so I remember quite fondly discovering GoGo squeeZ for the first time. They were one of the first brands that used squeezable pouches! Yes indeed. Their innovative design was quite eye-catching to this new mom that thought she'd be stuck with glass or plastic jars clanging around inside her diaper bag forever. It wasn't long after they arrived on shelves in our area that we tried them out. I had to have them! Of course shortly after that every brand you can think of started using squeezable pouches, and well, now they're everywhere.
GoGo squeeZ still stands out in many ways, especially due to their dedication to pure goodness! The company sources all their fruits and veggies from the USA from evolved farms and orchards that use the best ecological practices to grow and harvest produce, keeping the use of any chemical agents to a bare minimum. They also remove and recycle the peels on all the fruit they use, so your kids get no hidden nonsense.
And now, I'm excited to tell you that GoGo squeeZ has brought us something new! GoGo squeeZ Fruit & VeggieZ!
I don't know about your kids but mine have gone through ups & downs when it comes to loving their veggies. Kids tastes change so quickly it's amazing. Over the years I went from having a 6 month old that loved sweet potatoes, carrots, even spinach to a 6 YEAR old that won't touch most vegetables with a 10-foot pole. Getting all of my kids on the same page when it comes to snacks is hard work. One snack they can all agree on though is GoGo squeeZ.
This past week they tried out the new Great'Full Grape – Fruit & VeggieZ for the first time & they loved it so much I had to go out and buy more. No complaints. In fact my 4 year old jumped around for a good 5 minutes like it was the best thing he ever ate. I told them it had veggies in it and they didn't even flinch. Amazing. So want to know what makes this snack so great, especially for families on the go?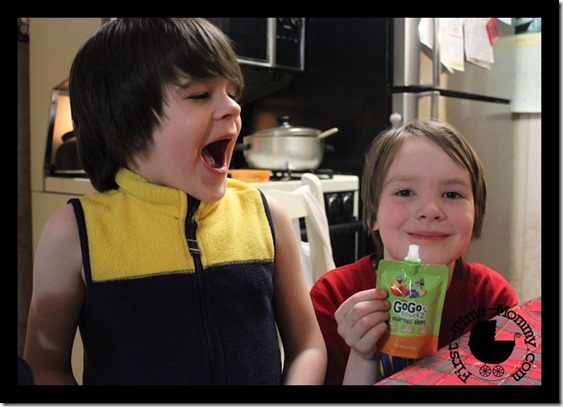 GoGo squeeZ Fruit & VeggieZ
Made with 100% all-natural fruits and veggies and NO high-fructose corn syrup, GMOs or added colors, flavors or preservatives
They're Kosher certified, never watered down and always gluten, nut and dairy free
All packaging is BPA- and phthalate-free
The resealable pouches have a built-in straw, making them a no-spoon, no-mess way to enjoy all-natural fruits and veggies on the go
All GoGo squeeZ pouches have a helicopter design cap that makes it easier for kids to open GoGo squeeZ independently and uses 40% less plastic than the standard large pouch cap
---
4 Delicious Flavors to Choose From
Pedal Pedal Peach – Apple, Peach and Sweet Potato
Zippin' Zingin' Pear – Apple, Pear and Carrot
Boulder Berry – Apple, Carrot, Raspberry, Strawberry and Blueberry
Great'Full Grape – Apple, Grape and Sweet Potato
---
Just as the name implies GoGo squeeZ is great on-the-go. We've brought their applesauce with us everywhere, on road trips, to the zoo, to the farm, on school fieldtrips and I even send them in my 6 year olds lunch. Now we have even more variety to choose from with their new Fruit & VeggieZ. Check 'em out next time you're out and about. I don't think your kids will be disappointed.
Where to Purchase
Look for Fruit & VeggieZ pouches in the applesauce aisle at your local grocery store. To find a specific product and see a list of online retailers, use this handy-dandy search feature. You can pick up 4-packs for a suggested price of $2.79, as well as 12-packs and 48-packs.
---
Connect Online with GoGo squeeZ
Disclosure: I received this product courtesy of Bzzagent & GoGo squeeZ in exchange for my honest opinion. The experiences & opinions stated here are my own. Yours may vary.
---