This summer I've been practicing my baking and cooking skills in attempts to find quick, delicious, and nutritious snacks for my kids. Items that can go in lunch boxes come this fall, or serve as quick breakfast or lunch dishes while we're on the run during the summer. I prefer recipes that include things a little more wholesome & maybe even a few things snuck in here & there that they don't need to know about. When it comes to my kids and nutrition I go by that old saying, what you don't know, won't hurt you.
Since Walmart carries tons of different varieties of Yoplait Yogurt, like: Yoplait Light, Greek, Whipped, Gogurt, Trix, Yoplait Kids. I headed up there to grab some, because I had an idea.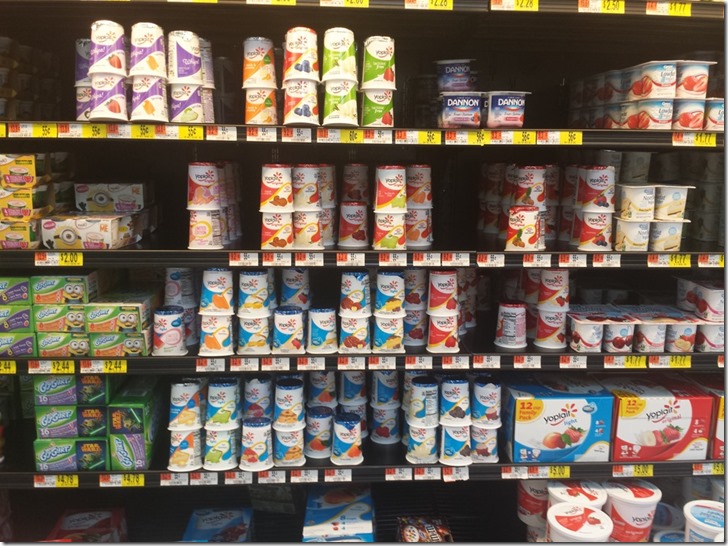 I decided to try something I'd never had before, the new Yoplait Plenti – Blueberry. Yoplait Plenti is a Greek yogurt with whole grain oats, flax, and pumpkin seeds. It has 12 grams of protein in just 1 container, which I love because my kids need all the protein they can get. Once I tasted it I knew it would be the star of my next recipe. Lemon Blueberry Yogurt Muffins. Keep reading for recipe & instructions.
Lemon-Blueberry Yogurt Muffins
Gather the following ingredients:
2 cups Flour (You can use any kind, I like to use bread flour – it rises easier)

1/2 cup white Sugar

1 tbsp baking Powder

1/4 cup vegetable Oil

1/4 cup water

2 eggs

2 containers Plentiful Greek Yogurt – Blueberry

2 lemons worth zest (grated lemon peel)

1/4 tsp, table salt

3/4-1 pint of blueberries

1 lemon yields, Lemon juice

6 teaspoons white sugar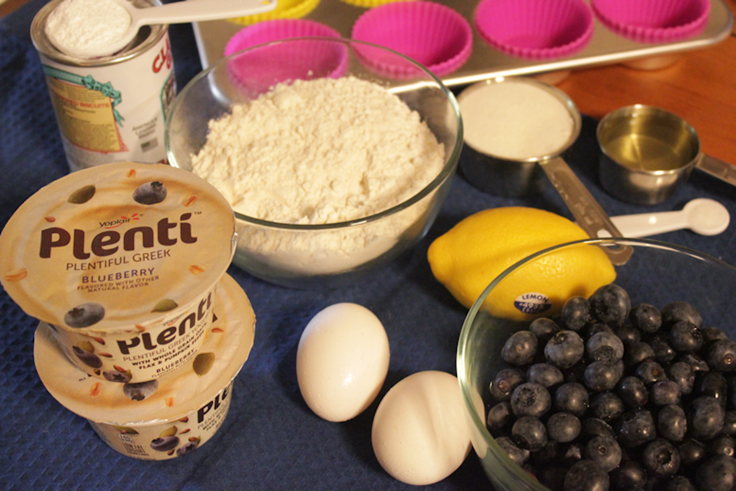 What you are doing here is essentially replacing your milk/dairy in the recipe with the Greek yogurt. Because the lemon & blueberry are somewhat strong flavors you can't really tell the yogurt is in there. Before we get started turn your oven on 500F. Yes 500F.
Combine all your wet ingredients & whisk them up thoroughly. The yogurt, eggs, vegetable oil, and water.
Grab a second bowl and combine all your dry ingredients. I like to sift them together like this so that they're incorporated a little bit better. You'll be combining flour, sugar, baking powder, salt & 1/2 cup sugar.
Grab 2 lemons & grate them with a small grater or regular cheese grater to obtain the zest.
This is what your zest will look like. You won't get a whole lot. Don't grate off the white part, just the yellow rind. Dump the zest in to your wet mixture & whisk it around a bit so it doesn't stay lumped together.
Now gather your dry mixture & pour in your blueberries. You want to coat the blueberries with the dry mixture to keep them from sinking to the bottom of your muffins. No need to be careful, just make sure they're coated. After you've done that, carefully mix your wet & dry mixture together. Don't over mix! Just mix them long enough that everything comes together. You want lumps!
Grab your favorite muffin pan. Mine is aluminum because I found that the non-stick are hard to clean after awhile & they don't do as good in really high temperatures. I also use silicone baking cups because as a mom of three I do not have time to clean up a bunch of messes! These baking cups have not failed me yet, my muffins and cupcakes never stick & my pan is not destroyed.
Fill the baking cups up to the top like in the picture below. You'll have exactly enough for 12 muffins. The consistency of the mix will not be thin by any means, it will be more like a very very thick pancake batter. Your oven should be plenty hot now. Stick your muffins in, close the door, and immediately turn your oven down to 400F. Bake for 15-20 minutes. Probably more towards 20. If you're using bread flour you will notice your tops getting browner quicker & probably more than you like. That's alright because the final steps will conceal that!
(The reason we turn our oven on 500 first is because the super high blast of heat helps the muffins rise better – trust me on this!)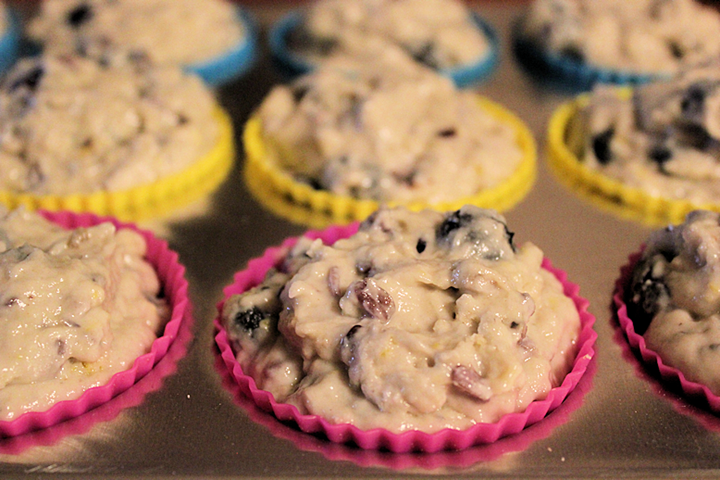 Now that your muffins are done & are cooling on the stovetop go ahead & take 1 of the lemons you zested & get as much juice out of it as you can, put it in a bowl or on a plate. You're going to dip the tops of your warm muffins into this lemon juice. (The muffins need to still be warm for this to work well)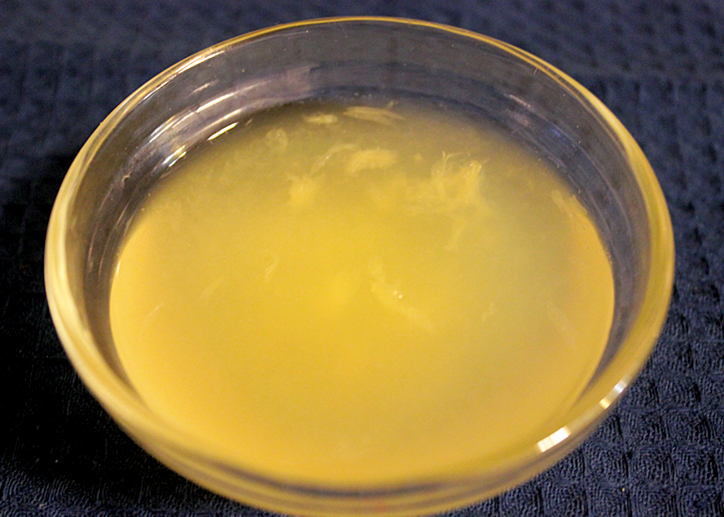 Because lemon is so sour we balance it out by dipping the top of our muffin into sugar. This is where your 6 or so teaspoons of sugar come in. Pour it onto a plate & immediately after you've dunked your muffin into the lemon juice, put it into your sugar and roll the top around slightly to cover. The lemon helps your sugar stick.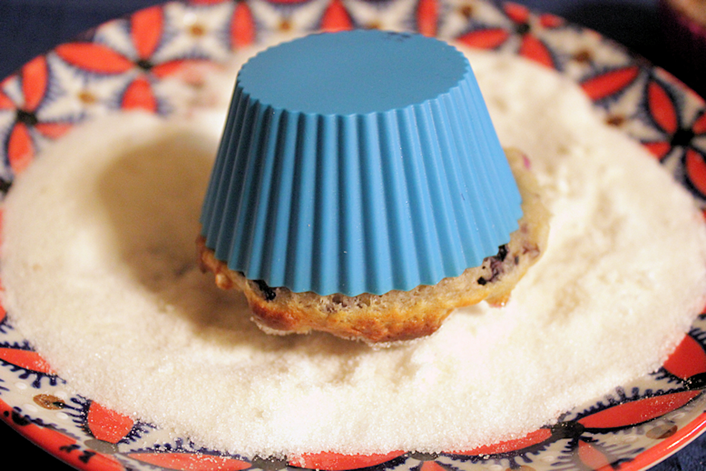 See there? It tastes great, balances out the sour flavor & it really doesn't amount to much added sugar at all. To be honest, as soon as your kids see sugar they're going to go for it, not realizing that this muffin features some scrumptious healthier ingredients like Greek yogurt and flax. These muffins are around 192 calories a piece and contain 6 grams of protein.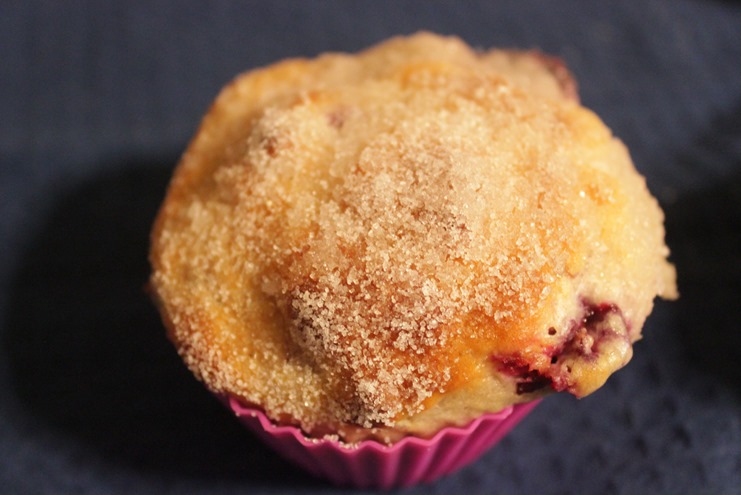 So there you have it. You can cook these with muffin liners, but for kids I really prefer to use the silicone baking cups, so much less clean up!
Make these muffins ahead the night before & you have a quick breakfast, because honestly, who wants to be in the kitchen all day when you can be outside playing with the kids instead?
Happy Eating!
This is a sponsored conversation written by me on behalf of Yoplait®. The opinions and text are all mine.