Now that the boys are out of school for the summer and we're spending a lot more time together, it also means that they're home for all of their meals.That's a lot of pressure folks. It's hard to keep a 3, 4 and 7 year old happy when it comes to food. Everyone has their own likes/dislikes. Since my kids really love to snack what I've been trying to do is to incorporate some of their favorite foods into new snacks and treats that liven up our routine a bit. Maybe throw in a few healthier ingredients here and there. I'm sneaky that way.
One things my kids absolutely love, Yoplait yogurt. Everyone has their favorite. Silje, the youngest, loves Yoplait kids, Vincent, the oldest loves Gogurt & Trix,, and Aidan, the middle child will go for just about anything so long as I present it creatively. So this got me to thinking. Why not take one one of their most beloved foods and put it a treat we all love, dessert! Hey why not? Yogurt's not just for breakfast you know. Plus my kids always attempt to eat their dinner as long as I offer them dessert. Yep, I'm not above bribing. So I put my I put my thinking cap on and headed to Walmart in search of Yoplait.
As you recall I was also at Walmart to pick up some stuff for 4th of July so after we were done we stopped by the dairy section and checked out their offerings. Walmart carries Yoplait Light, Greek, Whipped, Gogurt, Trix, Yoplait Kids and tons of different flavors but I decided to go with something classic that I knew everyone in the house likes. Strawberry.
Look at all this Yoplait yogurt (and this is just half the selection)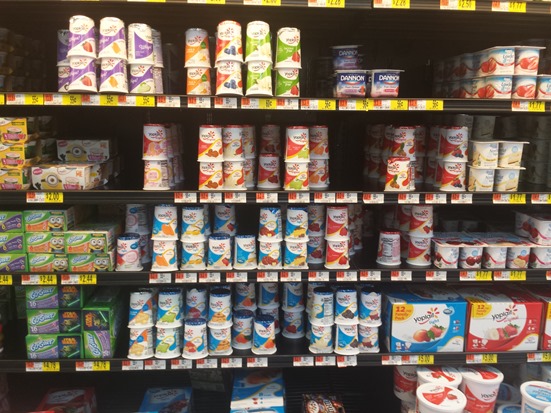 Once I got all my supplies, I rubbed my hands together and cackled maniacally. Oh yes I sure did! The kids were probably scared out of their minds thinking I was going to try to hide broccoli in our dessert, but I was craftier than that. I had to like this dish too after all.. and what do adults love? Cheesecake!! Oh yeah! and I decided that the star of the show would be:
Yoplait Original Strawberry Yogurt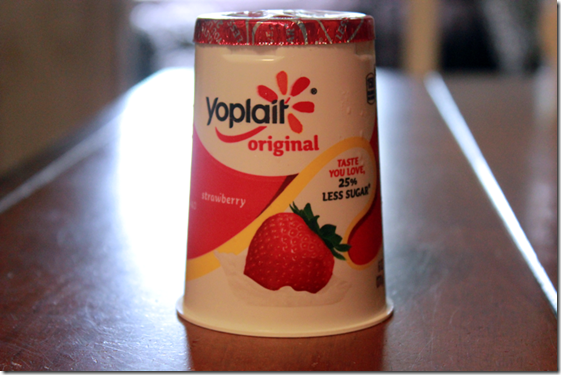 So here it is folks, what I call: Strawberries & Cream Shortcake. My take on a classic summer dessert, strawberry shortcake, except I have lowered the calories greatly and incorporated the healthy goodness of Yoplait Strawberry yogurt.
Strawberries & Cream Short Cake
You'll need to gather the following:
1/4 cup of sugar
2 packets of unflavored gelatin (no artificial colors or flavors – 1 packet equals 1 tablespoon of gelatin)
1 cup of boiling water
1 package of Neufchatel cheese (1/3 less fat than regular cream cheese)
4 containers of Yoplait original Strawberry Yogurt (Yoplait Original 25% Less Sugar)
2 packages of dessert shells (As seen above, you will use 8 shells total)
1 pint of strawberries
1 teaspoon sugar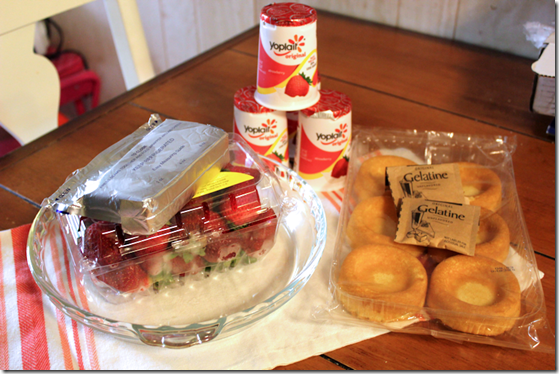 Grab your pint of strawberries & remove about 6-7 (for the inside of the pie & decoration later). Cut them up & place them in a pot with 1 teaspoon of sugar & 1/4 cup of water. This will be a strawberry topping you will put on the top of your dessert.
Cook up your strawberries for approximately 2-3 minutes on medium-low heat. While they're cooking take a potato masher & break them up. Keep mashing until they're jam consistency. This really only takes 2-3 minutes tops. Set your pot aside and let it cool while you put together the rest of the dessert.
Start boiling 1 cup of water on the stovetop. While you do that, grab a bowl and mix together the package of Neufchatel cheese and 4 containers of Yoplait strawberry yogurt as well as 4-5 individual cut up strawberries. Beat everything for approximately 2-3 minutes in a stand mixer or with a hand mixer until creamy & fully combined. It will look something like this:


Now grab your dessert shells so you can begin working on your crust.
Crumble your dessert shells with your hands into a traditional springform pan used to make cheesecake or take the easy route like me and use a regular pie dish. Only use 8 shells or your filling may overflow later if you're using a pie pan.
Pro tip: Sugar free shells or older shells work better (Sometimes you can find them on clearance).
Now push your dessert shells down onto the bottom of the pie pan until they all form together to make a new shell. Push hard because you want the crust to be as dense as possible. No need to add unnecessary ingredients to make them stick together, the heat form your hands help mold them. Your crust is ready to go, set it aside.
Now that your water has finished boiling, combine 1/4 cup of sugar and 2 packets of gelatin in a pot. Pour your 1 cup of water over them & whisk until the sugar and gelatin dissolve. For up to 3-4 minutes.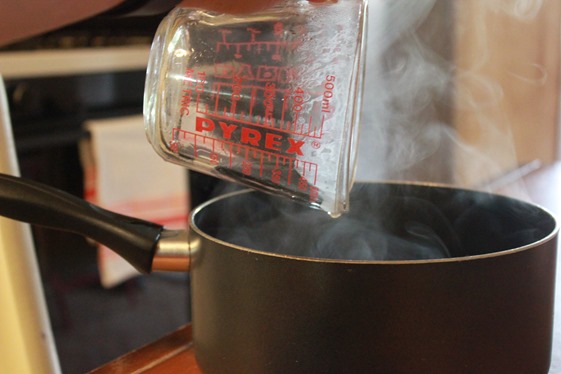 Grab your bowl of filling that you previously mixed up with the Neufchatel cheese & Yoplait strawberry yogurt & combine it with the gelatin/sugar mixture. Whisk this well until everything is completely incorporated. Pour it over your pie crust/shell.
Your strawberry topping that you cooked up earlier and set aside should have cooled down a bit by now. You're going to place dollops of it on your dessert. You can do this one of two ways. You can either pour it on in a swirl pattern or you can drop spoonful's of it on to the top and try to make swirls that way. I did spoonful's. It will look something like this: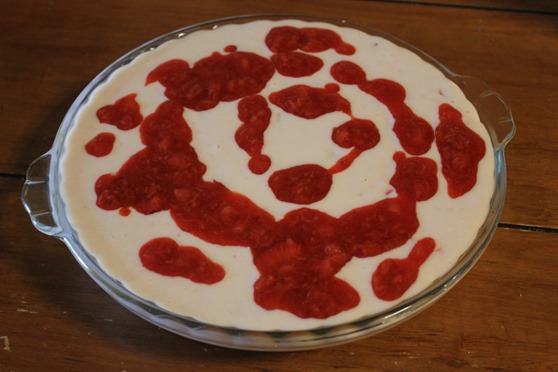 Now grab a wooden spoon, or even a chopstick and put the handle into the mixture about 1/4 inch deep and swirl each little dollop into circles, or spread it around any way you like to design your own sort of pattern. You can really use your own creativity here to make it look any way YOU want. Who knows what you'll come up with. This is how mine looked.
Now take your dessert and place it in the refrigerator and leave it there for at least 5-6 hours or even better, overnight.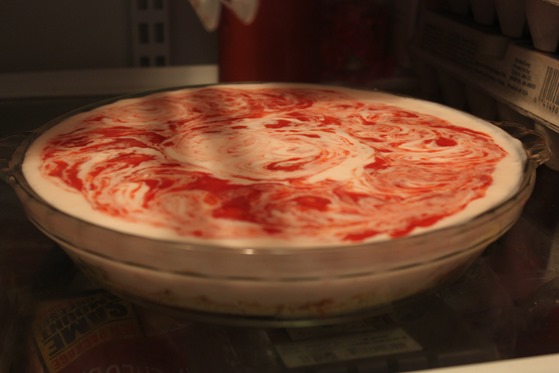 After your dessert has set take it out and decorate it any way you like! Because this was a dessert for my entire family and we have 3 little kids here I decided to make a flower for the top because who doesn't like flowers? I had just a couple of strawberries left over so I sliced one of them very thinly and placed 5 around the middle like flower petals. In the middle I put about 1/2 teaspoon of the "jam" that I had left over & placed it in the middle. Then a blueberry on top to finish it off!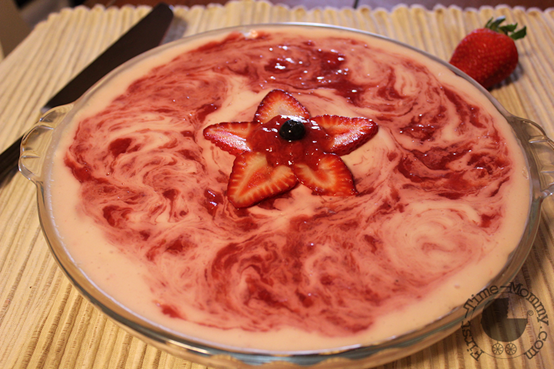 The kids couldn't wait to dig in. My 3 year old daughter thought the strawberry flower was the coolest thing (kids are easily amused!) and guess how many kids ate their dinner that night?? 3! That's right. All 3!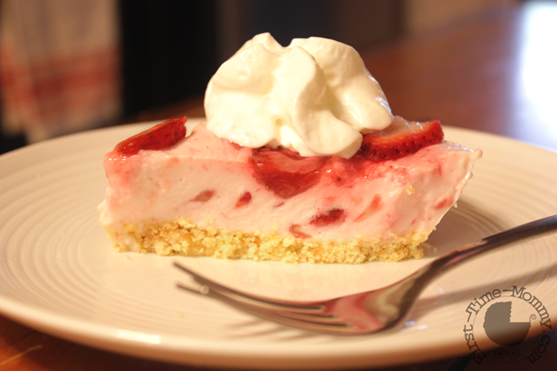 One whole dessert will serve 12 and comes in at around 179 calories per slice (not including any additional toppings like whipped cream). with just 5 grams of fat, 19 grams sugar, 28 carbs, and 6 grams of protein. Did I mention that it's absolutely delicious?
Happy Eating!
---
This is a sponsored conversation written by me on behalf of Yoplait®. The opinions and text are all mine.