This year is going to be a bit different for myself and my family because both of my boys will be in school full time! I'm so nervous. Vincent is also starting sports this year. We're going to have tons of after school practices. Because of this I have decided that once my boys get home from school, that's it, my work day is over. Computer, phone, put away. I want to be able to make the most of our evenings and I want them to contain as little stress as possible. One of the first ideas that popped into my mind was that I should cook a bunch of meals in bulk that I can put in the freezer & have it ready to go or simply pop in the oven when we get home.

I don't know about your kids but my children love all things pasta so that was pretty much the first thing on my list. I knew I could get extra large jars of Ragu® spaghetti & pasta sauce at Costco because they recently teamed up so they could make dinner time more convenient for moms like me. The kids and myself got our list together and headed on up there. School starts in only 2 weeks!


Did you know that if you don't have a membership at Costco a friend can buy you a cash card and you're able to shop in the store? You have to use your card all up in one trip. What you don't spend, they'll give you the remainder in cash. So if you can't afford a membership right now or you just want to check out the store first, find a friend with one!
I just had to grab a rotisserie chicken. I'm addicted to them. They're perfect for all kinds of freezer meals. When I'm done with it I use the leftover bird to make my own chicken stock. Their chicken is sooo good. Of course I found our trusty Ragu® spaghetti sauce, tons of different pastas, and bulk meats, amongst other things. I was in the store for over an hour just browsing around. So much goodness to choose from!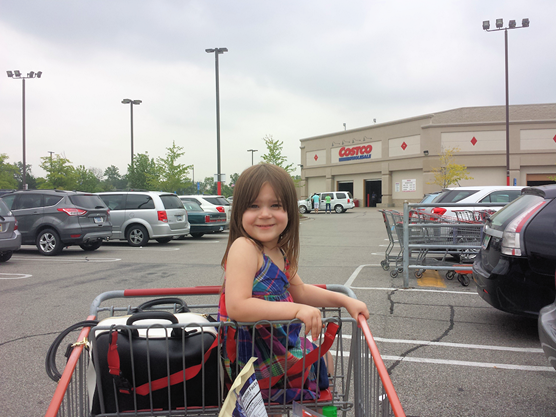 Shopping is always more enjoyable with my little helper. While my boys are in school it's just going to be this little lady and myself. Silje is 3 years old now so she's not quite ready for school yet. She won't mind keeping her mommy company though! You can see just how happy she was with our choices. She couldn't wait to get home and starting taste testing!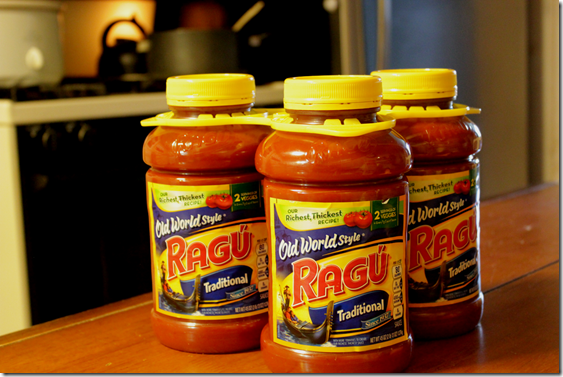 The jars of Ragu® that I picked up are extra big. 45 oz. to be exact. Since it's the traditional Ragu® flavor, I like to make it my own, so what I do is I start emptying out my fridge of any vegetables that I need to use up. I add sautéed onion, leftover tomatoes, green pepper, mushrooms, carrots, celery, and sometimes zucchini or squash as well as basil and garlic. I buy a lot of fresh produce and do not like to waste. It all goes in the pot with 2 45 oz jars of Ragu® & 2lbs of cooked up ground meat. I prefer turkey. Of course you can also use your Ragu® straight out of the jar too if you prefer or you're in a hurry because it already contains over one full serving of veggies in every half-cup! I like to kill two birds with one stone by throwing it all in a pot together.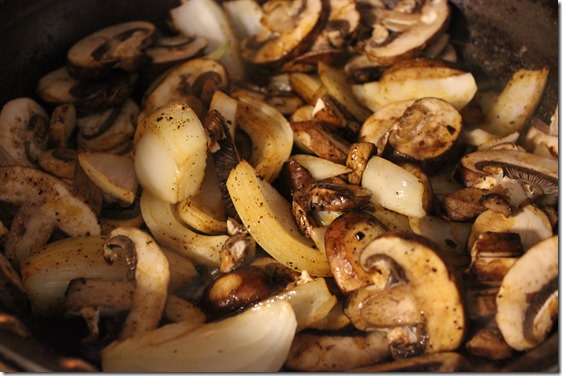 Once my sauce has simmered a while I have an entire large pot of spaghetti sauce to use with various pastas and noodles for my freezer meals. I also have a spare jar I can store in the cupboard. I use this pot of sauce to put several dishes together, like baked mostacholi, mini lasagna's, cheese & spinach stuffed cannelloni, etc. The remainder of meat sauce goes in bags or containers and is frozen for the nights we will have rigatoni or spaghetti. This way I don't have to cook up the meat each time and the meat doesn't go bad in the fridge because I forgot to portion it out in time. (Something I used to be guilty of).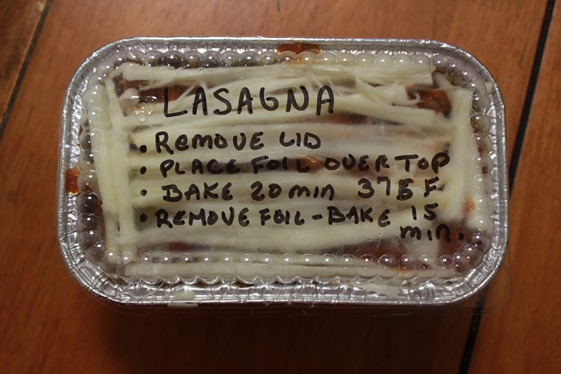 I like doing things like this because I log all the food I eat and this way I can log my recipes and figure out their nutritional value ahead of time. I write the serving size and instructions on the outside of the packaging to remind myself in case I forget later (when things get hectic). My kids get the foods they love super quick on school nights and mom gets perfectly portioned sizes for her. It's a win win. There is so much less stress when you're organized!

I learned last year that when Vincent gets out of school dinner needs to be ready to go! Now this year I'll have two of them coming home hungry. You can see all three of them are getting super big and I swear this is exactly what it looks like when they run to the dinner table. There's really no time to waste, and let's be honest, who wants to spend time prepping, cooking, and cleaning up after dinner all evening when you're only seeing your kids for a few hours, and then it's bedtime? Starting school full time is a very big adjustment for some kids. My oldest won't even talk to anyone until he eats so this year I intend to be ready to deal with that.
Nothing makes a mom happier than seeing her children smile. Of course, happily finishing their dinner is a close second! After cooking all day I was able to use up some of the leftover Ragu® & make spaghetti for dinner, without a doubt my children's absolute favorite dish. It's funny because my mom also used Ragu® when I was a kid. I guess it's become somewhat of a tradition around here.
Preparing for back-to-school doesn't have to a big ordeal. Sometimes it's just a matter of organizing yourself before hand. Buying those ingredients you need in bulk and taking one day out of your week to prepare 7 or 8 meals ahead of time is going to make life so much easier for you! Do this 2 or 3 weekends in a row and your entire freezer will be filled up and ready to go. Your children will thank you later and you'll thank yourself because you will have more time to spend with those you love!
---
Connect with Ragu® on Facebook, Twitter and Find Tons of Creative Recipes on their Pinterest Page.
---
What are you doing to prepare for back to school?
---
This is a sponsored conversation written by me on behalf of Ragu®. The opinions and text are all mine.