One of my fondest memories as a child is of learning how to cook with my family. I remember standing there watching my Grandpa cut up vegetables, explaining everything as he went, hoping beyond hope that he would ask me to help! Later when I a little bit older and able to come up with recipes on my own my Grandpa was my taste tester. He never complained! As much as I loved Grandpa's cooking though, it's one of my mom's dishes that will always be one of my all time favorites. My mom was a young, single, working mother for many years, she was routinely short on time & so she kept her dishes pretty simple. She always used Ragu® and when she made her baked mostaccioli with it, there wasn't one complaint in the entire house.
These days I'm passing on cooking traditions to my own children. We're celebrating magic in mealtime and you can too if you're willing to deal with a few messes here and there. It can be such a rewarding experience when you involve kids in the mealtime process, because life is all about making memories, right? There's the added bonus that kids who help with the magical process of mealtime are also more apt to eat what they had a hand in creating… and hey, you're teaching them how to cook! Their future spouses will thank you!
---
Baked Mostaccioli
This baked mostaccioli couldn't be more simple. You can even make it ahead the night before & pop it in the oven the next day. You can find everything you need at the Kroger family of stores. Gather the following:
1 16oz box of Mostaccioli pasta

1-2 8 oz bags of shredded mozzarella or Italian cheese blend (depending on how much cheese you like)

1lb of ground beef. (Ground chuck, hamburger, turkey etc.)

Loaf of fresh Italian bread or breadsticks
---

I pick up my families favorite Ragu®, Chunky Sautéed Onion & Garlic at my local Kroger while I'm there doing my weekly shopping. As you can see they have tons of varieties to choose from. Which one is your families favorite?

I think Silje's favorite part of the trip to Kroger is the stickers!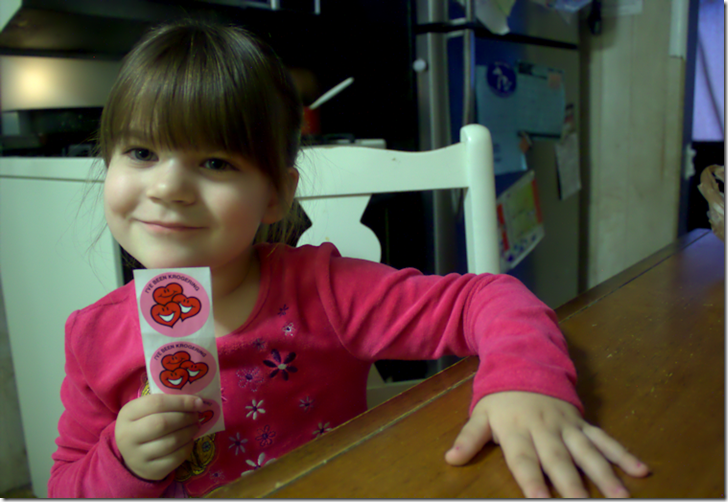 While we were at Kroger I also pick up a 16oz box of mostaccioli noodles. Mostaccioli noodles look just like penne but without the lines in them.
Start out by boiling your noodles according to the directions on the box, minus around 3 minutes. You want them to be undercooked ever so much. The pasta will continue cooking when you put it in the oven.

You only need one jar of Ragu® for this recipe so long as you use a regular 16 oz box of pasta.

While your pasta is cooking, brown up 1lb of your favorite ground meat, season it to your liking (I use onion powder, salt, pepper, garlic) & drain it. Now is a great time to use up extra veggies you might have. I threw in a tiny bit of grape tomatoes I needed to use up. After your meat is thoroughly cooked, pour your jar of Ragu® into the meat. When your pasta is done, drain it & add that to the meat sauce & mix well.
Get your baking dish out & put in a small layer of pasta like so.
Put your cheese in a bowl so it's easier for the kids to grab then make sure they put on clothes you don't mind getting messy, just in case!
My oldest is the aspiring chef but I thought this was an easy enough job for the 3 and 5 year old. As you can see they were super excited! It doesn't take much!


Let the kids create a layer of cheese over your pasta & when they've finished, create another layer of pasta. More cheese, then a final layer of pasta.
Oops, we almost ran out of cheese and the boys have ran off to play before it gets dark. Look how proud Silje is to be helping! Make sure you cover the entire top with cheese so the pasta does not burn.

Once your top looks like this you can stick your mostaccioli in the oven at 375F for 1/2 hour or until the cheese on top has melted.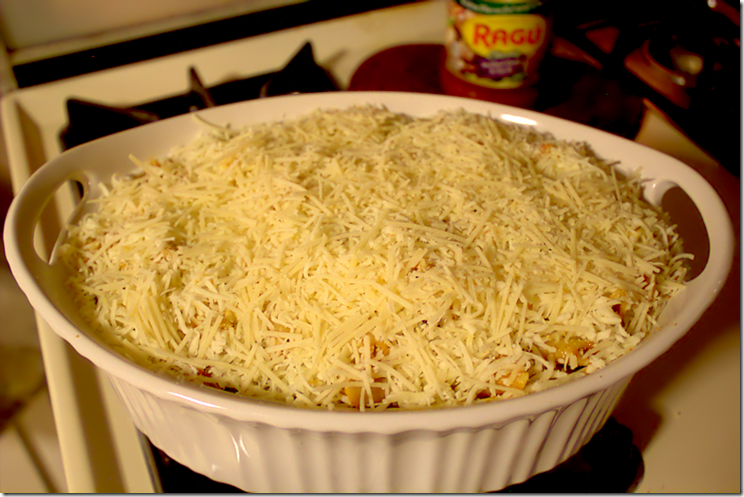 Pull it out of the oven when it looks like this!
The layers of cheese make all the difference.
This stuff is so delicious, especially with your favorite Italian bread.
Happy memory making!
---
Connect with Ragu® on Facebook, Twitter and Find Tons of Creative Recipes on their Pinterest Page.
---
This is a sponsored conversation written by me on behalf of Ragu® . The opinions and text are all mine.