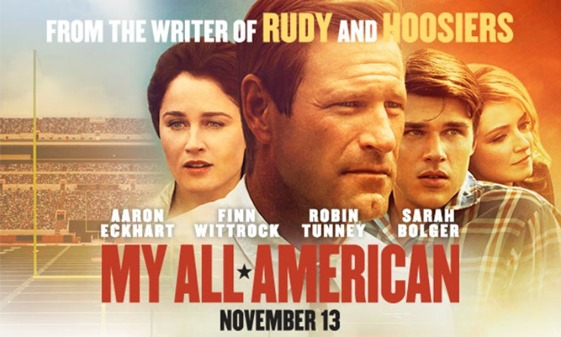 On November 13th, My All American hits theatres. Mariah at TheSimpleParent.com has written a fantastic review of the movie (she's already watched it) if you'd like to learn more about it. It's the true story of Freddie Steinmark (Finn Wittrock – of American Horror Story fame), a football player at the University of Texas and one of legendary UT Austin football Coach Darrell Royal's (Aaron Eckhart) most beloved players, a true underdog who led his team to a championship season and was an inspiration both on and off the field for his ability to persevere in the face of adversity. Check out the trailer:
Speaking of All American's.. You can nominate your own #MyAllAmerican and possibly win a trip to the premiere in California! Wouldn't that be amazing? After reading Mariah's post she actually inspired me to nominate my own #MyAllAmerican. My Grandfather.
As a child my Grandpa stepped in as a father figure when my own was absent. I used to love to hear his stories about his time in World War II. He spent several years in Europe. He used to teach me bits of the German language and tell me all about the different places he visited. He instilled a sense of adventure in me, so much so that as an adult I traveled to Europe myself & eventually ended up marrying a Norwegian. He was a great man. He overcame a lot of difficulties in his life after the war and he raised me as I though I was his own. He was my buddy. He built the house I live in now with his own two hands. He was definitely a jack of all trades & taught me so much in the short 19 years that I had him in my life. I think the thing about him that I loved most was that he always listened to me, never preached, just gave a lot of advice that I still find useful to this day. This weekend will be 16 years ago that he passed on although it feels like just yesterday. He was definitely my hero. I've never met another man like him to this day.

My Grandfather (on the right) during World War II
Who is your hero? Do you have someone that has changed your life? A friend, family member, neighbor? Show your appreciation and nominate them today
---
Connect with My All American online
---