For several years my middle son (who is now 5) had serious digestive issues, coupled with allergies that we couldn't explain. We learned right away (at 8 months) he was allergic to bananas & palm oil but his digestive issues went on for years. He had an awful time & the symptoms tended to mimic those of Celiac. Eventually, after many trips to hospitals and Doctors, we ended up finding an allergist (our 3rd one) who finally had a diagnosis for us. It took us three years! More than half my son's life at that time. My son suffers from something called FPIES. Food Protein-Induced Enterocolitis Syndrome (FPIES) is a type of food allergy affecting the gastrointestinal (GI) tract.
Because my son has such strange allergies I have had to limit his exposure to processed foods. Almost all processed foods contain one of his known allergens. You've probably heard people say they always read the label, most don't, but I do. I literally read every single label on every product I buy. I'm a true food lover and so even though this presented a challenge, I actually enjoyed moving towards more healthy, whole foods, searching out new products, learning a new way of doing things, and even coming up with new recipes that might help other families dealing with things like Celiac, or food & dairy allergies or even food aversions. When the opportunity presents itself to try a new product that I know may help one of my readers, friends, or family, I always go for it. A lot of times, to be honest, we're left disappointed. That was not the case with Simply Shari's shortbread cookies and that's why I'm writing about them now!
Let me tell you a little about Simply Shari's. Shari created Simply Shari's out of family necessity. With a family member who suffers from celiac and a daughter that is mildly Autistic and gluten-intolerant, Shari worked the right combination of ingredients to make homemade, great-tasting gluten-free products. After witnessing the health improvements in her family, Shari took the recipes from the home kitchen to production.
Simply Shari's gluten-free assorted shortbread cookie flavors are made with real ingredients that are clean and GMO-free. Simply Shari's proudly displays the Celiac Sprue Association (CSA) Recognition Seal and the Certified Gluten-Free (GF) Seal that shows their products are tested and certified gluten free. All of their products are made with real butter as well, which if you're a fan of regular shortbread, you will know, is a necessary ingredient.
Five Varieties to Choose from; Here's What We Thought:
Plain – Just as good as any regular shortbread cookie you've ever had. Crumbly yet chewy, perfect and buttery. I couldn't even tell they were gluten-free. My five-year-old, who has refused to try my regular brand of shortbread cookies, devoured these, with a compliment I might add.
Lemon – My personal favorite. These lemon shortbread cookies contain little caramelized bits of lemon/apple. They're like little chewy bits of goodness. The lemon flavor is not overwhelming yet it's definitely noticeable, in smell and taste. They're so bright and fresh. I think I could eat them every single day for the rest of my life. My five year old couldn't try them because they contain a palm product but that was ok by me because I wanted them all for myself!
Almond – The first thing that gets you about the Almond shortbread, is the smell. The temping, overwhelmingly aromatic scent of Almond. Overwhelming in the sense that you cant keep yourself from devouring all of them. My second favorite, without a doubt. My five year old loved these as well and I don't think he's ever agreed to try anything Almond flavored besides these cookies. The smell lured him in.
Chocolate Chip – In terms of chocolate chip cookies, these are good. They're on par with non-gluten-free brands. They'd be amazing dipped in milk, which is pretty much the only way I eat chocolate chip cookies. I'm not big on chocolate chip. I know, I'm weird. My five year old wanted ALL THE COOKIES. My seven and three-year-olds also loved them. We pretty much had a fight on our hands.
Fudge Brownie – If you're a chocolate lover these are for you. Chocolate cookies with white chocolate chips. Need I explain more? They're irresistible.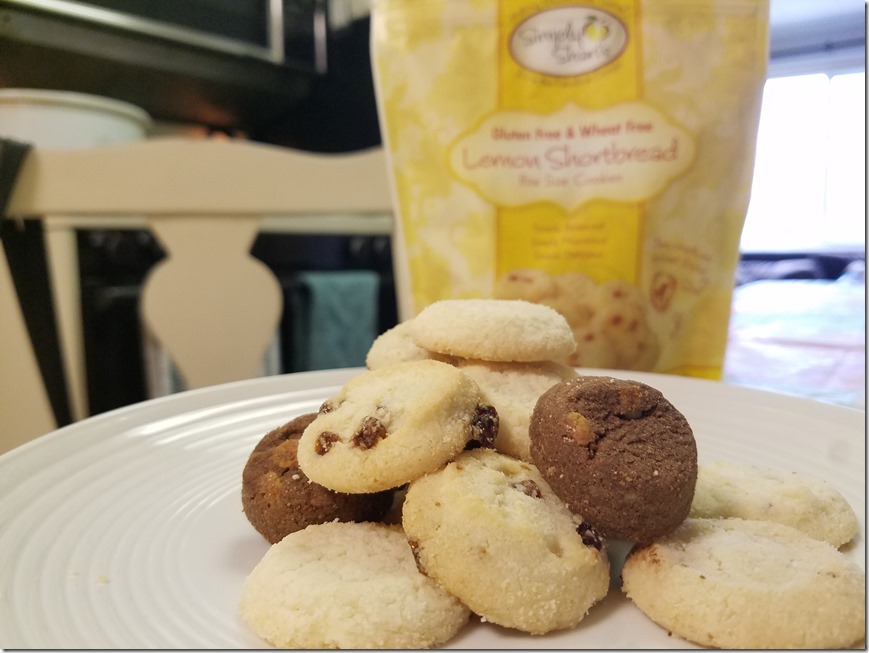 If you're looking for gluten-free snacks & treats you have to check out Simply Shari's. I've tried tons of different gluten free products over the past few years and these cookies are at the top of the list. I don't know how Shari does it but they don't taste gluten free. These bite-sized snacks are just all around good! Even if you don't do gluten-free you need to check them out. Prices range from $4.99-$5.99. and you can find them in stores like Whole Foods, Homegoods, Marshall's and you can even buy them by the case online at: http://www.simplysharis.com
Help Shari Expand Her Gluten-Free Line of Products
Simply Shari's has launched a Kickstarter campaign that ends in only a few day and they need your help! Join Simply Shari in helping folks who struggle with celiac, autism and auto-immune diseases or just want to live a gluten-free lifestyle to get a delicious, tasty choice. For more information or to back this campaign please visit:
https://www.kickstarter.com/projects/simplyshariscookies/1369530140?token=87653dda
You can also connect with Simply Shari's online:
https://www.facebook.com/SimplySharis
https://twitter.com/SimplySharis
https://www.pinterest.com/simplysharis/