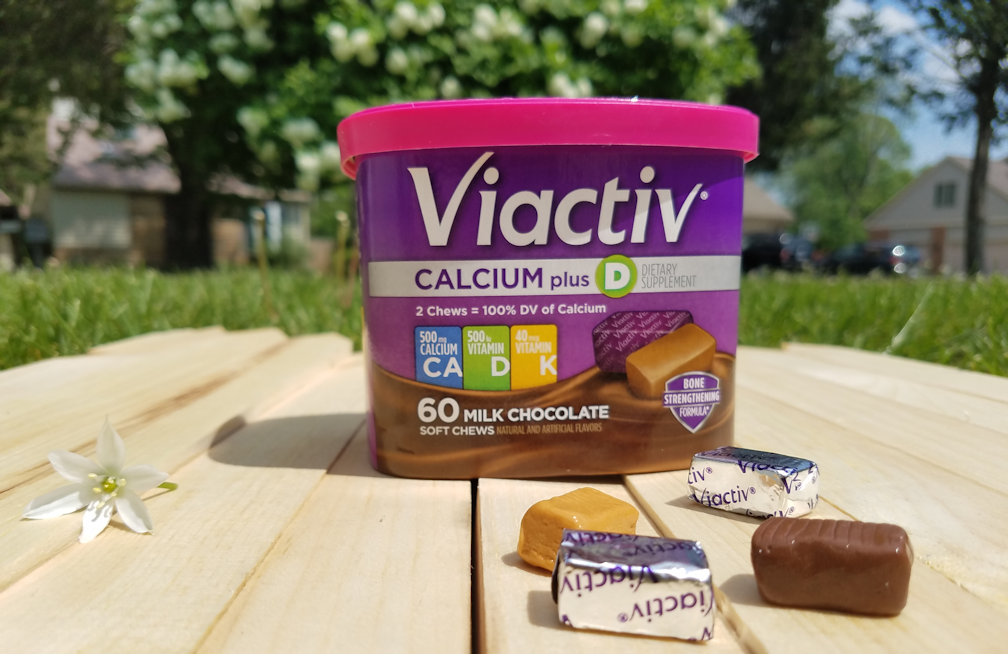 I wanted to talk to you for a moment about the importance of getting the calcium you need during pregnancy (even before & after as well).  Why are we talking about this today? In general, approximately 68% of women have a calcium deficiency and meeting your calcium needs is especially important during pregnancy.
Baby's bones, teeth, heart, nerves, and muscles depend on calcium for growth. It's so essential, in fact, that if you don't include enough calcium in your diet, your baby will start draining it from your bones… not ideal for either of you. The recommended amount of calcium during pregnancy is 1000mg daily, and most prenatal vitamins only contain 20-30% of the calcium you need.
I wish someone had told me about Viactiv Calcium Soft Chews when I was pregnant. I only recently discovered them after realizing just how low my daily calcium intake was after suffering from kidney stones off and on for years (Lack of calcium can facilitate stones in some cases). I log my food intake every day & keep track of vitamins & nutrients. I have always focused on getting enough iron because I have anemia, and potassium to keep leg cramps at bay (which if you're pregnant you will probably experience at some point) but I neglected myself when it came to calcium. It's funny because I always just assumed I was eating or drinking enough calcium during the day, but it turns out I wasn't getting enough, anywhere near the amount that is needed and as you know, even if you're not pregnant you still need to keep tabs on your calcium levels because long-term calcium deficiency can increase your risk for developing osteoporosis.
Viactiv Calcium Soft Chews are an easy and delicious way to make sure you're getting the calcium you need. Available in milk chocolate and caramel flavors these soft chews have 100% of your daily recommended value in just two chews—plus Vitamin D and K! They are each individually wrapped so you can even toss them in your purse so you don't forget. After all, one of the hardest parts of taking your daily vitamins and supplements is remembering to take them!
*OB/GYN survey data was gathered by BrandPerx on behalf of Viactiv, surveying over 1,000 participating OB/GYN's across the country during the month of July, 2015.
Check out the following Infographic courtesy of Viactiv & then scroll down to get a $2 coupon off your next tub.
Grab your $2 Coupon
Where to Buy: 
Viactiv is available at major retailers nationwide including Rite Aid, CVS, Target, and Walmart, as well as supermarkets nationwide
Connect with Viactiv Online 
Website: http://www.viactiv.com/
Facebook: https://www.facebook.com/viactiv
Instagram: https://www.instagram.com/viactiv/
Viactiv Calcium Soft Chews are available in milk chocolate and caramel flavors at major retailers including CVS, Rite Aid, Target, and Walmart, as well as supermarkets nationwide. Print this coupon to save $2 on your next in-store purchase of Viactiv.
Learn more about Viactiv at www.Viactiv.com.
This is a product-provided, sponsored conversation on behalf of Viactiv that contains affiliate links. I received Viactiv products for my own personal use. This post is not intended to address or diagnose any medical conditions. All opinions, text and experiences are my own. These statements have not been evaluated by the Food and Drug Administration. This product is not intended to diagnose, treat, cure or prevent any disease. Please speak with your healthcare provider regarding any medical concerns.